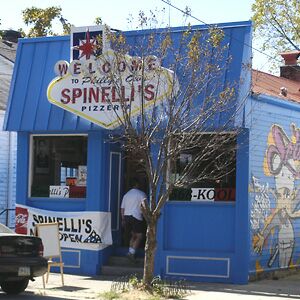 81

Spinelli's Pizzeria
614 Baxter Ave.
(502) 568-5665

<!REVIEW GOES HERE!> Since the regrettable demise of the historic White Castle at Bardstown Road and Eastern Parkway years ago, late-night watering holes and recovery stations have been few and far between for revelers in the region, who've been pretty much forced to choose between La Bamba ("Burritos Bigger Than Your Head") and Twig and Leaf for a restorative meal and non-alcoholic libation after the bars close.
But now Spinelli's Pizzeria, tiny and very casual indeed, brings another option for the wide-eyed-late-at-night crowd seeking good cheap eats, not to mention more conventional diners and even the lunch bunch. Starting at 11 a.m. daily except Sundays, Spinelli's keeps its doors open until 5 a.m. Wednesdays through Saturdays, and until midnight the rest of the week.
What's more, the folks who run this bright blue Baxter Avenue storefront offer the city its first reasonably authentic taste of some Philadelphia specialties rarely spotted west of the Appalachians: Philly-style pizza and Philly cheese steak sandwiches relatively unsullied by the corporate fast-food paradigm.
Primarily aimed at the youthful crowd that habituates the Baxter club zone (it's within crawling distance of The Phoenix Hill Tavern and not much farther from Have A Nice Day Café), it's welcoming to Baby Boomers and even their parents as well, as long as you're mobile - three steep steps at the front door bar access to wheelchair users.
Inside, the tiny room is dominated by a stylish curved bar with a copper front, a handful of striking curvaceous bar stools in candy-apple red that look like something out of the Jetsons, and best of all, what looks like a full-size, '60s-vintage Lincoln Continental convertible with a table for four set into the passenger compartment and another table for two built into the open hood and trunk. This offbeat accouterment seems to captivate everyone who comes in - it's invariably the first table taken.
The menu is short and simple, and available for dine-in, take-out or delivery. Pizza is $2 for an oversize slice (plus 25 cents each for toppings). Whole pizzas are $12 for a big 18-incher with cheese (add $1.50 for each topping) and $13 for a "white" pizza topped with ricotta and mozzarella, no tomato sauce. A thick-crust Sicilian pizza is listed at $14, but I'm told that this option has been taken off the menu.
The signature Phily cheese steak is $5.75; other hot sandwich choices range from $4 (for a bacon, egg and cheese sandwich) to $6.25 (for a chicken cheese steak hoagie). A cheese steak hoagie (cheese steak with lettuce, tomato and onion), a chicken cheese steak, breaded chicken Parmesan sandwich and pizza steak sandwich are all $6. A half-dozen cold sandwiches are $5 (for the "Zep," a hero-style salami-and-provolone sandwich with oregano) and $5.50 (for an Italian hoagie, ham hoagie, turkey hoagie) to $6 and $7 (for a variety of regular-size Stromboli sandwiches, $12 or $13 for large). Bottled soft drinks ($1 to $2) and a short list of bottled beers ($2 and $3) are available from the cooler; draft beers include Bud ($1.75), Michelob Ultra ($2) and, somewhat surprisingly, Newcastle Brown Ale ($2.75).
Meals are served on throwaway paper plates and plastic cups (but don't discard the plastic lunch-counter baskets, please!).
Philly pizza is quite similar to the New York City by-the-slice variety that has become familiar to Louisvillians at Luigi's, but it's an oversize slice cut from a wagon-wheel-size 18-inch pie on a good, thin but chewy bread-like crust that you can fold in half and eat from the point back, just lightly painted with tangy tomato sauce and baked, then re-heated to order with the mozzarella and the topping of your choice. (Toppings come from a short and not entirely traditional list of pepperoni, sausage, chopped steak, ham, mushrooms, onions, green peppers, broccoli and spinach. No anchovies? "Never!" the server squealed. "I wouldn't touch those things. They're ... hairy." Well, OK, then.)
The cheese steaks have evolved over the course of several visits, now built on a good quality sub-style bun that's a little more hefty than the lighter bread encountered on an early visit. They're good, if not quite up to the Philly original - well-done roast beef sliced paper-thin and tossed on the grill with onions (only by request, I learned after not getting any on my first visit) and the cheese of your choice, tucked into the bun, traditionally to be eaten while standing, leaning forward so any bits that drop out won't hit your shirt or your lap.
I've tried the standard Philly model with the authentic Cheez Whiz, just for the sake of tradition, and with provolone and onions, which makes for a more grown-up alternative in my book. A cheese steak hoagie was pretty much the same deal, beef in the bun with a ration of shredded iceberg lettuce and a few thin slices of tomatoes dusted with black pepper on top.
Various combinations of a pizza slice and sandwiches have generally run around $14 or $15 plus a few bucks for the tip jar. $
(September 2004)
ACCESSIBILITY: As noted, three steep steps completely bar wheelchair access and might be difficult for anyone who's unsteady on his feet. It appears that an existing side door with a small porch could be reasonably modified to make it legal.
<!REVIEW ENDS HERE!>
---