!REVIEW GOES HERE!>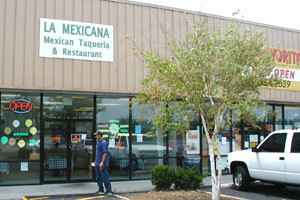 *** Tacqueria la Mexicana
6201-J Preston Highway
(502) 969-4449
This shopping center on Preston just north of Fern Valley Road poses one of those unanswerable questions for Louisville-area food lovers: Faced with three really good places to eat in the same immediate neighborhood, how do you decide?
With Joe's Bar-B-Q, El Paraiso and Tacqueria la Mexicana all within a burrito's toss of one another, this is a real, if delicious, dilemma, one that we solved in part, one happy if over-indulgent noonday, by having a light lunch at El Paraiso followed by tacos at la Mexicana.
The tacos are indeed fine at this tiny storefront, next door to a Latino grocery store. This is seriosuly ethnic stuff, with Spanish programming on the TV and an all-Spanish menu. But Anglos are thoroughly welcome, the staff is bilingual, and they will happily provide an annotated menu with all the English translations written in for the Spanish words. It may help you to know that "lengua" means "tongue," for instance, if you're queasy about eating something that came out of an animal's mouth.
The room is bright white enamel with pretty Mexican-style murals that appear to have been painted by the same artist who decorated nearby El Paraiso, and there's room for just six tables plus the serving counter, television, and cooler box full of soft drinks.
You order from the counter, selecting from a rather short list of selections - about a half-dozen tacos ($1 to $1.25), burritos ($4 to $4.50) and tortas (Mexican sandwiches, $4 to $4.50) - then carry out your lunch or have a seat and wait for the sole employee, who doubles as counter help, cook and server, to bring it to your place. Menudo (the famous Mexican tripe soup that's purported to be the world's best hangover cure) and posole (hominy soup) are available on Saturdays and Sundays.
We ate in, watched the news in Spanish, and enjoyed a ration of tacos that rank among the most authentic and best in this town. Tacos are made in the Puebla style, a short stack of two steaming soft corn tacos, topped with a good ration of filling with fresh chopped onions and cilantro if you want it. Fold them over, turn your head sideways to keep from spilling the contents, and enjoy. Lengua (tongue) was deeply flavored and very tender, chopped into small dice with the skin left on. Al pastor (pork) was sliced into slightly larger chunks and marinated in a mildly spice chile sauce.
You can get Norteamericano soft drinks or Mexican drinks from the cooler; I chose a Jarritos Limon-lime, a sweet yet tangy bright-green beverage that went very well with this tasty fare.
A quick, light lunch - or, if you will, the second course of our progressive Mexican lunch - came to just $5.15, and at that low level it didn't seem right to leave the hard-working guy less than a $2 tip.
We went back for a more substantial lunch another day and enjoyed a barbacoa torta ($4.50), a Mexican sandwich of finely shredded, long-cooked beef on a delicious fresh-baked torta roll, a thin white yeast loaf with a crisp-tender golden-brown crust; in addition to the beef, it was loaded with lettuce, avocado, diced tomatoes and sliced jalapeño peppers. A burrito azada ($4) featured an oversize flour tortilla wrapped around a large portion of chopped well-done steak and pinto beans with lettuce, tomato, a bit of avocado and a dollop of sour cream.
It was very good food, although if you go on a Friday as we did, gringos might take note that the tripe for Saturday's menudo is boiled all day on Fridays, filling the place with a strong "earthy" aroma that some might find offputting. This second meal, with drinks, came to $11.13 plus a $2 tip. $
(July 2001)
<!REVIEW ENDS HERE!>
---