Older Archived Reviews
This is an older archived review. The Search Feature on this page may not work. To search this site, please return to our Home Page and try your search from there.
---
<!REVIEW GOES HERE!>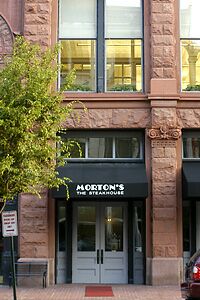 80

Morton's of Chicago
626 W. Main St.
(502) 584-0421

Web:
http://www.mortons.com/website/index.html
A lot of buzz surrounded the 2001 opening of Morton's of Chicago in the historic and beautifully renovated Bernheim Building, and it's reasonable to hope that a safe and significant nightlife attraction might lure suburbanites back to the downtown that still pretty much rolls up its sidewalks when the sun sets.
As with Joe's Crab House on the river a few blocks east, some local boosters might wonder why a town that's famous for the quality of its eats and eateries didn't look for a local restaurateur rather than a franchise operation that heralds another city's culinary reputation in its very name and boasts nearly 60 lookalike outlets around the nation. But perhaps that's more of a question for business reporters to ask than a dining critic.
So let's cut to the chase: How does Morton's of Chicago stack up against the competition?
My conclusion, after a filling, enjoyable and frighteningly expensive dinner there during its first week of operation: It blows away its primary national franchise opponent, Ruth's Chris. It's not quite up there with locally owned Z's Oyster Bar and Steakhouse for style and take-no-prisoners quality, although it may have the edge on Z's for service. And it claims the edge on local Pat's Steakhouse in elegance and style, but it can't touch Pat's for value or down-home comfort.
But the steaks are as good as it gets, the atmosphere is elegant without being stuffy, and the service is outstanding. If you can forgive stratospheric prices and overlook the occasional slip that betrays the heavy hand of corporate bean-counters discreetly cutting corners, Morton's earns a solid three stars.
The Bernheim building, which will probably continue to be called that by old-timers despite its not-so-jaunty new name, "The 626 W. Main Building," has been re-faced with about 300 tons of sandstone imported from England, a startling pink substance glittering with specks of quartz. The six-story building, connected via an atrium to the renovated St. Charles Hotel around the corner, will house offices of its owner, Brown-Forman Corp., along with office tenants.
Morton's of Chicago is downstairs, and you get there via a route that seems a bit eerie, perhaps intentionally so. There's a Prohibition-era Joe-sent-me speakeasy feel as you enter from Main Street through a tall, stark and dimly lighted foyer with nothing but a large, dark door. It opens into another spare, dim room that contains only a few old framed photos of Churchill Downs, a stairwell and a shiny brass elevator door. Take either down, and the vista finally opens out into a sizable (130-seat) dining room plus a separate bar and two private rooms.
The main dining room has a clubby feel, with off-white walls, shiny dark-red polyurethaned-mahogany trim and large, colorful but simple modern prints. Old-fashioned circular ceiling fixtures and track lighting illuminate the dining area with lighting that's fashionably dim but not dark. Soft background music sounds like it's either Frank Sinatra or Dean Martin or ought to be.
Waist-high room dividers are are minimally effective at separating smoking and non-smoking areas; they're topped with large but surprisingly Kmart-style artificial flower arrangements, baskets of vegetables and oversize wine bottles.
Large, semicircular tan-leatherette booths line the wall, and tables are draped with rather lightweight white polyester and furnished with white napkins of the same shiny, less-than-absorbent material. Places are set with heavy, shiny stainless flatware and Morton's trademark steak knife, which looks something like an yupped-up version of a K-bar combat knife (and which you can purchase at the restaurant's gift shop, along with replicas of the cute little brass votive-candle lamps in the shape of a sleeping pig, a Morton's trademark). Sturdy side chairs are dark art-deco-style mahogany with leatherette seats; they're just a little too hard-backed and vertical to be as comfortable as you might wish over the course of a long evening.
What looks like an open kitchen at the back is actually a satellite, a staging station where chefs in tall toques get plates ready for delivery to the tables as diners look on. A small blackboard lists the prices of entrees, but you don't really need it ... you'll get both an impressive tableside recitation and a straightforward menu and wine list that you can read, suck in your breath, and then make your picks.
Our competent and friendly server went through the process with grace and style (he later confided that he's an actor when he's not plying the server's trade), displaying all of the evening's steaks, chops, fish and veggies (neatly cased in shrink-wrap) and one oversize lobster (wriggling, claws restrained) as he described each item.
Service, in fact, is the highlight of a dining experience at Morton's. Even in the restaurant's first week, when a few slips and stalls might be expected, ours was absolutely without a flaw. We must have come under the care of eight or 10 different people, from the maitre d' to two regular servers and a squadron of bussers, and they were unfailingly polite while, somewhat to my amazement, never coming across as snooty or pompous. Mark down four-star service as a strong plus for Morton's, adding significantly to the comfort level of an evening spent here.
Now, about that menu: Dinner prices rank with the highest in Louisville, with steaks in the range of $28.95 (for a ribeye steak, plain or Cajun-style) to $33.95 (for a Porterhouse), and other meat, poultry and seafood items from $19.95 (for farm-raised salmon) to $29.95 (for domestic rib lamb chops). Further raising the toll, everything is a la carte, meaning that you'll pay extra for vegetables (from $3.75 for an order of sauteed onions to $7.50 for creamed spinach, a steakhouse tradition, or steamed fresh asparagus with Hollandaise sauce) and potatoes ($4.95 for a variety of preparations). Appetizers are $7.95 (for sauteed wild mushrooms) to $11.95 (for a shrimp cocktail) and salads are $6.95. It's worth noting, however, that you're entirely welcome to share a steak, and vegetable portions are also plenty for two; there's no extra charge for dividing an order, so two thrifty diners can literally eat for the price of one.
I find the wine list pricing less forgiveable. In an era when most local white-tablecloth restaurants have settled on wine-list prices that approximate double retail (and are close to triple the wholesale price that restaurateurs pay), Morton's goes a step beyond, taking a predatory 300 percent markup on low-end wines. It asks $25, for example, for the modest Ecco Domani Pinot Grigio - an Italian wine imported by Ernest & Julio Gallo - that you can pick off the shelf at Party Source for $7.99. Ditto for "Parallele 45" from Jaboulet Ainé, a simple Rhone red that costs $8.99 at retail and $29 on Morton's list.
Prices rise from there to the stratosphere, with the overrated Far Niente Chardonnay going for $118 and Far Niente Cabernet Sauvignon tagged at $215, and the credible 1997 Opus One listed at a pricey $260. Planning a no-holds-barred celebration for a group? Consider the 6-liter Impèriale bottle of Grgich-Hills California Cabernet, a mere $1,320 for the equivalent of eight standard bottles of wine.
Although it's bulky enough to fill a leatherette book, the 200-item wine list is heavy on California wines, light on Europe and almost barren of the Antipodes, with just a dozen Bordeaux and a single Burgundy, the forgettable Joseph Drouhin 1998 Pommard at $98. Note, moreover, that the higher-end Bordeaux (1997 Ch. Lafite-Rothschild at $395) and top-rank Italian reds (Pio Cesare 1996 Barolo at $110) are way too young to drink with pleasure. They need to be cellared, not served with a steak.
There's no escape via the by-the-glass list, a surprisingly short but spendy selection of about a dozen mostly mass-market labels from $6.25 a glass (for the low-end Montevina White Zinfandel) to $15 (for Charles Krug 1997 Reserve Merlot).
I studied the list extensively and couldn't find a "sweet spot," the crossover point where you pay enough for quality while still catching at least a hint of value. In most situations, I would have angrily thrown up my hands and gone with a cold beer or iced tea. But a fine steak dinner demands a good red wine, so I grudgingly settled on Gallo of Sonoma 1997 Sonoma County Cabernet, a wine that Party Source sells for $12, going here for $36. A lot of people underestimate Gallo because of its long reputation as a maker of inexpensive "jug" wines, but in fact the wines from its Sonoma properties are of consistent quality and value, this full-bodied, fruity and balanced Cabernet being no exception ... at least at its normal retail price.
Adding to the disappointment, it was served in squat, heavy glasses, a corner-cutting element that detracted from the overall elegant feeling.
Our dinner started with a warm, round country loaf of unbleached white onion bread, soft and chewy with a light, thin crust, with a generous square of butter.
A shared appetizer, Bluepoint oysters on the half shell ($10.95) featured a half-dozen large, indisputably fresh oysters, attractively presented in a wooden bowl filled with finely cracked ice with tin cups of tangy cocktail sauce and grated horseradish, a tiny bottle of Tabasco, lemon halves, and a somewhat jarring addition, two saltines in an institutional cello wrapper shoved into the ice.
Salads won our applause. It's a course that's easy to kiss off, but Morton's delivered, presenting quality salads boasting crisp, cold lettuce and well-made dressings. The Morton's house salad ($6.95) offered a blend of romaine and iceberg topped with a generous ration of finely chopped hard-boiled egg and a pair of anchovies, with an excellent blue-cheese dressing filled with chunks of tangy cheese. The Caesar ($6.95) is prepared in the kitchen, not at tableside. Perfect romaine was coated but not swimming in a creamy, properly tangy Caesar dressing, topped with grated Parmesan and tossed with addictive croutons, crisp and crunchy, with an intriguing buttered-corn flavor that was oddly (and pleasantly) reminiscent of movie-house popcorn.
Our steaks arrived on oversize oval plates. They're prepared in the kitchen the traditional way, without getting into the competition's shtick of 1,800-degree ovens and service in pools of sizzling butter. This is no loss, as the steaks are too excellent to need artificial aid. Prime beef, wet-aged 21 days, heavily marbled, was cooked exactly as ordered - rare - and brought to the table juicy and hot, along with an offer of bottled steak sauce, which we regarded with amazement before declining.
The 24-ounce porterhouse ($33.95) was a full inch thick, the tenderloin side tender enough to eat with a spoon; the strip side offered a bit more resistance, as is the nature of the beast, but it was flavorful and toothsome. The ribeye ($28.95), a naturally fattier cut, was juicy and perhaps the best-flavored of all. They so good that it was hard to stop eating them, but we filled up on vegetables and managed to get our will power under control while there was still a little left to box up and take home.
Fresh leaf spinach ($4.95), sauteed with fresh button mushrooms in plenty of butter until the spinach is just wilted, was about as perfect as a simple vegetable dish can be. Mashed potatoes ($4.95) were smooth, creamy, buttery and very rich, nothing to criticize there.
Chocolate souffle ($12.95 for two) was unbelievable. It was literally like eating a cloud, a delicate milk-chocolate cloud, somewhere in the uncharted territory between solid, liquid and vapor, with puffs of equally evanescent real whipped cream to help it soar heavenward. Did I mention that I like it?
Espresso ($3.75) was well-made, strong and covered with foamy crema, coffee roasted to the point of bitterness, a simple ending to an extravagant meal.
A filling dinner, with enough leftover steak and potatoes to make at least two more meals at home, came to $163.35, and exquisite team service demanded a tip over 20 percent; we rounded up to bring the tab for two to an even $200. $$$$ <!REVIEW ENDS HERE!>