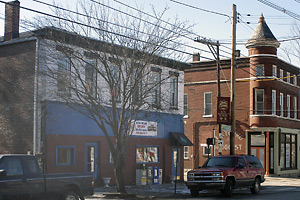 Kentucky Bar-B-Cue Co., successor to Bourbon Bros., has moved into Cafe Lou Lou's former home in Clifton. Photo by Robin Garr.
(Kentucky Bar-B-Cue Co., Voice-Tribune, Dec. 31, 2007)
The Bourbon Brothers have moved on down the road again, towing their big black smoker to a new home in Clifton and hoisting a new moniker – Kentucky Bar-B-Cue Co. ("KBC") – outside the freshly painted quarters that had housed Cafe Lou Lou before that local eatery's recent move to St. Matthews.
The new setting, like Baby Bear's porridge, may be just right for the barbecue joint that had started in a tiny building, a one-time neighborhood bakery on Brownsboro Road, that was a little too small. Then it moved across the road for a very short stay in a looming Moorish-look building, once Shariat's, now Red Pepper Chinese, that seemed by a fair margin too large.
Now, settling comfortably into this ancient, drafty yet homey old Clifton saloon that still bears evidence of its long life as a tavern, it may have found its niche.

One thing is certain: Through good times and hard, large venues and small, the folks behind this family operation have shown exceptional talent at smoking meat. I've followed them through all their venues and have rarely if ever encountered ribs, pulled pork or brisket that wasn't first-rate.
The menu has pulled back a bit from the more ambitious barbecue-and-steakhouse bill of fare at the eatery's short-lived second edition, although you can still find a few offbeat options such as burgers, wings and a Bourbon-glazed salmon entree ($13.99).
A large stage at the back – often the venue for musical groups – proudly bears the Bourbon Brothers' old sign. Tables are draped in pizza-joint style red and white-checked oilcloth.
In addition to a good selection of "Bourbons appetite kickstarters," you can choose a hearty lunch from eight sandwich options, or an even heartier dinner from an array of platters (with sides and garlic toast) that top out at $20.99 for a full rack of baby backs.
We shared an appetizer order of ribs ($6.99 for one-third of a rack), which pretty much substantiated KBC's bold assertion that it's "Louisville's rib joint." Five bones were smoky, lean, moist but not fatty, very well done indeed. If I have any complaint at all, it's that hickory smoke won the gentle tug-of-war between smoke and meat flavors that's best when it ends up in a well-balanced tie.
Squeeze bottles of barbecue sauces include thick sweet-and-smoky, thin vinegary North Carolina and spicy Texas hot. The bottles aren't labeled, which seemed odd, and our friendly, chirpy but somewhat spacey server wasn't much help. She sniffed one, muttered something about "sweet? hot?" then grimaced and fled. Still, it wasn't hard to figure it out by tasting, and all three went well with the meat.
The BBQ brisket sandwich ($7.99) consisted of seven thick slices of beef brisket, a full half-pound, served unadorned on a naked white sesame-seed bun. The presentation was uninspiring, but the brisket was splendid, sliced across the grain for maximum tenderness, achieving the perfect balance of smoke and meat that the ribs just missed.
More of the same fine brisket, sliced thin, came in a wacky "BBQ brisket Reuben, a sandwich that looks like a Reuben on thick Texas toast but tastes like, well, a brisket sandwich. It's served dressed with slaw, Memphis-style; a thin slice of Swiss-style deli cheese and a thin coat of barbecue sauce finish the package, and a little more sauce from the squeeze bottle made it just right.
Sides were all decent or better: Tender baked beans came out swimming in a delicious sweet-spicy sauce with shreds of pork. Dark green beans were long-simmered with shredded pork, kicked up with a good dose of black pepper. Steamed red-skin potatoes were cut into chunks and sprinkled with chopped parsley, just a bit on the greasy side.
This is fine barbecue, and the Brothers easily retain their place in the top tier of Louisville's vendors of smoked meat. With a soft drink and iced tea, a hearty lunch for two came to $29.64 plus a $5 tip. with enough leftovers to take home for dinner.
Kentucky Bar-B-Cue Co.
1800 Frankfort Ave.
896-3419