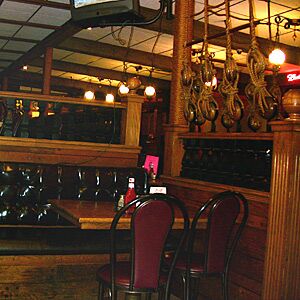 Hearts of oak: Faux Olde Englishe and whimsical nautical decor provide the River Road Kingfish an atmosphere surprisingly reminiscent of the Galt House. Photo by Robin Garr.
Fat Tuesday is inexorably followed by Ash Wednesday and 40 days of Lent; and even for those of us who don't religiously adhere to the custom of fast and abstinence, enjoying a platter of sizzling fried fish is a tradition of the season that's easy to indulge in.
The other night, rushing the season a bit, we wandered over to the Kingfish restaurant near the foot of Zorn Avenue (3021 River Road, [502] 895-0544) for a pre-Lent preview at one of Louisville's most enduring fish restaurants, a chain founded in 1948 and named, believe it or not, after a character on the then-popular Amos and Andy radio show.

A fully fried dinner including a fried-fish and shrimp platter ($9.99) and a single rolled oyster ($3.29) was pretty good, not great. The platter contained two small whitefish fillets, thinly breaded and fried to a pale-tan color that fell a bit short of golden brown. A handful of smallish shrimp were cloaked in a hard, dark breading and were surprisingly flavorless, and the fries were limp.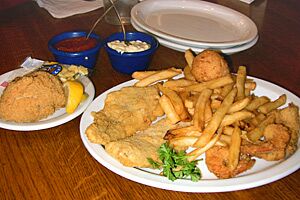 The rolled oyster was pretty good, though. A baseball-size deep-fried doughball stuffed with steaming oysters; it was close enough to the Mazzoni's original to make me wonder if someone at Kingfish got his hands on the secret family recipe. A golf-ball-size hush puppy was just about as good as hush puppies get, onion-scented, fried crunchy and grease-free.
Faced with a choice of industrial beer or more industrial beer, I went with strong iced tea. We watched the river roll by … the River Road Kingfish offers a very good place to do that from … and felt at least reasonably satisfied.
We have plenty of options for fish in Louisville during Lent and any other time. Some of my year-round favorites include Seafood Connection in St. Matthews, Stan's Fish Sandwich, The Fishery, The Fish House, Carolina Seafood and a few down-home spots that, although known for much more than just fish, fry it very well: Cunningham's, Flabby's Schnitzelburg and Cottage Inn.
The crowd of foodies on our Louisville Restaurants Forum has been actively discussing fish options. To read their suggestions and join in the discussion, click "Oh, it's That Time Of Year … for fish."
Finally, don't forget to locate your nearest Catholic parish, many of which host fund-raising fish fries many Fridays during Lent. Two of the most famous are St. Augustine, 1310 W. Broadway, in the city, and Guardian Angels on the South side, 6010 Preston Highway.