"Komban wa," I told the sushi chef, bowing politely and doing the best I could to get out the Japanese words for "good evening" with at least marginal fluency.
He gave me a friendly but very puzzled look.
"I guess I just can't speak Japanese," I said, switching back to English.
"No," he said. "I can't speak Japanese. I'm from Korea."
Whatever. He was a heck of a nice guy, and over the course of our first dinner at Caviar, the sleek new Japanese spot next door to the Seelbach on Muhammad Ali, he would fashion us more than $50 worth of sushi, all of it creditable and much of it splendid.

As much as I enjoyed all these tasty, artful bites, though, I've got to say of Caviar as I reported about its near neighbor, RAW, an unrelated sushi emporium around the corner on the Seelbach's other flank: It's good sushi, but it's not great sushi. If you're a stickler for authenticity and if you like to see a trained itamae putting on a good sushi show (and I don't mean Benihana-style slice-and-dice), you might want to look elsewhere; and that goes double at lunchtime, when a selection of Japanese dishes ranked barely above lackluster.
I want to like the place, and there's a lot of potential here, not least because it's owned by Sammy Sa, an entrepreneur whose Fuji Japanese Restaurant properties in Springhurst and Middletown are very popular with sushi aficionadoes.
It's a sleek, stylish spot, a large space attractively divided into smaller, more intimate sections, including a private tatami room with a frosted glass wall (and faux Japanese style sit-on-the-floor tables that actually allow Westerners to dangle our legs more comfortably into a dugout space). There's a 10-seat sushi bar with a trio of sushi chefs and a pair of television sets, one of them tuned to the Golf Channel, the other to ESPN; a main dining room, a more intimate row of booths-for-two, and a large American-style bar up front. Tasteful art and attractive hanging lamps add a sense of style, as do such small touches as soy sauce served in pretty brown earthenware beakers, not merely put out in the Kikkoman bottle.
Service is friendly (although the woman who shared her bad cold with my wife should probably have stayed home), and by and large, dishes are serviceable, earning a few more points for flavor than for care in preparation.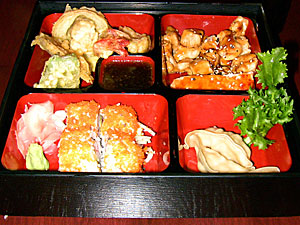 Caviar's lunchtime bento offers a Japanese sampler in a neat lacquer box.
The menu is extensive, a book of a half dozen pages including some three dozen appetizers (much of it modestly priced Japanese bar fare), more than 20 main courses (from $8.95 for thick udon wheat noodles with scallions to $23.95 for a bento sampler in an attractive red and black lacquer box); and a vast selection of maybe 60 variations on maki-zushi, sushi rolled in rice (from $3.95 for asparagus, avocado, cucumber or tart, crunchy oshinko pickle) to $22.95 (for an all-sushi bento).
If you're in the mood for nigiri-zushi, the artful bite-size sushi that features a hand-formed tidbit of seafood, fish or other good things perched atop a ball of sticky sushi rice, you can order by picking up a form, checking off the items you want, and writing in any fancy items you wish from the day's specials or the menu.
We went kind of crazy, as I said, spending a pleasant evening at the sushi bar, enjoying a variety of tastes and chatting up the chef. He seemed a little shy at first, but the more sushi we ate, the more friendly he became, and that's a good thing.
We started with cups of soup. Miso soup was standard-issue but well-made, warm and textured, not overly salty, with tiny tofu dice and bits of cooked edible seaweed. Seaweed soup was very "meaty," demonstrating the meaning of "umami," the "fifth taste" that Japanese culinary gurus have added to the Western flavors of sweet, sour, salt and bitter.
I organized a nigiri order to give us a variety of flavors and textures.
Light and delicate: pink-tinged red snapper (Tai, $4.25), yellowtail (Hamachi $4.75), and flounder (Hirame, $4.50).
Rich and fat: dark mackerel (saba, $3.75), with its meaty flavor and pretty strip of silver skin; and tuna (maguro, $4.50), bright red, firm and beefy.
Other seafood, items that some find challenging, such as octopus (Tako, $3.75) and eel (unagi, $4.95). I'm fine with octopus in Japanese or Greek cuisine either way, and the presence of sucker-studded tentacles doesn't really bother me. It's a firm, chewy white item with a delicate flavor that shouldn't offend anyone. The eel boasted a dark, earthy but clean flavor, flaky, topped with a little thick, sweet sauce. My wife, who loves unagi, declared it the best she's had outside of Kyoto. I have few food taboos but get a little queasy about eating a fish that looks that much like a snake.
Just getting started, we moved on to a series of maki-zushi, fish rolled in rice and black nori seaweed to make long log-like rolls that are then cut into six or eight large-bite-size rounds.
Calamari roll ($6.95) featured pleasantly chewy chunks of crisp-fried calamari and cucumber at the center of a roll. Rainbow roll ($8.95) is basically a California roll with the standard crab "shape" and cucumber at the center, but it's prettified with colorful bits of fish and vegetables draped over the top – a mosaic of orange shrimp, green avocado, pink salmon, white fish and deep red tuna.
And later, just because I couldn't quit, we summoned yet another maki, white dragon roll ($11.95), with white tuna, asparagus and avocado in the middle and thin-sliced raw jalapeño peppers topped by a bite of yellowtail on top, drizzled with ponzu sauce and briefly seared with a blowtorch to crisp the top without cooking the fish.
Overall, the sushi was impeccably fresh, colorful and attractively presented, but I can't award a top grade for preparation, as the rolls tended to be loosely wrapped; moreover, with a homeopathic use of wasabi (green horseradish) at best, the nigiri lacked the "glue" needed to hold the toppings on the rice.
In addition to its full bar, Caviar offers a short, mostly affordable wine list, starting at $5 a glass, $19 a bottle for the house wine, the Australian "pop" wine Yellow Tail, including about three dozen wines, many of them by the glass for $7.50 or less. I become infatuated with the idea of sake with sushi and scanned the short list, clueless. The server helped, sort of, mostly by nodding and agreeing with anything I point at. Hmm.
I wanted an unfiltered sake, which I've heard is an intriguing, full-bodied drink, but they were out, so I took second choice, a decent midrange sake from Ozeki, a California sake brewer with a corporate kinship to a 291-year-old Japanese firm. Ginjo Premier Ozeki Sake ($12.95 for a 375 ml "half bottle"), was served cool, not warmed, in glasses that resemble small shot glasses. It's a colorless beverage, clear as water. I find the scents intriguing and am convinced I can pick up a distant hint of something that reminds me of uncooked, washed white rice with a back note of fruit … plums? Hard to tell. I didn't find it all that different from a white wine – a bit more powerful at 16 percent alcohol – and it did, indeed, make a stunning match with a fairly wide variety of sushi.
Sushi, I'm here to tell you, is not a poor man's dinner. Our dinner was filling enough, but without an entree and with only a modest bottle of sake, it still worked up to more than $80, with tips for the server and the sushi chef pushing the final toll well over $100 for two.
Still, it was good enough to bring us back for lunch another day, and it proved to be another meal with some high points, no disasters, but overall achieving more of an "okay" than "Oh, my lord."
The lunch menu consists of about 10 main dishes, five noodle bowls and four sushi specials, from $7.95 (for hibachi vegetables or veggie yakisoba) to $11.95 (for filet mignon) and $12.95 (for a lunch bento box). The full list of evening appetizers is also available.
Lunch begins with your choice of the dinner soups or a basic but well prepared Japanese-restaurant salad. Salads consisted of iceberg lettuce, crisp and cool, topped with a small amount of finely shredded carrot and half of a small cherry tomato, swimming in a decent sweet-tart Japanese style ginger-orange miso dressing. It's not markedly different from a house salad at Benihana, but I like it, okay?
A shared appetizer, six gyoza (potstickers, $4.95) were served atop a pile of shredded raw cabbage in a pretty ceramic plate with a corner cutout for sauce – it was sort of like a very upscale variation on the cardboard dish used for nachos at the ballgame. The stuffing was fine – shredded cabbage and finely ground pork – but the potstickers didn't stick to the pot: A bit underdone, they were pale and wan, bottoms barely browned and not at all crisp.
My wife's lunch selection, tonkatsu, ($9.95) the Japanese version of chicken-fried pork, was served American-style, a crisply panko-breaded patty, fried golden brown and sliced into crosswise strips, was served with a mound of rice and a pile of grilled veggies, everything separated so nothing touches on the plate. All the parts were there, but the presentation was disappointing for a traditional dish that's usually served with pork atop rice in a hot bowl. Black, molasses-thick soy-based dipping sauce boasted an odd flavor surprisingly reminiscient of Coca-Cola.
My choice, the bento ($12.95) looked good in its pretty black and red lacquer box, but it proved uninspiring as best. The "chef's choice" item proved to be two more gyoza (great service would have warned us about that when I placed my order), just as undercooked and pale as the appetizer; a small ration of undersize California roll, loosely wrapped and falling apart; a selection of just-warm tempura, more flabby than crisp, including green pepper, mushroom, sweet potato, onion, zucchini and two medium shrimp; and a small portion of diced teriyaki chicken bits and a single finger of teriyaki salmon, tasty enough with their soy marinade and sprinkle of sesame seeds, but again, carelessly prepared and served barely warm. The server asked if I wanted brown or white rice; I chose white and received neither.
With hot green tea and iced water, lunch for two came to $33.56 plus $7.48 tip, a pricey meal that I can't honestly say was worth that hefty toll.
Caviar Sushi Bar
416 W. Muhammad Ali Blvd.
(502) 625-3090
caviarsushibar.com
Score: 78 points