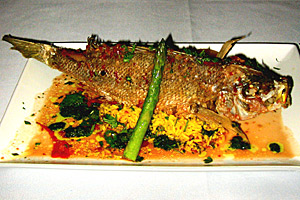 Seviche's crispy fish was a deep-fried red snapper about a foot long, served head and tail on, set in swimming position atop a bed of subtly flavored macadamia-nut rice. Photo by Robin Garr.
(Seviche – A Latin Bistro, Voice-Tribune, Nov. 29, 2007)
When Anthony Lamas's son, Ethan Diego, turned 4, Lamas and his wife, Samantha, made the same decision as a lot of young parents before them: They moved from the Highlands to the East End, seeking a quiet, suburban setting with good schools for the youngsters.
It wasn't long before Lamas made another important decision: With the strong encouragement of his wife and his father-in-law, Dr. Bruce Gaddie – longtime Oldham County residents – he brought his workplace out to the suburbs, too.
Lamas, chef and owner of Louisville's immensely popular Seviche – A Latin Restaurant – now presides over two restaurants, having opened Seviche – A Latin Bistro last month in the quarters vacated by the short-lived Cutting Board on Goose Creek Road.
With the exception of locally owned and operated Limestone on North Hurstbourne, Lamas said he was startled to discover how much the East End's fine-dining scene has been dominated by corporate chain eateries.
The arrival of the new Seviche, though, coupled with Equus chef-owner Dean Corbett's planned opening of Corbett's An American Place in Brownsboro Crossing on Dec. 15 and Napa River Grill's planned move from Dupont Circle to Westport Village early next year, may signal a coming tide.

I'm a great fan of the Bardstown Road Seviche, having repeatedly awarded 90-plus (four-star) ratings to it and its predecessor, Jicama Grill. I'm delighted to report that the Goose Creek operation is just as magical. I've been nothing but delighted with the food, mood and service on repeated visits.
Step in the front door and, although the renovated space is half the size of the Bardstown Road restaurant, you'll find a similar feeling. The dining room with its white-draped tables is separated into more intimate sections by a low creekstone wall divider. The room is romantically dim, yet bright enough to read your menu and see what's on your plate. A wall of mirrors along a wall makes the room seem even more spacious, and mural-size paintings and antique sideboards inspire a subtle Latino feel. "People walk in and say, 'Wow, it's different, but it's still Seviche,' " Lamas said.
Some describe Seviche's fare as "Nuevo Latino," but that moniker seems too pat to fit Lamas's distinctly personal and innovative style, which ranges from California, where he grew up, echoes his mother's Mexican heritage and his father's Puerto Rican roots, and ranges across the Americas.
The menus are similar at both Seviches, although Lamas says the Goose Creek offerings are tweaked a bit to address suburban tastes. You'll find more red-meat-and-potatoes dishes at the Bistro, plus calf liver and onions and that old favorite, escargot, all kicked up with Latino flavors. Main-course prices range across a relatively pricey realm, with most entrees from $19 to $32, though you can economize with mahi-mahi tacos ($13) or choose from a broad range of appetizers and the restaurants' namesake seviches, Latin-American seafood and fish "cooked" by tangy, tart and spicy citrus mixes. (Lunch, starting Dec. 3, will feature entrees in the $10 neighborhood.)
We started with a Colombian Arepa ($11), an upscale version of Bogota street food: a crisp, coarse-textured corn cake is blended with green chiles and Spanish Manchego cheese, topped with three perfect jumbo shrimp and plated with artistic swashes of lemon-garlic and chile oils.
The Seviche of the day ($14) was a spectacular blend of diced, tender and sweet red snapper, diced tomato, deliciously chewy niblets of fat Peruvian corn, sliced red onions and tiny jalapeño dice, all briefly "cooked" in a spicy "tiger's milk" spiced with Peruvian aji amarillo chiles. The large square plate was painted with colorful chile pastes and oils, and plated crisp, cool iceberg lettuce and fresh yellow tomato.
Crispy fish (market price was $32), a deep-fried red snapper about a foot long, was served head and tail on, set in swimming position atop a bed of subtly flavored macadamia-nut rice, garnished with a couple of asparagus spears and streaks of spicy red-chile ginger-basil mojo on the plate.
Pechugas de pato ($29) consisted of a pan-seared Maple Leaf Farms Indiana duck breast, sliced into eight thick medallions, garnished with crisp-fried leek julienne and arranged on a bed of fancy "dirty rice" flavored with green chiles and pleasantly funky thin-sliced Spanish chorizo sausage. It was plated with thick, spicy brown pasilla chile sauce and a Nike swash of fiery green jalapeño oil.
Tres leches ($8), a classic, comforting Mexican dessert, consists of chocolate and white cakes baked with, as the Spanish name implies, "three milks" – whole milk, condensed milk and evaporated milk. Perfect cups of espresso, smooth and strong and redolent of dark chocolate, put an exclamation point on a perfect meal.
Our dinner, including a modest but excellent wine, a crisp and minerally Sauvion 2006 Muscadet de Sevre et Maine ($31) from France's Loire Valley, came to a hefty-but-worth-it $129.58, and young server Brendan Byrne, who distinguished himself with outstanding service, earned a $30.42 tip.
Seviche – A Latin Bistro
2929 Goose Creek Road
425-1000
sevicherestaurant.com