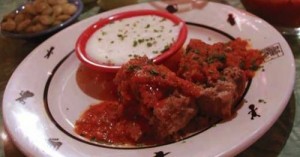 Lynn's Paradise Café is celebrating its 20th anniversary this year, meaning it has been around for a full generation, and people have been lining up and patiently waiting their turn for brunch through all those years. Think of it — kids who came in with their parents as infants in arms will be able to buy a drink there next year, and the cycle of life goes on.
I've been a fan since the very start, even back when its original incarnation was on Frankfort Avenue (in the building that now houses Cubana and that has been home to a number of other memorable eateries including an authentic Jamaican place, a first-rate Korean joint called Little Bit of Seoul, and the short-lived Danielle's).
Frankly, if you had asked me, I would have guessed that Lynn's had been around for longer — 25 years, maybe, or 30. It has become that much a landmark on the city's casual dining scene.
And, of course, the outsize personality Lynn Winter, its proprietor since the beginning, has added a colorful dimension to the place, building a reputation that goes far beyond Louisville's borders.
This may be attributable as much to public relations as to any exceptional awesomeness. I think I remember where it all started, with an early visit by a well-known national food writer who did his "research" by dropping by The Courier-Journal to ask for tips to iconic local places, was sent to Lynn's, was amused by its fun mix of diner fare and abundant tchotchkes, and wrote it up. Other national media soon took notice, designated Lynn's as a "Wacky Louisville Place To Eat," and it has come to the point where Food Network and its like can hardly come to town without making an obligatory visit.
The tchotchke collection has arguably grown since those days — they've added "World of Swirl," which Lynn's describes as "a very eclectic retail store." Yeah. Or an Archie McPhee catalog come to life in a retail setting that's one part Cracker Barrel and two parts Ron Jon Surf Shop in Cocoa Beach, minus the surfing stuff.
This all fits right in with the sizable restaurant space and bar, which fills Lynn's ample quarters with a phantasmagoria of bold colors, mismatched tables and chairs, a leafless tree that seems to support the cathedral ceiling; disco balls, blinking colored lights, mannequin legs clad in colorful '70s-style bell bottoms projecting from the walls, and a bar lined with what must be the winners of Lynn's popular Ugly Lamp Contest held every year at the Kentucky State Fair.
The menu, best known for ample portions and hearty fare, isn't nearly as eclectic as the decor, but it satisfies. When I think of Lynn's, I think first of breakfast, regardless of the time of day, and this option is certainly available.
In fact, Lynn's is a three-course dining establishment, and dinner options, most priced in the teens, include such Kentucky-flavor bistro fare as Lynn's pan-fried pecan chicken in Woodford Reserve mustard maple cream sauce, and the Louisville classic Hot Brown. But the range of dishes goes well beyond Kentucky, with a Cajun-accented jambalaya-pasta or Hoppin' Juan, black bean chili and jasmine rice with a zesty mix of Caribbean and Mexican flavors.
Lunch is available from 11 a.m. to 5 p.m. daily (the dinner menu takes over at 5 p.m.), offering a shorter list of entrees, along with soups, salads and sandwiches. And breakfast, of course, is available anytime Lynn's is open, featuring about 20 fast-breakers: omelets, scrambles, bacon, eggs, french toast and pancakes, biscuits and gravy, granola and more.
We wandered in at lunchtime and filled up so much on a lunch and a breakfast item that our midday meal sufficed for that day's dinner, too.
The lunch item, Mom's Meatloaf ($15.50), featured an oblong block of dense, juicy meatloaf fashioned from Kentucky grass-fed beef. It was topped with a thick dab of spicy marinara sauce with a shot of piquant heat and a distinct dash of dried Italian herb seasoning that it would have been just as good without. Sides chosen from an extensive list were well-fashioned braised cabbage seasoned with aromatic rosemary, and very creamy and rich but surprisingly soupy mashed potatoes.
A breakfast burrito ($11.75) fully satisfied my midday crave. An oversize flour tortilla was rolled around abundant portions of gently spicy black bean chili and tender scrambled eggs, with ramekins of zippy tomato salsa and cooling sour cream on the side. My choice of side, lima beans, was outstanding, tender but still firm limas swimming in a savory veggie broth with a subtle herbal back note. I could have eaten about a pound of those limas.
Chocolate lava cake ($7.25) was a good example of the genre: A round of chocolate about the size of a short cupcake was cakey on the margins, giving way to soft hot fudge in the center. A dollop of whipped cream and two or three scoops of simple, quality vanilla ice cream raised the ante further.
A filling lunch for two, with coffee and an iced tea, was $41.87, plus a $10 tip.
Lynn's Paradise Café
984 Barret Ave.
583-3447
lynnsparadisecafe.com
Rating: 85