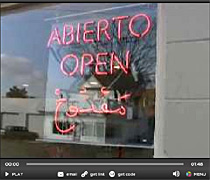 Click the image link to watch a 2-minute video tour of Caffè Classico
In a town that's virtually awash with fine artisan coffee shops, it's hard to declare a single favorite among so many good ones. I'm such a regular at Heine Bros. on Frankfort that the baristas all know just how I like my latte; I love the commitment to handmade quality at Sunergos in Germantown and the new Jackson's Organic on Lexington Road and Blue Mountain on East Main; and there's a lot to like at Day's, Highland Coffee and many more.
But if you put together quality and mood and add a point or two for excellent food and a good wine list as a serious option for those evening hours when coffee doesn't seem quite right but a glass of vino does, it's hard to beat Caffe Classico on style points.Small and sophisticated, it conveys a mood that's both welcoming and very European (or could it be Buenos Aires?), with quiet world music, friendly and attentive service and excellent coffees and teas, including java from Julius Meinl of Vienna.
In a recent discussion in our Louisville Restaurants Forum, I was surprised to hear a couple of participants mention that they've never been to Caffé Classico. To offer a preview – without, unfortunately, the smell of excellent coffee brewing – I dropped in this afternoon and grabbed a quick, rough-cut video to offer a mini-virtual tour. The video, which requires Flash, lasts about 1 minute, 45 seconds. Click this link or the image above to open a viewer and watch.
Caffè Classico
2144 Frankfort Avenue
(502) 894-9689
bbcbrew.com