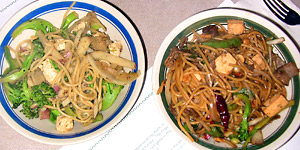 Two build-your-own stir-fries at Shah's Mongolian Grill. Photo by Robin Garr
(Voice-Tribune, April 12, 2006)
I love Italian food and wine and sometimes feel that I can't get enough of it. But after spending over two weeks in Northern Italy, enjoying the real thing for breakfast, lunch and dinner, I came home last week just about ready for a change of pace.
But what, exactly, would fill the bill? Instinctively, I emulated the Italian nobleman Marco Polo, who headed for the exotic East in 1266 and found all manner of good things: I headed for Louisville's East End to check out a favorite Asian eatery that I was overdue to visit because of ownership changes and new offerings since my last review.

Over in Jeffersontown's Stony Brook shopping center, the former 2 Hahn's Mongolian Grill, a fixture since the 1990s, came under new management last year and changed its name to Shah's Mongolian Grill. Actually, to be complete, its full name is "Shah's Mongolian Grill and Korean Cuisine," as it also offers an attractive list of more than a dozen Korean specialties in the $10 to $17 range for dinner.
But let's face it: Louisville has quite a few Korean eateries but only one Mongolian grill. When we go to Shah's, it's with Mongolian in mind, and this option is easy to like because it's tasty, healthy and affordable.
Shah's is locally owned, not a chain, but it shares the Mongolian grill principle with similar restaurants around the country, an all-you-can-eat concept based on the alleged custom of Genghis Khan's Mongol warriors of the 13th century. An army on the go, when they stopped for dinner they would place their steel shields over the campfire until they glowed red-hot, then stir-fry tidbits of available edibles on these rough-and-ready stovetops, using their swords as spoons.
At Shah's, there's no need to bring your own shield, and the prices are unchanged in more than a decade. Lunch is $6.99 for one trip through the line for adults; dinner is $12.95 (with reduced prices for the youngsters), and you can go back as many times as you like.
Grab a plate and hit the buffet: Start with a bowl full of wheat noodles, the Chinese invention that Marco Polo allegedly brought back to Italy as newfangled pasta. Then you may pile on your choice of goodies.
I chose broccoli, green peppers, scallions and white onions, a few cubes of tofu, peanuts and thin-sliced pork. My wife went with broccoli, tofu and fish. (Beef, chicken and shrimp were also available.) Next stop is the sauce section, where you can fashion your own recipe (I went for fiery Szechwan, my bride with delicate ginger-garlic) or follow a dozen suggested combinations of hot, sour, spicy, salty sauces and more to create the dish that's just right for you.
Fill your bowl with as much food as it will hold, then offer it to the chefs, who'll dump it onto a big circular grill (based on the Mongol shield) and attack it with wooden swords, tossing and flipping it until it's done. There's also a decent salad bar that includes a pilaf-like fried rice and hot soup.
Shah's pledges healthy fare with no animal fats and no MSG; if anything, the dishes still needed a bit of soy sauce and hot sauce to perk them up at the table. It's good food, though, a filling lunch, and one of the better bargains around. Two filling lunches with iced tea and a Coke came to a very reasonable $19.04, plus a few bucks tossed into the Mongolian warriors' tip jar. You don't want to get on the wrong side of a guy who's deft with a wooden sword.
Shah's Mongolian Grill
9148 Taylorsville Rd
(502) 493-0234
www.shahsmongoliangrill.com