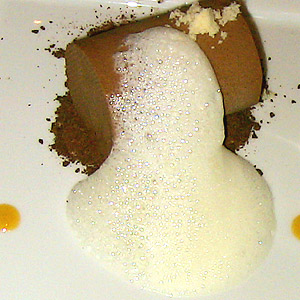 "Culinary foam": A mound of glistening orange white chocolate froth drooling off your Oakroom dessert is airy and succulent, but it's not so easy to look at on the plate. Photos by Robin Garr.
LEO's Eat 'n' Blog with Louisville HotBytes
"Culinary foam" – trendy for decades in the upper reaches of dining-as-theater – is one of the more striking "molecular gastronomy" inventions of Spanish Chef Ferran Adrià of El Bulli near Barcelona. The flavored foams – aerosol squirted onto food – add subtle tastes, and they signal that the chef is "with it."
Adrià has been foaming since 1995, and now foams have made it to Louisville, where Chefs Todd Richards and Duane Nutter and Pastry Chef Ethan Ray are making their mark with foams, smears and sauces, dispensed from martini shakers or spread in thin, colorful layers across your plate.
The Oakroom crew does molecular gastronomy very well: The white-chocolate-orange foam on a succulent chocolate trio dessert plate the other night was intensely flavored yet light as air. But much like a raw oyster (and I choose the analogy advisedly), a mound of glistening froth drooling off your food isn't easy to look at on the plate.

The Oakroom wins my affection – and my 90-plus rating – for its creative spirit. But it comes at a price: Dinner there can set you back more than most any restaurant in town. And I have to wonder if these guys have moved so close to the bleeding edge that they risk leaving much of the hotel's clientele behind. An Oakroom dinner is spectacular for hardcore foodies, but by the time the dessert plates arrive, it can seem a bit relentless.
As far as I can see, there's no way to drop by the Oakroom for a light meal. Have a hankering for a simple steak or chop at this century-old Louisville landmark? Not on the menu. Instead, you choose three or five dishes from a short list of creative appetizers, small plates, entrees and desserts. A three-course dinner is $75; the five-course option $96. A vegetarian repast is $65, and for a real blowout, select the "Blind Menu," sit back and let the chefs work their whims on more than a dozen small plates for a cool $150. Choose the add-on wine option for $40, and Sommelier Will Pullem selects a glass of matched wine for each course. The menu changes frequently to highlight seasonal ingredients; and the Oakroom has shed its long-standing Southern accent in favor of an international approach with strong Asian influences.
We lived large the other night, choosing the five-course dinner and the vegetarian feast. We passed on Oakroom's impressive but pricey book-length wine list ($1,400 for 1998 La Tache, woo hoo!) to see what Pullem would pick for us with the wine-pairing choices.
First came a complimentary hors d'oeuvre topped with the first foam of the evening: a frothy, bubbly earth-scented truffle froth on a shiitake mushroom cap loaded with a citrus-scented mix of shallots, spinach and bread crumbs. Then crusty Blue Dog bread arrived with three swirls of whipped butter: plain, with hickory-smoked salt and red Hawaiian salt.
Next up were "amuse bouches": an intense olive tapenade separated from a ration of curry-scented apricot jam by a flag of lavash flatbread; and "deconstructed chicken soup" (all the ingredients disassembled), cold, intense chicken aspic embedded with tubetti; shreds of tender chicken, bits of carrot and celery and fresh herbs. It DID taste like chicken soup!
With each course, wine-guy Pullem offered 2- to 3-ounce pours along with bits of information. By now we'd had Cuvee Anne Lauren Gewurztraminer from Alsace, sweetish and aromatic; and Leeuwin Estate Artist Series 2004 Margaret River Riesling from Western Australia, petrolly and stony. With the salads we'd get Treana Central Coast (California) Marsanne-Viognier, off-dry and unctuous, and Four Graces Willamette Valley (Oregon) 2004 Pinot Gris, crisp and citrusy.
The "Early Spring Salad" was a carrot-and-goat cheese "Bavarian," lettuces, "plumped" raisins and roasted-pineapple dressing. The startling and unusual flavors worked well: Combining in unexpected ways is a hallmark of the Oakroom's art, and we saw it all evening. The "Interpretation of Alain Ducasse 'Light as Air' Chicken Pâté" was a triangle of earthy pink chicken pate, a dab of chopped toasted almonds and tupelo honey; a small wedge of rather under-ripe Brie and another trendy item that would recur, a "shooter" glass, this one filled with a Slurpee-like mix of crushed ice, Chardonnay and aromatic lavender.
Onward.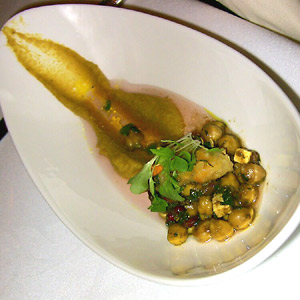 Tread mark: Try to suppress the image inspired by this smear of curried chickpea puree on an oddly shaped china bowl. It's delicious, we're telling ya!
A chickpea puree smeared in a thick, beige tread mark running half the length of the bowl met up with a mound of chickpeas, diced carrots and ricotta salata cheese redolent of cumin. As it was served, our waiter poured a "pomegranate martini," shaken not stirred, over the whole thing. Bacon-wrapped lamb sweetbreads (yes, the thymus gland, get over it) was a delight: Two small rounds of granular, subtle white meat wrapped in delicious smoky-sweet bacon, plated with a block of grilled papaya and a ball of pale-green green-tea rice, decorated with a molecular-thin paint-stripe of butterscotch sauce and a couple of thin slices from a red jalapeño pepper. That's the glory of the Richards-Nutter kitchen, pushing the bleeding edge but making it work most of the time, and earning your respect for effort even when it doesn't.
Then: butternut squash mezzaluna, ravioli-like pasta pockets filled with a spicy squash puree reminiscent of pumpkin pie, served with savoy cabbage and ginger-braised carrots. Perhaps the best dish of the evening was the "Big Island Tuna Sashimi Miss Audrey Saunders Earl Grey tea concoction with lemon and juniper, salmon roe and wasabi 'roe.'" Triumphant with Pacific Rim texture and flavor, the squares of silken, purple ahi tuna floated on a foamy beige bergamot-scented sauce; salmon and flying-fish roes and crisp pomegranate seeds popped in your mouth.
Creamy, tart Granny Smith apple sorbet made a fine palate cleanser.
Next came the fourth course (the "entrees"): Chanterelle mushrooms with porcini-stuffed tortellini and white asparagus were plated with Port wine and chocolate sauce that combined with a faint peanut flavor in the tortellini to create an eerie impression of a Reese's Cup. It went well with Cabarnon du Pascal 2002 Grenache from France's Languedoc. My artfully plated "trifecta" had a chunk of lamb tenderloin, a short length of earthy lamb sausage and a cute iron crock of barley soup with tiny onions, served with John Duval "Plexus" Grenache-Syrah-Mourvedre from the Barossa Valley. I'd asked for lamb on the pink side of medium-rare, but it came out closer to well-done.
We made the mistake of asking for espresso and got brimful espresso cups of what appeared to be dark-roast coffee, dramatically overpriced at $5 a cup. Sugar in small commercial paper packets was also an odd lapse for this high-service eatery.
A wait of 20 minutes or more preceded our desserts' arrival. Maybe it's intentional, intended to allow diners a little digestion and hang-out time before finishing up, but the service had been so attentive to that point, I was surprised nobody seemed to notice us peeking at our watches.
Around the chestnut panna cotta pooled an eggy, tarragon-scented sabayon sauce, pomegranate seeds and "martini." The "trifecta of chocolate duets" plate bore a bergamot-scented dark-chocolate parfait, a passionfruit milk-chocolate truffle and orange-white chocolate two ways: an "emulsion," ending the meal as it had begun with a dollop of foam; and a creamy, intensely flavored "shooter." The 1964 Broadbent Bual Madeira and Rumball Coonawarra Sparkling Shiraz were fine matches.
All this excitement came to a breathtaking $272.42, and splendid, flawless service from a dedicated team of servers and sommelier called for a tip well over 20 percent: A $60 add-on brought the total for the evening up to $332.42, the most I've paid for dinner since I laid out 222 euros a few weeks ago at the three-star Ristorante Arquade at the Villa del Quar outside Verona. But they had no foams.
The Oakroom
Seelbach Hotel
500 S. Fourth St.
585-3200
www.seelbachhilton.com/hoteldining.html
Rating: 92 points