Take me out to the ball game,
Take me out to the park.
Buy me some peanuts ($3) and Cracker Jack ($2.50) …
Hold on just a minute! We're only three lines into the song, we've already spent more than five bucks, and all we've had is salty and sweet snacks?
You've got that right, Bubba … concession pricing at Louisville Slugger Field may not be quite up into major-league territory (but then, neither are the Triple-A International League Louisville Bats), but an evening at the ball park isn't a cheap dinner. By the time you pack in a bag of peanuts and a box of Cracker Jack, not to mention a 1/3-pound burger ($4), an all-beef hot dog ($3) or the irresistible joys of a fried bologna sandwich ($2.75), not to mention a soft drink ($2) or a 20-ounce plastic cup of cold beer ($4.25), you're looking at a tab for dinner that wouldn't be out of place in some of the lower-end Bardstown Road bistros. And frankly, your dinner won't be nearly as good.

To management's credit, most concession prices appear to have held the line without an increase for the past couple of years. But in terms of both quality and service, there's no denying the harsh reality: Food service at Louisville's baseball games has gone downhill a long way since A. Ray Smith, a great basball man who knew how to treat fans right, brought baseball back to Louisville in 1981.
Slugger Field remains one of the most pleasant places in the city to spend a summer evening, but it may help to bear in mind that, frankly, it's a ball game, not a restaurant. The team is owned by bankers, and it shows: Food service is as functional, and as unimaginative, as a slow-moving teller line. Times have changed since A. Ray brought to town a treat called nachos, a confection so alien to the Louisville of the early 1908s that a Courier-Journal reporter of the era felt compelled to describe it in detail in a story about the new team.
As the Bats wind up their first long home stand of the 2006 season, we've been out several times and pretty much eaten our way through the menu, taking particular care to sample a few items new on this year's bill of fare. Let's take a look at those goodies first; then we'll catch up on some other ballpark favorites, including the few selections that might actually pass muster if this was a restaurant and not a ball game.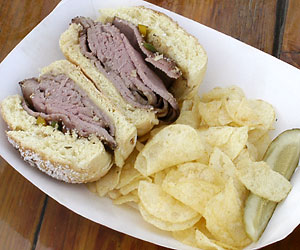 Topping the price list of new items is something called the Beef de Ville, a fairly hefty beef sandwich that goes for a cool $7.50. It's available at the left-field grill stand, in the Club Level consession booths (theoretically open only to ticket-holders in the premium upper level seats), and one or two of the consessions around the main floor concourse. It's a roast-beef sandwich on a bun, a credibly good-size portion of well-done beef hand-cut in thick slices from what appears to be a chunk of boneless pot roast, piled on a hard, heavily salted Kaiser-style white roll with a smear of mayo and a few small bits of sauteed red and yellow bell pepper. It's pricey for ballpark fare, but big enough for two to share.
Also new this year is the Foot Long Chili Cheese Dog ($6), a moniker that pushes the limits of truth in advertising, as mine – by actual measurement – turned out to be a nine-inch basic bright-pink industrial dog on a dry and rather stale bun that measured a frog hair over 11 inches. It's still a good-size sandwich, and coming as it does with a couple of ladles full of hearty Midwestern-style mild ground-beef chili with red beans and a ration of bright yellow shredded mild American cheese, it's a filling dinner of hardly a gourmet-style repast. The chili quickly soaks through the bun and makes picking up and eating the thing a major challenge, by the way … it would probably be a good idea for them to serve it with a plastic knife and fork … or bring your own silverware.
The other new food item for 2006 is a side dish, onion rings ($4). It's not a bad effort. On the plus side, these are thick, hand-cut sweet white onions, and they're thickly battered in a sweet and malty breading that might be beer batter. I've tried them twice and both times got good-looking golden-brown rounds that, unfortunately, came out very greasy both times. We're not dealing with culinary-trained chefs here, and I'm guessing that temperature control on the deep fryers is far from precise.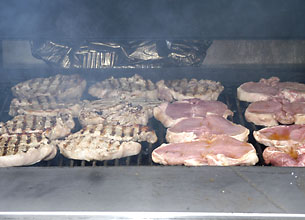 Most of the other options are standard ballpark fare, but the top foodie choice (assuming that the foodie is not a vegetarian) remains the huge, grilled pork chop sandwich ($5.75, and also big enough for two) grilled fresh and sold only at the left-field stand. It's best to line up early for these, as they sometimes run out, and it's particularly good to try to time your visit so you can catch a chop sizzling off the coals rather than one that's been steaming inside a foil wrapper in a warming bin for a while.
This stand, worth the stroll around from the stands, also offers other smoked dished including a whole smoked turkey leg ($5.75), an interesting concept but usually stringy and impractical to eat without a plate, knife or fork, pulled pork barbecue sandwich ($5), which is tender and smoky but doesn't really rank high in comparison with top local BBQ joings; and the relatively healthful options of baked potato ($3.75) and roasted corn ($2.50). Do not be fooled by the "specialty beer" sign on this booth: You'll pay $4 for a small (12-ounce) cup of a Budweiser-made "stealth micro" such as Redhook ESB. The thrifty should also note that the in-park beer vendors sell 12-ounce cans of Bud and Bud Light for $4.25; the same toll will get you a 20-ounce cup of draught beer at the concession stands. It's still Bud, but both size and draught flavor make a difference. A small difference, but we're talking desperate measures here.
Elsewhere in the park, food pickin's are frankly slim. In the Club Level only, half-pound hamburgers or cheeseburgers ($5) aren't bad, provided you can get one fresh off the grill; they lose it quickly in the warmer; and the Club Level booth on the first-base side only offers a decent fish sandwich ($3.75) of the perfectly rectangular Filet-O-Fish style, usually made only to order, which requires a five-minute wait but assured you a crisp, freshly fried module of "fish."
Bottom line, don't go for the food, but if you do, it's worth walking around to the left-field grill. Bringing your own is not a practical option; management unabashedly forbids bringing food in (in contrast with the family-picnic friendly policy at Indianapolis Victory Park), and bags are subject to search. A trip out to Browning's Brewery or Park Place on Main before or after the game is also well worth considering, although it can be a little more difficult to sneak out to Browning's for a quick one during the game … Bats staff are generally accommodating, but the formal policy forbids ticket-holders to exit the stadium area and return.