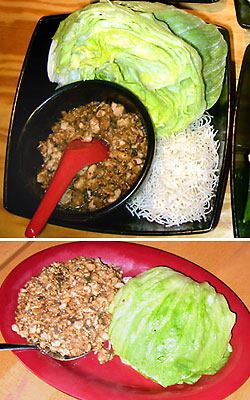 The lettuce wraps at Yang Kee Noodle (top) and I Ching Asian Cafe are similar, but Yang Kee provides more lettuce and goodies on the side. Photos by Robin Garr
(Yang Kee Noodle, I Ching Asian Cafe, Voice-Tribune, July 12, 2007)
If you like the fresh, healthy and enticing flavors of the colorful cuisines of East Asia, but feel a little wary about dining at ethnic eateries where the menu is printed in a language you can't speak, then fast-casual Asian dining may be just right for you.
Coming from the West Coast, as so many modern food trends do, this spreading development is largely carried by franchise chains like Pei Wei (P.F. Chang's little brother), Rice Boxx, Pick Up Stix Fresh Asian Kitchen, Chef Martin Yan's Yan Can and Tokyo Joe's.
Like the similarly swelling wave of "fresh burrito" chains, competition is keen in this niche, and the concepts are so similar that sometimes the only way to tell where you're dining is to look at the corporate logo.
None of the Asian chains have reached Louisville yet, but the concept is going strong in the East End, with two independent properties competing from shopping-center venues just a mile apart on Shelbyville Road.

Curiously enough, neither Yang Kee Noodle in Oxmoor Center (which opened in August 2003) nor I Ching Asian Cafe in Shelbyville Road Plaza (which opened in Lexington in September 2003 and Louisville last February) is a chain. But both operations neatly mirror the concept, and both clearly have expansion in mind.
Yang Kee Noodle's style is simple but not plain, heavy on shiny wood and bright white and dark blue colors with orange swatches that evoke Chinese calligraphy. I Ching's decor looks a bit more sophisticated, slick and upscale with pale wood and cool colors.
Like most of the genre, both restaurants channel diners past an oversize wall menu to a service counter where you order, serve your own drinks, take a table and wait for your dinner, which comes out promptly. The menus are similar too, featuring simple renditions of Asian dishes with Chinese, Thai, Vietnamese, Japanese and Korean flavors, with main dishes priced well under $10.
Yang Kee's Vietnamese-style "cool lettuce wraps" ($5.49) consisted of finely minced cooked chicken and spices, crisp rice noodles, and a stack of cup-shaped slices of iceberg lettuce to wrap them in. I thought they were fine; my wife found them salty and a little too spicy for her liking. A similar dish at I Ching ($5.95) added minced shiitake mushrooms and water chestnuts to the chicken, with a "toasted chili peanut sauce" that significantly boosted the hot-and-spicy quotient. A short stack of lettuce cups proved insufficient to load in all the chicken meat.
Pot stickers were $3.49 for four dumplings at Yang Kee, $3.99 for four at I Ching. Yang Kee's were fine, stuffed with a minced chicken, shrimp and veggie mix, nicely browned on the bottoms. I Ching's version was stuffed with minced pork and appeared deep-fried rather than traditionally wok-seared.
Yang Kee's Lime Tree chicken salad ($6.99) was tasty if not terribly exotic, chopped fresh lettuce tossed with shredded chicken in a tangy, fruity ginger-lime dressing. Island green curry ($7.99) was a hot-and-spicy stir-fry mix of shredded chicken with pea pods, cubes of yellowish kabocha squash, hot Thai chiles and lemongrass.
At I Ching, an appetizer portion of seared sesame tuna ($6.25) was a small block of shocking-pink tuna, its edges seared and rolled in black and white sesame seeds, sliced and served cold atop a bed of tangy marinated bean sprouts. Looked good, but flavor was lacking.
Thai coconut curry ($6.75) was piquant but hardly fiery. Wide rice noodles (some of them stuck together in hard, under-cooked stacks) were tossed with bean sprouts and topped with white chicken meat and rather chewy green beans. I couldn't pick up much coconut flavor in the sauce.
We ordered appetizers and main courses to have plenty to evaluate, but a single dish each would be plenty for a normal lunch and would save both cost and calories. Both our lunches came to about $30 for two, plus tip.
Yang Kee Noodle
Oxmoor Center
7900 Shelbyville Road
426-0800
www.yangkeenoodle.com
I Ching Asian Cafe
Shelbyville Road Plaza
4600 Shelbyville Road, Suite 10
893-7171
www.ichingcafe.com