As I've observed before, the Louisville dining scene has grown remarkably – or, for a food-related metaphor, let's say it has "mushroomed" – over a generation or so.
Toward the end of the 1970s, growing-up baby boomers hailed the arrival of a squadron of exciting new eateries: the fondly remembered Formally Myra's, Casa Grisanti and Cafe Metro as well as the still-extant Bristol and Jack Fry's, and many more.
Right in there among them, The Cheddar Box came along in 1979, beating even the venerable Lotsa Pasta to the local scene by several years. Under the continued leadership of Nancy Tarrant, The Cheddar Box has been delighting us with carry-out and catered fare ever since.
Thousands of happy consumers can testify to its excellent soups, salads, desserts – the caramel cake is a local icon – and a Benedictine BLT so good that Food Network Magazine this year dubbed it Kentucky's No. 1 sandwich in an article highlighing 50 sandwiches in 50 states.
But no matter how many people whined, pleaded and begged, threw themselves on the floor and held their breath until they turned blue, Tarrant firmly resisted a repeated entreaty: "Why in the heck don't you open a restaurant!?"
Nope. No way, no how. If you wanted to eat your Cheddar Box feast on the premises, you could take it out the door and perch at a black metal patio table under the veranda of the Chenoweth Square shop.
Until now! After months of renovation that have turned the old Digs garden shop in Chenoweth Square into a lovely, light and airy dining room, Cheddar Box Too opened last week, to the delight of crowds that slammed it over the weekend.
Normally I might wait a few weeks before reviewing a new spot, but we dropped in on Saturday for a lunch so satisfying, with new-shop jitters so minor as to be easily forgiven, that I think it's okay to let you know that they're ready for your visit.
The menu, as you might expect, is loaded with Cheddar Box favorites, although in light of the recent publicity I was surprised to find the Benedictine BLT missing. Perhaps Chef Derek Roberts will put it on as a special? There's plenty more to keep you happy, though. It's open daily from 7 a.m. to 3 p.m., with a good choice of breakfast and lunch dishes available during all hours.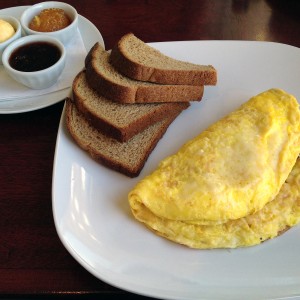 There's nothing on the menu that won't get you change from a tenner. Breakfast options range from $6.50 (for two hearty oatmeal dishes or biscuits and sausage gravy) to $9 (for a steak-and-egg repast or a three-egg omelet with your choice of three fillings). The lunch menu offers soups of the day, four salads and eight sandwiches (plus daily specials), topping out at $9 for a classic Hot Brown, a Cheddar Box specialty, or $9.50 for a half-pound burger with gruyere on brioche.
A cup of tomato-artichoke soup ($3) was warm and filling, rich with cream. A Reuben sandwich ($8) was pretty good, piled high with deli corned beef but not so high with a small portion of sauerkraut. It was toasty on top but soggy underneath, a fault perhaps attributable to the kraut. The menu said sandwiches came with kettle chips, but our bill showed a 50-cent chip charge, perhaps an opening-weekend glitch.
An omelet ($9) was golden and perfect, stuffed with melted Gruyere cheese, sliced mushrooms and sweet diced onions. A side dish of crisp, sizzling fries ($3.49) was fine, and a hefty slab of caramel cake ($4) lived up fully to the Cheddar Box tradition.
With iced tea ($1.50), a filling lunch for two came to $31.26, plus a $6.74 tip.
The Cheddar Box Too
3909 Chenoweth Square
502.893.2324
thecheddarbox.com