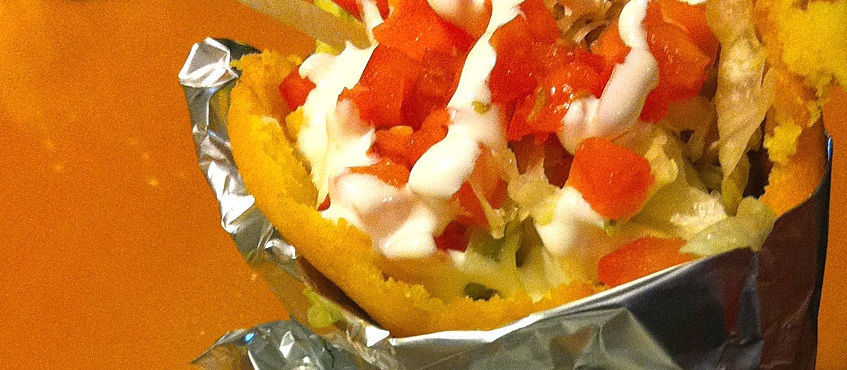 A few weeks ago my brother, Matt, was in town visiting from his home and work in Lima, Peru, and I figured it would make sense to take him with his fluent Spanish to an ethnic restaurant where we could put his language skills to work.
So off we went to La Colombiana, a fairly new eatery in Lyndon that features, as the name suggests, the cuisine of Colombia, a Latino nation on the north end of South America.
As it turned out, no special language skills were needed: The charming and competent service at La Colombiana speaks English perfectly. But my brother and our server still had a great time chatting in Español, and Mary, Matt and I enjoyed an exceptional, affordable dinner for three.

La Colombiana is bright and spacious, located in the sizable shopping center space formerly occupied by FireFresh BBQ. (Mi Patria, one of the East End's best authentic taquerias (and small Mexican grocery) is in the same strip; we should take Matt over there next time.)
If you open a restaurant with a Spanish-sounding name, folks are going to expect Mexican food, and La Colombiana succumbs to this pressure with extremely good chips and salsa and a selection of familiar Mexican dishes like Guacamole ($2.95) and white queso dip ($2.95) and a few entrees that could play Mexican or Colombian, such as shrimp cocktail or shrimp and rice ($10.99) and grilled skirt steak ($11.99).
This is Louisville's only Colombian restaurant, though, and it makes sense to take advantage of the opportunity to explore genuine Colombian fare. The menu makes it easy, with a good selection of affordably priced items clearly described in Spanish and English.
About a dozen pasabocas (appetizers) and antojitos (snacks) range in price from $1.75 (for Colombian empanadas stuffed with beef, chicken or cheese) to $9.99 (for a tamal Bogotano, a hearty Bogota-style tamale – very different from the Mexican version – loaded with pork, chicken and beef with garbanzo beans and green beans and carrots, all wrapped in cornmeal dough).
Nearly two dozen entrees and specials are deliciously affordable, from $9.99 (for many items such as arroz con longanisa, yellow rice with Colombian sausage and veggies, or sudado de carne, a stew of marinated beef, onions and tomatoes with white rice), to $13.99 (for a T-bone steak asado, marinated and grilled with onions and peppers, or bandeja paisa, a Colombian sampler platter.
There's a short selection of domestic and Mexican beers (bottle or draft); a recently acquired wine license allows the addition of a tasty sangria.
Mary tried one of the half-dozen variations on the arepa ($6.99), the classic Colombian street food, a thick toasted cornmeal cake topped with cerdo asada (marinated pork), beans, lettuce, tomatoes and sour cream.
Matt's selection, sudado de res enchilado rojo ($9.99) earned two thumbs up. It's a hearty Colombian beef stew in a rich, not hot-and-spicy, red sauce, served with excellent rice and well-made beans.
I got a little adventurous with lengua al horno ($10.99), four thick slices of roast beef tongue (tastes like roast beef!) It was served with rice and fried cassava (yuca) and a savory sauce.
The dessert options this evening included both chocolate and coconut flan, inspiring the instant decision to order both to share, in hope of achieving a Colombian-accented Mounds Bar experience. It was a very good flan, too, creamy and deeply caramel flavored, One sat on a thin base of chocolate sponge cake. The other was made and topped with shredded coconut.
A filling dinner for three came to $46.57, and exceptionally competent service, friendly without being intrusive, earned a $10 tip. No translator was needed.
La Colombiana
808 Lyndon Lane, Suite 105
742-1179
Facebook: http://on.fb.me/lacolombiana