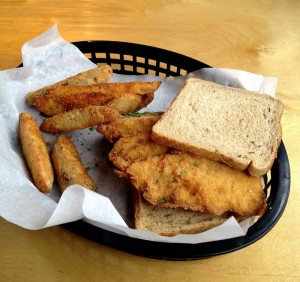 When the Fish-Fry House opened in the Highlands last year, it generated a lot of excitement among local fried-fish lovers (who, of course, are legion), but not entirely for the right reasons. People emailed, they called, they stopped me on the street to pronounce the good news: "The Fishery has opened a branch in the Highlands!" Actually, not so much. In fact, when this purveyor of fried fish and other fried things changed its name from Blue Lagoon about a year ago, it hoisted a logo that looks an awful lot like The Fishery's: Same fat serif font, same big F at the start and big Y at the end; the only difference is a little "-f" replacing The Fishery's little "e" in the middle of the word. Drive out Bardstown just past Kroger and check it out. Chances are it will fool you, too.
In fact, the tenuous connection reportedly goes back to an old franchise agreement for a different location. The similar sign was not exactly welcomed by the original Fishery folks, or so I'm told.
But the argument has apparently abated, as the sign still stands. Live and let live. It takes plenty of fish to satisfy all the fish lovers in this fish-happy town, anyway, and that goes double when it's Lent, the season when a lot of believers, in the spirit of sacrifice, switch over from delicious red meat to delicious fried white fish during the 40 days before Easter.
You don't have to believe a thing beyond "I believe I'll have me a fish sandwich" to enjoy the goodies here, though; and I'll testify that Shahram Pouranfour (who also operates Sharom's Fishery Station on Outer Loop) is a master of breading and frying. In a recent visit, we didn't taste a fried item that wasn't crisp, golden-brown and delicious. The offbeat venue only adds to Fish-Fry's curb appeal: It's located in the '20s-era gasoline service station that was lovingly renovated for restaurant use by the late, lamented Diamond Station.
The menu, as noted, depends substantially on frying, with fried Boston scrod, chicken, shrimp, chicken livers, oysters, salmon croquettes; even fried alligator tail and fried shark bites, along with a few tasty non-fried items such as oven-baked scrod, on a family-friendly menu topping out at $12.95 (for a fried oyster platter with choice of two sides). The bar is currently shut down, a sign on the door announcing that wine, beer and liquor won't be available "until further notice."
We made do with iced tea and filled up on a well-made fried scrod on rye ($6.50), an oversize rolled oyster ($5.75) that resembled a giant hush puppy with tiny fresh oysters baked in, and sides of outstanding fried green tomatoes, standard-issue green beans and, reflecting Pouranfour's Persian heritage, Iranian-style dilled rice.
Our fried lunch for two, filling enough to set aside any plan for a serious dinner that evening, came to $27.78, plus a $6 tip.
Fish-Fry House
2280 Bardstown Road
632-2583
fishfryhouse.com