Robin Garr
LouisvilleHotBytes.com
I don't guess it comes as a major surprise to disclose that I'm a huge fan of world food. Follow my foodie trail and you'll usually find me checking out another Thai, Indian, Vietnamese, Mexican, Venezuelan, African or other delicious immigrant-cuisine meal. That goes double during these pandemic-remnant times when simple economics have me looking for good, cheap eats.
But sometimes I've just got to have a good old-fashioned American repast like my mother used to make. Or maybe a little better. Sorry, Mom!
So it was this week when I happily eased into a comfy booth at Cheddar Box Too. In case you've forgotten, that "Too" signifies that this is the sit-down-and-dine sibling of Cheddar Box deli and specialty-food shop, which sits just a few feet across a parking lot from this free-standing building.
The original Cheddar Box has turned out delicious homemade soups, sandwiches, and desserts to go since 1979. Cheddar Box Too opened about 34 years later, in 2012, after owner Nancy Tarrant finally gave in to a constant, years-long chorus of pleas to open a restaurant.
Cheddar Box Too is a great place for breakfast and lunch, its Facebook page declares, and I agree. It's open from 8 a.m.-2:30 p.m., seven days a week, in the attractive white building that previously housed Diggs garden shop, and before that, the original home of the St. Matthews branch of Paul's Fruit Market, which now occupies a larger space nearby.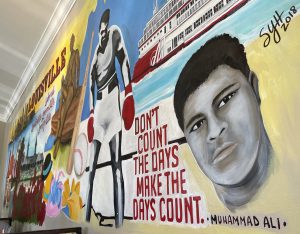 I like the mood inside, where a huge painted mural depicts the Louisville scene, the riverfront and Belle of Louisville, and homage to Muhammad Ali. On the front of the building, a row of square windows the length of the long, narrow room gives a hint of old-time diner feel.
The menu is really two bills of fare: Lunch, which largely mirrors the sandwiches, soups, and salads that made its Cheddar Box sibling famous; there's also an extensive breakfast menu that's available throughout the day.
The lunch menu includes a dozen sandwiches, priced over a narrow $11 to $13 range. The Cheddar Box Hot Brown ($13) and turkey Benedictine and bacon ($12) are particularly famous, even garnering a Food Network mention; but I've never been disappointed in anything on the menu. Sandwiches come with your choice of kettle chips, fries, fruit, a small salad or a cup of soup.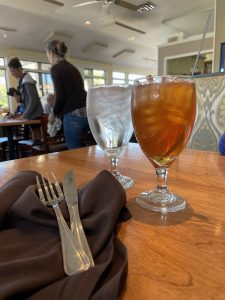 A half-dozen salads are in the same price range, with a pan-seared salmon salad topping out at $14. Nine house-made dressings are available. A pair of soups – the trademark tomato-artichoke and a soup of the day – are $4 for a cup, $7 for a bowl.
Flip the page to the breakfast menu and you'll find 13 options including just about any diner option. Dishes range in price from $6.50 (for a bowl of oatmeal; a cup is just $4.50), to $13 (for a biscuit and gravy basket, a two-egg basket with spinach and tomato or a Southern Benedict with biscuit and gravy). Another dozen a la carte breakfast items or sides are all under $4.50.
A cheeseburger (pictured at the top of the page, $13 plus a $2 upcharge for mushrooms) was spectacular. The eight-ounce burger was a full inch thick. Not only was the patty oversize, it glistened with droplets of fat and reddish juices; it was exactly medium-rare, as ordered, and boasted a delicious juicy, beefy flavor.
Both halves of the bun had been grilled in butter, and the patty was topped with squares of American cheese melting from the heat. The burger sat on a thick tomato slice atop lettuce leaves; on top of the patty sat thick-sliced red onion and snappy pickle rounds.
Fries on the side were perfect, too. Long, square-cut, and grease-free, they had a crisp exterior that crunched when you bit in, revealing a smooth, creamy interior.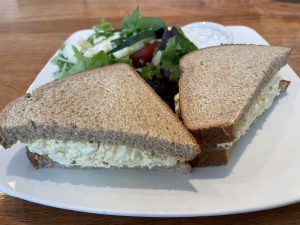 An egg salad sandwich ($11) might seem pedestrian in comparison, but here again Cheddar Box Too shines. Two slices of wheat sandwivh bread enveloped a large portion of creamy, flavorful egg salad. Finely diced hard-boiled eggs had been mixed with mayo and enough mustard to addtang, with sweet relish blended in to add tart, crisp flavor pops.
A "petite" salad (free as side, $4.50 a la carte) kept up the flawless pace. Spring mix lettuces had been carefully picked over and tossed with juicy halved grape tomatoes and sliced cucumbers, with thin slices of nutty Parmesan cheese. Blue cheese dressing was thick, creamy, and loaded with chunks of soft cheese.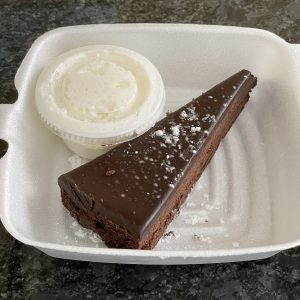 Cheddar Box Too offers a single dessert of the day, and chocolate torte ($6) was a great one. It showed contrasting layers of rich, dark cakey interior with a dark ganache topping. A tub of whipped cream came alongside in the to-go box.
With cold, fresh iced tea, an excellent lunch for two came to $37.10, plus an $8 tip.
Cheddar Box Too
109 Chenoweth Lane
896-1133
cheddarboxtoo.com
facebook.com/CheddarBoxToo
Noise Level: This place is popular and gets crowded quickly, ramping up the noise level. Noise levels during our lunch visit averaged 73.7dB – the sound of your television at normal volume – with peaks to 80.2, the roar of your garbage disposal.
Accessibility: The new building appears fully accessible to wheelchair users.