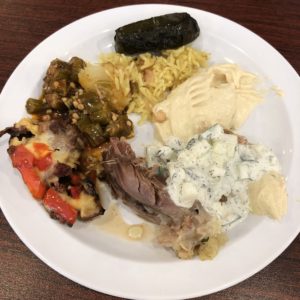 Here's something you won't often hear me say: I love an all-you-can-eat buffet. Specifically, I love the buffet at Al Hamra Halal Mediterranean Buffet at Mid City Mall. Buffet, schmuffet: This is the only place I know of where you can fill up on Jordanian specialties and pull forkfuls of tender, juicy meat off a whole roast lamb.
I accept that it's unusual to praise a buffet, though, because – with a few worthy exceptions that I'll get around to shortly – foodies generally loathe buffets, with good reason. Why the hate? Buffetphobia seems to stem from several concerns, most of which I share: Too much food, a monument to gluttony. Overpriced, unless you eat more than you should. Boring selection. And do those sneeze shields work? You get the idea. It feels prudent to be wary.
But there are exceptions. I'm willing to suspend disbelief for an Indian buffet or a lavish weekend brunch. To that list I now eagerly add the Al Hamra buffet. It's bountiful, it's carefully curated, and it's good.
Al Hamra fills the space once occupied by Mid City Super Buffet, an otherwise forgettable Chinese buffet that, as the name implies, held an exceptional number of buffet tables.
The new tenants haven't changed the decor much. The room still features red pagoda-look roofs over the buffet tables and Asian-style art etched into the glass booth dividers.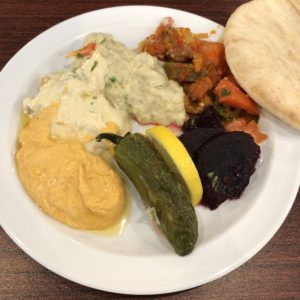 But we came for the food, and Al Hamra delivers. I counted seven buffet tables housing at least 70 buffet pans. That's a lot of choice, and it falls into three broad categories:
* American steam table standards such as green beans, kidney beans, roasted potatoes,, cole slaw, beets, and more.
* Middle Eastern standards, well made but familiar: hummus, stuffed grape leaves, baba ganoush.
And then there are the specialties from owner  Ibrahim Qasim's native Jordan. These are the dishes you really want to try. When you run into some unfamiliar names like kushari or musakhan, don't worry. Try it. You'll like it.
There's no menu. Just take a white earthenware plate from the stack and roam the tables, trying whatever looks good. Pro tip: It all looks good.
We went through dishes almost at random, so this review will do the same.
Eggplant, tomatoes and meat was sort of a deconstructed moussaka, it was a savory, not too spicy mix of chunks of lamb, eggplant, and tomatoes.
Another lamb dish, mansaf, presented bits of bone-in lamb cut across the leg. It's served in a tangy yogurt sauce and is best poured over saffron-scented mansaf rice.
The whole roast lamb, however, was the pièce de résistance. set in a place of honor with a pair of tongs to pull your own. The halal meat was firm, not tough, with a distinct gamey-lamby flavor that lamb lovers crave.
There's also a tasty Jordanian chicken dish, musakhan, baked chicken pieces flavored with the herb sumac and served with caramelized onions and flatbread.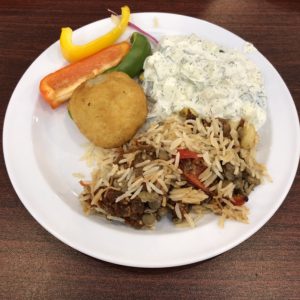 Kushari, a Mediterranean dish with its roots in Egypt, was so good that we got seconds and thought about thirds. A mixture of long-grained basmati rice, cavatappi pasta, and lentils all mixed together, it's topped with a spiced tomato sauce and garlicky vinegar that brings all the flavors together in a delicious, two-alarm spicy mix.
As a matter of fact, quite a few of the dishes were hot-and-spicy, including a tomato-jalapeño salad and whole cooked jalapeños. Heat levels aren't indicated, so if you want to know for sure, the friendly workers are eager to explain the dishes.
Hummus was as rich and creamy as I've ever tasted; it comes in regular and a spicy version tinted orange with hot peppers. Baba ganoush, hummus' eggplant-based cousin, was excellent too, with a slight chunky texture.
Potato kubba was a round, tasty puck-shaped ball of mashed potatoes stuffed with something like Lebanese kibbeh, ground spiced lamb, and very good. It's served with strips of red, green and yellow bell pepper and some smaller, fiercely hot red peppers.
There were so many good things that we couldn't possibly get to it all, but took small portions of as much as we could. Okra soup contained long-simmered cross-cut pieces in a clear broth. Grape leaves stuffed with soft rice were Mediterranean comfort food. Yogurt-and-cucumber mix resembled Indian raita or Greek tzatziki, good either way. Red snapper (pictured at the top of the page) was on the dry side and a little fishy. Watermelon chunks and sweet, honey-drizzled squares of baklava made a fine finish.
Two $15.99 buffets plus a tall glass of iced tea ($2.39) brought the toll to $36.43. Even though it's a serve-yourself buffet, I added a 20 percent tip for Al Hamra's courteous, attentive team of servers.
Al Hamra Halal Mediterranean Buffet
Mid City Mall
1250 Bardstown Road, Suite 19
394-4801
facebook.com/alhamrabuffet
Robin Garr's rating: 86 points
Noise level: The busy lunchtime crowd generated a happy buzz, but tall glass panels surrounding three sides of our booth created a relatively quiet space. (The average sound level within this sanctuary was 73dB, the sound level of normal conversation.)
Accessibility: Buffet table service may be difficult for unassisted wheelchair users with limited hand and arm mobility. Otherwise, the restaurant space and restrooms are accessible to wheelchair users..