I love pasta in all its forms. Heck, I love it that there are so many forms. From skinny angel hair to broad pappardelle; long, short, or in-between, gimme. Pasta is my comfort food, and I'm delighted to report having achieved maximum pasta comfort at Amici Café in Old Louisville the other day.
Amici has been around since 2006, but went through a down period amid ownership changes and had fallen off my radar for years. But new owner Don Reinhardt, a longtime Pittsburgh restaurateur with roots in Southwestern Jefferson County, returned to town over a year ago to take over Amici. Its luster is restored. It's time to put it back on the to-go list.
Housed in an attractive 19th century building with its entrance through a courtyard on the side, Amici's dining room still features a charming mural of an Italian village with stone buildings and shade trees. Old Italian family photos add to the nostalgic decor, with undraped black tables and sturdy wood-and-metal chairs to serve diners. A comfortable bar occupies a separate room at the front, and the patio offers comfortable al fresco dining in season.
The menu tilts toward family Italian, with many pasta dishes and tomato sauces of the Italian South. It also comes with a healthy dose of Reinhardt's wit. Eggplant, it informs us, is "not an egg, but it's a plant." The white pizza, it adds, "is as white as a Donald Trump rally," a snark so divine that it almost prompted me to order one.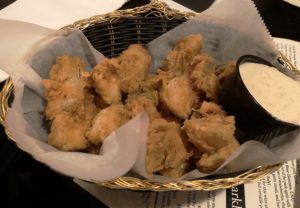 The bill of fare starts with 10 antipasti, Italian-style appetizers and almost a dozen salads, affordably priced from $8 to $12; a couple of soups of the day are $4 for a cup, $6 for a bowl, but also come along free with most entrees as a choice of soup or salad.
Eleven entrees, all featuring some form of pasta, range in price from $16 (for chicken or salmon piccata, asiago chicken, or sweet chili pasta) to $18 (for several dishes). A bowl of spaghetti is $16, with choice of seven sauces, and a half-dozen 10-inch pizzas are $10 to $14. Six sandwich options are $10 to $12.
The wine list offers two dozen Italian and American options, well-chosen for the food and reasonably priced from $34 to $45 for a bottle, $10 to $12 for a glass. There's also a short beer list and good cocktail selection. Our friend Bruce gave two thumbs up to a $10 glass of Marchesi di Barolo Barbera Maraia, a light, zippy red. I was happy with a classic Tanqueray negroni ($7.50).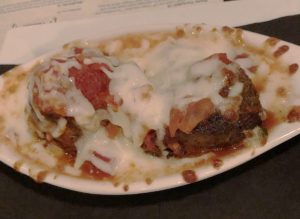 Meatballs and mozzarella ($8) consisted of two good-size, flavorful beef meatballs, tender and light, in tangy-sweet tomato sauce under a blanket of molten mozz'.
Addictive artichoke fritters, pictured above ($8), bite-size bits of tender artichoke heart, were dredged in seasoned flour and fried, served with a mild horseradish dip.
Bruschetta ($8) were build-your-own, small rounds of olive-oil scented grilled bread served with separate dishes of chopped tomatoes, black olives, and basil-garnished grated cheese.
The house-made tomato sauce (ragù al pomodoro) is exceptional. It's not your traditional thick, long-simmered red sauce, but something lighter and more delicate, a simple blend of chopped canned tomatoes and their juice with olive oil, a few capers, and garlic.
Eggplant Parmesan ($17), pictured at the top of the page, is a traditional family Italian dish. It gets a lighter treatment here with four half-inch-thick eggplant rounds lightly dredged with flour rather than breaded and fried. They were topped with melted Parmigiano and provolone and served over a generous portion of thin al dente capellini pasta dressed with the light pomodoro sauce. Creamy tomato-artichoke soup made an appetizing side; entrees also come with warm hard rolls.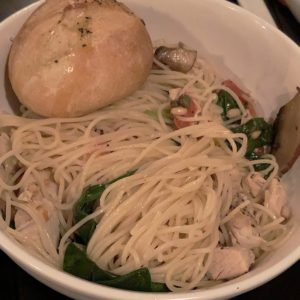 Grilled chicken capellini ($18) started with thin noodles dressed with light lemon butter, over a mix of diced chicken breast, fresh spinach, tomato dice, pine nuts, sliced mushrooms and capers. A delicious small Caesar salad came alongside.
Our friends Bruce and Jan were delighted with their dishes. Blushing Florentine ravioli ($17) were stuffed with creamy ricotta and funky Romano cheese and tossed with wilted spinach in a silken pink tomato and cream sauce. Salmon piccata ($18) consisted of flaky baked salmon in butter and lemon sauce, plated with fresh asparagus and capellini.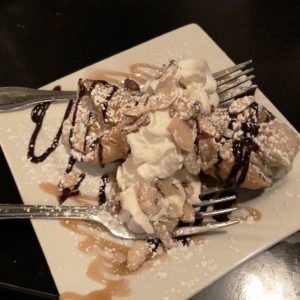 Desserts kept up the pace. A large cannoli ($5) in a crisp pastry shell and a rich slice of New York cheesecake ($7) came with mounds of whipped cream drizzled with chocolate and caramel.
We picked up the apps and desserts, lofting our share of dinner for two to $83.21, plus a $20 tip for our capable server, Alex. Dinner for two with a single app and shared dessert would have been around $60 plus tip.
Amici Café
316 W. Ormsby Ave.
637-3167
amicilousville.com
Robin Garr's rating: 90 points
Noise level: Conversation was easy on a weeknight with fewer than half the tables filled, although occasional bursts of shouts and laughter from a neighboring table kicked it up briefly. (Average sound level 72dB, similar to normal conversation, with spikes to 85dB, the level of loud singing.)
Accessibility: No steps bar the entrance, but the pathway from the sidewalk through the front door is a bit bumpy and rough. The men's room is spacious but lacks toilet grab bars.