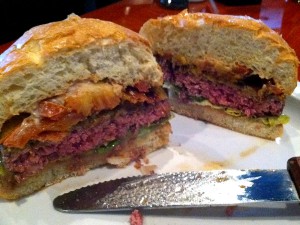 I have to confess that I was uncertain about Westport Village at first. Sure, the aging Camelot shopping center was due for replacement. But as Camelot's modern replacement rose on the site, its offbeat architecture looked funny, somehow, prompting wisecracks about sets at a Universal Studios theme park. Moreover, the choice of several national franchise operations among early tenants didn't inspire my confidence.
But what a difference a few years make! Over the past three years or so, Westport Village has evolved into a new and desirable kind of suburban center, its hard edges softened by landscaping and its character shaped by the mostly local independent businesses that now dominate its roster: Wild Eggs, Boombozz, Napa River Grill, Westport Whiskey & Wine, Hiko-A-Mon, Jade Palace, Heine Bros., the Comfy Cow and many more.
With frequent parades, picnics, concerts and other events, Westport Village has become a virtual center of its community.
And now Tony Palombino, papa of the growing Boombozz pizza mini-chain, has upped things another notch with AP Crafters, a new eatery that fills the sizable vacant space left by the departure of Indigo Joe's, a link in a 50-unit sports bar chain based in Southern California.
Palombino (I can barely overcome the impulse to identify him as "Boombozz") is as well-known for creating, incubating and spinning off new restaurant ideas that might morph into chains. For instance, he created Thatsa Wrapp, Bazo's, Benny B's Sandwiches and more. And now he appears to be embarked on a similar quest with AP Crafters, which has a chain-like look – in a good way – based on the currently trendy "gastropub."
What's a gastropub? To define it by example, Louisville's uber-popular Blind Pig is a gastropub. So is Anchorage's Village Anchor Pub and Roost and New Albany's Bank Street Brewhouse. Get the idea? It's a pub … but it pays more attention to fine food than you'll get at your typical bar and grill.
Indeed, AP Crafters' menu offers a wide selection of filling, appetizing burgers, bar fare and hearty comfort food. It's all priced for a recessionary economy, too, with few of the many dishes reaching over $10 save for specialty items like mussels ($14) or Huli Huli Chick ($11), grilled chicken with Hawaiian-inspired sauce and grilled pineapple.
More than a dozen burgers top out at $10.50 for "The Double" or the Carnegie, which dresses your ground beef with an order of pastrami and Swiss. A variety of soups, salads, appetizers, sandwiches and "long platter" entrees fill out the oversize menu page, and full bar service includes a decent selection of craft beers and interesting, affordable wines.
We sampled a pair of pork "rollers" ($9), grilled, smoked pork "lollipops," a round of tender meat attached to a bone "handle," served with caramelized onions and sweet-tart barbecue sauce; excellent charred chicken wings ($8), good-size wings dry-rubbed with a peppery smoked-paprika mix and finished on the grill; and the signature AP Pub burger ($8.50), quality ground beef brilled rosy pink and taken upscale with applewood-smoked bacon, aged Cheddar and a tangy "zip sauce."
Everything was well-made and ample – we brought enough leftovers home in a box to make lunch another day. Desserts looked great, too, and the warm doughnuts with caramel sauce ($4.50) have received rave reviews from LouisvilleHotBytes.com scouts. Still, if you have any room left after a fine AP Crafters meal, the Comfy Cow is, after all, just down the way.
An excellent lunch, with a Coke and iced tea, totaled $29.15 plus a $6 tip.
AP Crafters Kitchen & Bar
Westport Village
1321 Herr Lane
690-5000
Web: www.apcrafters.com
Facebook: http://on.fb.me/apcrafters