LEO's Eat 'n' Blog with Louisville HotBytes
(Islamorada Fish Co., Widow's Walk, Limestone brunch and more)

Photo by Robin Garr: The Islamorada Fish Company holds forth inside the gigantic Bass Pro Shop in Clarksville. It's named after a popular eatery in the Florida Keys.
It's a long and winding trail, assuming you take the scenic route. Hike along a babbling brook, watching fish darting just beneath the surface (don't throw in any coins, please … it's not good for the fish).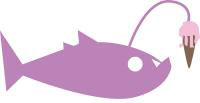 Illustration by Gina Moeller
Hang a left near the waterfall, where a looming glass wall frames an aquarium significantly larger than the biggest that the Louisville Zoo has to offer. Climb the stone mountain – oh, all right, the three flights of stairs – marveling as you pass antelopes, mountain goats, even a family of black bears, oh my.
When you see a giant blue lamprey dangling from the ceiling, you're there; and so what if the animals are stuffed and the lamprey shiny plastic and the scene straight out of Disney. There's nothing in this town that can top Islamorada Fish Company for sheer exuberance. Call it "hunter-and-fisher gothic," if you will; snobs might judge it tacky, but I find it hard to behold this vista without breaking into a goofy grin.
Continue reading Fish story →