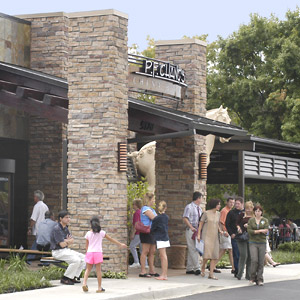 Long waits were common when P.F. Chang's opened in Louisville last year. Photo by Robin Garr
LEO's Eat 'n' Blog with Louisville HotBytes
(P.F. Chang's, Cheesecake Factory)
"Unite," Karl Marx urged the workers of the world. "You have nothing to lose but your chains." And speaking of chains, my experiences with dining at the franchised variety too often remind me of another Marx – Groucho – who famously said, "I've had a perfectly wonderful evening. But this wasn't it."
Please note that I'm not simply bashing all chains, sight unseen. I've had splendid meals at quite a few, and published glowing reviews. But whether you're looking at a restaurant chain like Cheddar's or a newspaper chain like Gannett, simple logic argues that when corporate bean counters rule spending, corner-cutting and diminished quality are likely to follow. Chains simply operate under different constraints than an independent local business run by an owner-chef whose passion drives him or her to excel regardless of costs.
This seems to work, most of the time. Consider the popularity of the Louisville Originals restaurants and similar locally owned eateries: You'll find few chains knocking the locals out of any critic's list of Top 10 places to dine.
And yet … some chains clearly do something right, because hungry crowds fairly knock down their doors. Take the suburban culinary meccas P.F. Chang's and Cheesecake Factory. The three-hour waits of the early days may have diminished a little since they opened last autumn, but eager diners still line up hungrily at dinner time.
What is their secret? I invited Eat 'N' Blog correspondent KEVIN GIBSON (whose attitude about chains is pretty much consistent with mine), to go check them out and see how they're faring after a year on the scene.
All things to some people?
Co-workers often ask why I have an aversion to casual-dining chain restaurants. Perhaps it's the "all things to all people" mentality so many of them seem to embrace (O'Charley's, Applebee's, T.G.I. Fridays, etc., ad infinitum). How can a restaurant possibly "specialize" in steaks, fajitas and pasta dishes all three? It just doesn't work for me.
So when Robin Garr asked me to review two popular chains that landed in Louisville last year – The Cheesecake Factory and P.F. Chang's China Bistro – I was happy to take on the assignment. I'd never been to either, but I was insulted that people would wait for an hour and a half on a Friday evening to eat at a homogenized restaurant owned by a corporate empire, while local restaurateurs struggled to eke out a living. I figured I could bash them, but Mr. Dining Editor reminded me that we have to be fair, so "fair and balanced" is what we'll do.
As it turned out, there was no line when my co-worker Terri and I reported for lunch at Cheesecake Factory. We were seated immediately. (My only other visit, a few months ago, had come to an early end when the hostess told me there would be a 30-minute wait.) The menu is just as enormous and jaw-dropping as the high-ceilinged, impressively decorated dining area. The dining choices include a wide variety of entrees, salads, sandwiches and soups plus a Sunday brunch; it culminates in gourmet seafood dishes and a filet mignon dinner that tops out at $28.50. The dessert menu – featuring the specialty of the house, as the name suggests – boasts more than 30 different types of cheesecake, at $5.95-$7.50 per slice.
Terri ordered her favorite Cheesecake Factory item: Chicken Madeira ($15.95), complaining that a smaller lunch portion is not available. Indeed, the lunch menu is small, featuring just a handful of pared-down dinner entrees from $8.95 to $12.95. I ultimately settled on Baja Chicken Tacos ($11.95) from the main menu.
The Chicken Madeira came covered in tender mushrooms (which was frustrating considering she'd asked that the mushrooms be left off her entrée), along with thick mozzarella cheese and crisp asparagus stalks, alongside a giant mound of fluffy mashed potatoes. My plate bore three fully packed chicken tacos in double corn tortillas, slathered in avocado cream and caramelized onions. The large meal came with yellow rice, black beans, garden salsa and a big serving of chunky, fresh guacamole.
Terri's chicken was perfectly cooked and had great flavor. The mashed potatoes were equally tasty and cooked to a wonderful consistency, although they were a bit tepid when they reached our table.
I quickly tired of the caramelized onions that dominated my tacos. There were simply too many, and I prefer onions raw anyway. But the avocado sauce was a nice touch, and the chicken filling, diced and too-lightly seasoned, was solid if unspectacular. I asked for Cholula hot sauce but was disappointed (if not terribly surprised) to learn only Tabasco was available. The black beans were on the spicy side without additional heat, anyway, and, like all the food we had, cooked to perfect consistency. The guacamole was splendid, with plenty of large chunks of fresh, tender avocado; I found myself eating it like a side dish rather than a garnish or a topping.
Terri topped off her lunch with lemon-raspberry cheesecake ($6.50), asking for it to go. While we awaited our check, she opened the box "to take one bite." She invited me to do the same and, while I'm not a fan of desserts, I have to admit it was absolutely decadent. I'm usually a one-bite-and-done cheesecake eater, but the rich raspberry flavor and succulent textures prompted me to take a second bite. For me, that's saying quite a lot. As a matter of fact, eventually there was no cheesecake left to carry out, which says a lot too.
Still, 40 bucks for lunch? I'm not convinced. It wasn't bad, but ultimately it was a blander, more homogenized version of the authentic goodies at, say, the wonderful and independently owned La Perla del Pacifico on Goose Creek Road.
The next evening, I went to P.F. Chang's for dinner by myself. I was impressed immediately by the friendly service and the upscale design, not to mention the fact that Kirin Ichiban was available on draft. There was no line here, either, but by the time I left an hour later, there was a 40-minute wait.
Chang's menu is focused on Asian cuisine with so many choices that it's difficult to settle on a single entree. The seared ahi tuna appetizer ($7.95) was a must-have, and I followed that up with Kung Pao Chicken ($10.95).
The tuna – about eight sushi-grade slices – was delicious, served with hot mustard, chili sauce and teriyaki sauce for dipping; there was a light peanut sauce on top. The tuna was fresh and seared wonderfully, and the sauces added plenty of flavor and spice to the mix. I could have eaten three of those as my meal and called it a night.
It's good that I didn't, though, for I was equally impressed by the spicy Kung Pao. About 18 tender chunks of chicken breast were stir-fried with peanuts, scallions and hot chile peppers, and served with a bowl of fluffy rice. I got through about half of the delicious meal and saved the rest for lunch the next day. While I spent nearly $25 on my dinner, having food left over obviously improved the value.
I have to admit it: P.F. Chang's is one chain I won't feel guilty going back to. While the waits can still be long, Chang's makes it worth the time invested, if Asian food is what you seek. As for Cheesecake Factory, I think next time I'll dine elsewhere but give it strong consideration for a drop-in for dessert after the crowds subside. -KG
Sightings

A couple of sleek new Asian spots have popped up in town in recent weeks; we'll be keeping an eye on them and do the review thing in due course.
Over in St. Matthews in the small, free-standing building at the corner of Wallace and Wilmington avenues that's been home to a short-lived barbecue joint and an exceptionally forgettable Chinese fast-food eatery, the proprietors of Simply Thai have given the place a serious makeover. Gone are the takeout counter and the grocery shelves. The place now sports cool lavender, purple and white décor in a much more formal, if small, dining room with a fine Asian sensibility. Owner Mahn Saing is Burmese; his wife, a classically trained chef, is Thai. They're offering a small menu of traditional Thai dishes, well-made sushi and a few upscale Thai-style "fusion" dinner entrees in the $10-$19 range.
Simply Thai
318 Wallace Ave.
899-9670

Meanwhile, Pink Door Noodles and Tea Lounge opened in the Highlands on Friday, Oct. 13, reinventing the one-time home of Gibb's BBQ in an edgy, high-tech Japanese style with a 23-foot video wall and facilities for patrons to pose and, in a wacky sort of recursive art, instantly become a part of the decor. Look for lighter fare, Japanese noodle dishes and sushi, along with a wide variety of teas, sakes and techno-Japanese cocktails such as the dubiously monikered Godzilla Fart, a greenish concoction of Finlandia, lime and club soda. We'll leave it to the Bar Belle to check that one out.
Pink Door Noodles and Tea Lounge
2222 Dundee Road
295-2441
http://pinkdoorlouisville.com