Hey, Chihuahua? What kind of a name for a restaurant is that? With a wacky Señor Gonzales accent? Really? Are they talking about the state of Chihuahua in Mexico, or calling a little dog? Or maybe, just possibly, poking a thumb in the eye of "Yo quiero Taco Bell"?

I like that last theory, myself, because Hay!! Chi Wa Waa, a recent arrival in the Lyndon quarters sadly vacated by the loss of the lovable La Colombiana, is to Taco Bell as, say, an artist like Diego Rivera is to your local graffiti scrawler.
Here's the good news: In addition to authentic Mexican standards, this establishment, rooted in the Lone Star State, offers real "Tex-Mex" fare, the historic cuisine that bridges Latino and Anglo cultures in the South Texas border country. You could call it the Mexican equivalent of the Italian-American family fare evolved in New York and New Jersey and environs by the families of Ellis Island immigrants.
A lot of people use "Tex-Mex" for the culturally homogenized, simplified "Mexican" fare served up at dozens of restaurants around town, but that's really more like, well, Chinese chop-suey houses, offering a simplified bill of fare that may serve well to feed the inner person but doesn't do much to celebrate ethnic or culinary heritage.
Hay!! Chi Wa Waa's crew celebrates both their heritages with a noisy yippie-ki-yi-yo, declaring on their Website, "Our loving Texas Style To Cook Mexican Culinary Food. Grandma said 'Hay!! CHI-WA WAA' … that's TEX MEX."
Er, right! Or ¡Si!
My friend Anne and I dropped in for lunch the other day and were pleasantly impressed by the comfortable scene (which looks vaguely Mexican but boasts a couple Italian pictures on the walls, perhaps the legacy of an earlier tenant); the friendly and helpful service, and, of course, the fine Texas-Mexican fare.
We ordered from the simple lunch menu, on which about a dozen daily specials ring up from $7.25 (for a pair of tostadas) to $10.50 (for chicken diablo, grilled with green chiles and cheese). A return trip for dinner is definitely in order, though, with its substantially larger menu and tequila-heavy bar program in play. (The dinner menu remains more than affordable, with entrees in various categories including both "Tex-Mex" and "100% Mexicano") topping out at $12.99.)
Just about every "Mexican" restaurant offers complimentary chips and salsa, but not necessarily the way Hay!! Chi Wa Waa does it. A generous, refillable bowl of thin, shatteringly crisp corn chips and four, count 'em, four colorful salsas: Warm, thick queso with onions; creamy salsa verde; a mild, savory mild tomato and cilantro-laden hot salsa with a real kick.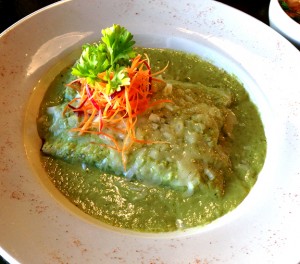 We could have eaten a lot of that, but main dishes followed, and both were fine. Golden tacos ($6.99) come in your choice of crispy or soft and loaded with beef or chicken. Our soft-taco trio came packed with juicy, tender chicken shreds and plenty of shredded yellow cheese, lettuce and tomato. Texas-style cheese enchiladas ($8.25) came rolled in tender tortillas with your choice of chicken, beef. The standard model comes smothered in "chili gravy," but our friendly server suggested substituting a ration of the green salsa, a great idea.
Mexican-style rice was exceptionally well made, pleasantly spiced and every grain tender and separate. Refried beans were thick, rich and savory.
With iced tea and a cola ($2.25), lunch for two came to a very reasonable $20.92, plus a $4 tip.
Hay!! Chi Wa Waa Mexican Bar and Grill
808 Lyndon Lane, Suite 105
883-1924
haychiwawaa.com
Robin Garr's rating: 84 points