Ever since North End Cafe opened in Clifton nearly a decade ago, the name of the place seemed a little odd to me. When I grew up in Louisville, we sorted our town into East End, South End and West End, and back in those Baby Boom days of Elvis, tail fins and ducktails, those were the urban ends of the city, not the suburbs. There was not much out there but farms, as far as we knew.
So the arrival in 2003 of this comfortable, casual bistro in Clifton made little geographical sense to me. What's a North End? Someplace over in Indiana? Nope, it's right there on lower Frankfort Avenue, inner end of what we used to call the East End.

But to be honest, it didn't really matter. North End Cafe quickly developed into one of the city's popular spots. And now there are two. Since just before Christmas there's been a second North End, also inscrutably located in what we also used to call the East End, in the former home of Club Grotto on Bardstown Road. North End has done an excellent job of making it over into a kissin' cousin to the renovated Clifton shotgun houses that comprise the original Cafe.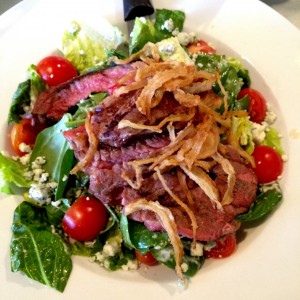 The Highlands space fills three long rooms with wide openings allowing easy flow among them. Big windows across the front opening up a view of the busy street and allow in plenty of daylight. In the back, a short, cozy bar remains.
Mary insists that the pale-green walls are an avocado cream color; I call it old-fashioned school room green, so evocative of my third-grade classroom that I can't resist looking around to see if there's a Gilbert Stuart portrait of George Washington around somewhere. Gray tables are furnished with comfortable wooden chairs. Heavy flatware is wrapped in paper napkins, and Mexican Cholula hot sauce and Heinz ketchup stands ready.
The menu is identical at both North End branches, about 15 dinner entrees and another dozen small plates tapas, and about two dozen breakfast selections. Most breakfast items are under $10; lunch and dinner entrees range through the teens, with most tapas under $10, as are the extensive list of salads and sandwiches. The wine list is affordable, too, with most bottles in the $30s or less, many available by the glass.
Our friends Don and Pat joined us for Sunday brunch as we sampled several favorites. The veggie omelet of the day ($9.89), was a fine, puffy, fluffy three-egg pillow filled with green French lentils, sauteed green peppers, onions and sun-dried tomatoes, with just-wilted fresh spinach and molten white Cheddar. The pancake of the day ($7.99) was an eat-dessert-first short stack of tender rum raisin pancakes with caramel sauce and a dab of whipped cream.
The steak salad ($10.99), was perfect, a small Kentucky Proud rib eye, medium-rare as ordered, garnished with fried tobacco onions and placed atop a light, well-made fresh salad with cherry tomatoes and crumbled blue cheese. My usual North End choice, the Mexican-style migas ($7.50, consisted of three eggs with bite-size blue tortilla chips scrambled in, thin-sliced jalapenos and molten white cheddar, with a slab of North End's veggie studded home fries on the side. A three-bite treat, the vegan soft taco ($2.99) was stuffed with black beans, pineapple and red onion, salsa and guacamole.
Our share of brunch for two was a very reasonable $22.77, plus a $5 tip.
North End Café
2116 Bardstown Road
690-4161
www.northendcafe.com
(Another location, 1722 Frankfort Ave., 896-8770.)