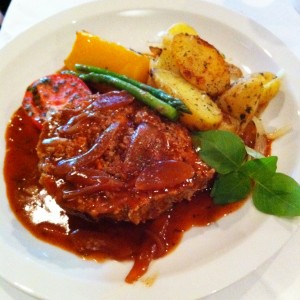 When I last spoke of Majid's, not long after its opening in Chenoweth Square last winter, I told you about its appealing, globe-spanning cuisine and the multiple options that the diner enjoys in this sprawling, three-room venue, with your choice of elegant dinners in the dining room or creative small plates in the bar; or a lighter, lower-price experience at lunch.
Now the hospitable proprietor Majid Ghavami offers another option: Majid's is now open on Sundays for brunch from 11:30 a.m. through 2:30 p.m. Those who wish an adult beverage may want to delay their arrival until 1-ish. We felt no such constraints and popped in before noon, enjoying dark coffee and fresh iced tea with our meal.
Now, let's make one thing clear: This is not one of those gigantic, all-you-can-eat buffets. Not that there's anything the matter with that, but Majid's — like 211 Clover, another classy St. Matthews spot — takes the menu brunch route, offering a special brunch menu with a dozen stylish, even elegant brunch plates from Executive Chef Charles Reed's kitchen.
Brunch dishes range in price from $11 (for smoked salmon and a bagel) to $18 (for steak and eggs, grilled beef tenderloin with eggs as you like them). There are plenty of hearty breakfast dishes (three eggs your way or three-egg omelets, buttermilk pancakes or French toast, all $12), and a good choice of lunch-type options for those who prefer to put morning behind them (venison meat loaf, $15, or lemon sole stuffed with crab and ricotta, $17).
Order your brunch dish, and before you know it goodies start showing up on your table. In addition to your main-course choice, brunch includes a chef de cuisine bakery plate (this day featuring a rich blueberry coffeecake and Danish pastry dough wrapped around blueberries), and a fresh fruit cup (an artful ration of watermelon, cantaloupe and honeydew melon balls dropped into a wine glass with a few blueberries, and a wedge of lime perched on the edge of the glass. Use it: A tart squeeze of lime really kicked up the flavors of the fresh, juicy fruit).
Most brunch dishes also come plated with the house potatoes — on this occasion, split roasted fingerlings — and the vegetable of the day, in our case a tender slab of roasted butternut squash and several crisp-tender asparagus spears.
Mary's choice, the venison meat loaf ($15) was a brick-size slab of ground meat mixed with carrot brunoise, plated on a rich brown-onion gravy and served with the aforementioned veggies and potatoes.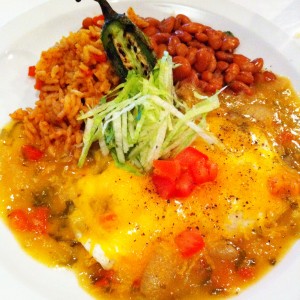 My pick, huevos rancheros ($14), was as flavorful a rendition as I've had in Mexican restaurants. Two soft-fried eggs (my choice, you can have them your way) were served atop a chewy corn tortilla and topped with a bit of melted yellow cheese, sauced with a green-chile salsa and served with savory pinto beans and light Mexican-style rice. A halved, broiled jalapeño served as decor. "Watch it," the friendly server warned.
Dessert, lemon mascarpone cheesecake ($8) was beautifully plated and tasted as good as it looked. It's gluten-free, Majid said, creamy and tart-sweet on a crushed walnut crust, decorated with a surprising touch of cinnamon chutney and a dark, sugar-dusted homemade chocolate cookie.
An indulgent brunch for two came to a very fair $43.99, and courteous and not overbearing service earned a $10 tip.
Brunch at Majid's St. Matthews
3930 Chenoweth Square
618-2222
www.majidstmatthews.com