The Eagle landed in Louisville two years ago this month, fourth shop in a Cincinnati-based mini-chain. I have to confess that I didn't pay much attention at first. But then I found out that The Eagle isn't just another Highlands bar. Its fried chicken is also a big thing. It's not your industrially fried chicken, either. It is, according to the firm's website, "cage free, free roaming, all natural chicken."
This is a big deal to me. I'd much rather enjoy cage-free birds if I can.
So, coincident with LEO Weekly's fried-chicken special this week, we settled in for a late lunch. I feel quite a bit better about The Eagle now. I can recommend not only the chicken but some particularly interesting salads, a grilled cheese sandwich, and at least one crunchy, spicy starter as well.
The restaurant, which previously housed El Camino and before that, Avalon, is spacious, sprawling over several floors with a large rectangular bar dominating the main-floor space. Heavy use is made of dark, rustic wood, which with faded dark red painted walls gives the faint impression of dining in a clean, orderly barn.
The beer, liquor and cocktails list takes up a page-and-a-half of the menu, the food only a little more than a half-page, which at first appeared to confirm my hypothesis that its primary function is as a bar, not an eatery. A closer look prompted a double-take, though.
Except for the signature fried chicken ($7 for a dark or light quarter, $11 for a half or $19 for the whole bird), the menu is limited to snacks, salads, sandwiches, and sides. But those are anything but boring. Four appetizer snacks include pickled country vegetables ($6), brown-sugar and cayenne-crusted bacon ($7) and more. A trio of salads, available small or large, range in price from $4 to $11. A half-dozen sandwiches are $7 (for grilled cheese) to $12 (for a blackened shrimp po'boy or a BLT with a fried chicken breast thrown in).
The drinks list is extensive, including a dozen draft beers – all American craft beers, many of them regional, save for the mandatory Guinness – a half-dozen cocktails, about 50 bottled beers; 30 whiskeys, mostly Bourbon, of course; and a short wine list.
A bowl of the house corn nuts ($4) made a pleasantly addictive snack, lightly fried and generously dusted with fiery, smoky spices, with a couple of lime wedges.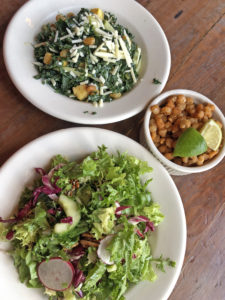 Creative, interesting salads go way beyond your usual tossed field greens, caesar or iceberg wedge. Kale salad ($5 for small, $9 for large), for instance, featured a generous portion of Tuscan kale in long strips, tossed with plump, sweet bourbon-soaked golden raisins, crisp apple julienne, coarsely grated white cheddar, and yummy, crunchy cornbread croutons, all tossed in a tart cider vinaigrette.
Country green salad ($4 for small, $7 for large) was an intriguing mix of peppery greens: mustard greens, curly endive, and frisée, with cucumber and radish to add crunch, and a few candied pecans, all tossed in a light but piquant mustard vinaigrette.
The fried chicken half ($11), pictured at the top of the page, arrived disassembled on red-and-white checked paper: a leg, a breast, a thigh and a wing. The breading was crisp, fried dark reddish brown, while the skin beneath was less so, suggesting fierce, quick frying that builds a thin but crunchy cloak over tender meat. The chicken itself was cooked but au point, maybe medium rather than well done, with a little pink still showing near the thigh bone. The bird was flavorful with the slightly gamey character that signals cage-free poultry. A delicious hint of lemon and black pepper had been rubbed under the breast skin. A jar of hot honey is served alongside, and we left it there.
Sides are a la carte but affordable, from $3 to $5. Horseradish mashed potatoes ($5) came in a large portion, too, in a small black-iron skillet. They were smashed and textured, not creamy, with plenty of horseradish to impart a distinct flavor. A pool of light chicken gravy filled the middle.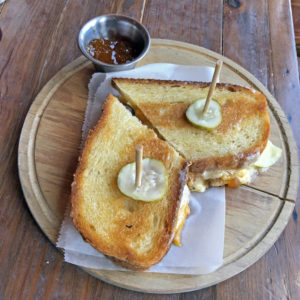 A grilled cheese sandwich ($7) was large and very good indeed, a far cry from Mom's Velveeta on Wonder Bread. Two thick, large slices from a rustic white loaf were stacked and grilled with three kinds of cheese – Gouda, white and yellow Cheddar, the server said – with dabs of apricot preserves and thin-sliced Granny Smith apples tucked in to add alluring flavor and texture.
With iced tea ($3), no beer or liquor, our toll came to $41.34 plus a $10 tip for our friendly and efficient server, Hannah.
The Eagle
1314 Bardstown Road
498-8420
eaglerestaurant.com
facebook.com/TheEagleLou
Noise level: We found conversation easy during a late lunch, when most of the main-floor tables were occupied, but only one person, engrossed in his laptop, sat at the bar. You can count on more noise in the evening. (Average sound level 75dB, with a single loud peak to 88 dB)
Accessibility: The entrance is barrier-free, but parts of the restaurant are up stairs, and most of the main-floor seating is on high chairs at the bar or high-top tables or raised booths. I could see only one table for eight that would easily accommodate a wheelchair user.