I can't think of a better way to get my attention than to tell me about a new eatery that serves world cuisine. Clue me in, and I'll be there before you can drop a Salvadorian pupusa. Heck, even another Thai, Korean, Indian or Mexican joint will get my motor running.
So when I learned that a new Indian place, Himalayan Restaurant, had opened on Bardstown Road at virtually the same time as El Taco Luchador launched its new St. Matthews branch, I started spinning like a falling cat with buttered toast strapped to his back.
Flip a coin? Nah, let's do both. I'm tough. I can handle an Indian repast and a taco lunch during the same week, right?
Himalayan Restaurant popped up in mid-August in the glitzy black-marble and glass venue that had housed Brownie's The Shed, and there hasn't been much change in its upscale sports-bar look; even the framed pictures of the Green Bay Packers' Lambeau Field and sports heroes' portraits remain on the walls.
The food, though, is all new, and it's pretty good Indian cuisine, worth a return trip. Despite the name of the restaurant, which was endowed by its Nepalese-immigrant owner, the cuisine is not Himalayan, mostly, but familiar Indian fare, leavened by the presence of momos (Nepal's and Tibet's answer to potstickers) and a couple of Indian dishes noted as Himalayan style.
A $9.99 lunch buffet looked well cared-for, but its relatively limited 12-pan selection didn't include any Himalayan dishes, the server said. We ordered from the dinner menu, which offers about 60 entrees mostly priced from $9.99 to $13.99, with a few tandoori grill items and combo platters topping out at $16.99.
A complimentary basket of pappadams, crisp-fried thin lentil wafers with tangy tamarind sauce for dipping, kept us occupied while we waited for our lunch to arrive. A couple of salty lassis ($2.99 each) were idiosyncratic. I'm used to this traditional salted yogurt-based drink being rich, thick and tangy, but this Northern Indian version was thin and milky, heavily scented with cumin.
We mined the menu for characteristic Himalayan dishes and came up with an appetizer order of seven momo dumplings ($7.95), steamed half-moons of thick, stretchy wonton dough wrapped around finely-chopped veggies, with a spicy, herbal orange dipping sauce alongside.
Another typical Indian app, seven onion pakoras ($3.99), were crunchy balls of thick-sliced onions held together with chickpea flour and fried hot and crisp.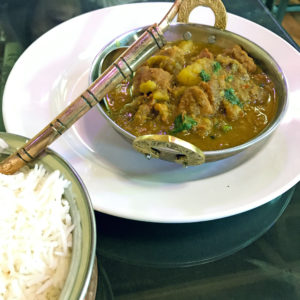 Main dishes, lamb vindaloo ($12.99), and aloo matter ($9.99), were spicy and aromatic, as I love in Indian food, although their flavors tended to merge in a gravy-like sauce rather than sing out solo riffs as do the most memorable Indian dishes. The lamb was cubed and stewed with good lamb flavor; the aloo matter was full of potatoes and peas in a fiery sauce that made me glad we had plenty of hot basmati rice and a basket of delicious naan ($1.99), fluffy, light and slathered with ghee.
Lunch for two, with the unfinished lassis, came to $45.46, plus a $10 tip for eager, helpful service.
Himalayan Restaurant
1578 Bardstown Road
708-1477
himalayanlouisville.com
facebook.com/BardstownHimalayan
Robin Garr's rating: 80 points
Click here to read the El Taco Luchador St. Matthews review, posted separately.