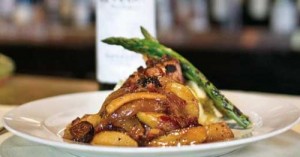 Whether you identify as a wine geek or a lofty connoisseur, if you fancy the fruit of the vine, chances are you're already a fan of L&N Wine Bar and Bistro.
Its massive Cruvinet wine unit, the largest made, dispenses wines from 54 well-chosen bottles; an additional wine list raises options to 100 or more. You can order by the bottle, by the 6-ounce glass, or — best of all for the hobbyist — in 2-ounce tastes to line up into a flight.
But what if you're not a wine connoisseur? Is there anything here for you?
Well, if you're open to learning about wine, the abundant selection and affordable tastes — not to mention the guidance of savvy staff — can make your learning experience easy. Tastes start as low as $2.25, not for jug wine or blushy white zin, but offbeat options like Argentine Bonarda or a Grenache blend from Catalayud in Spain.
Don't like wine? Enjoy an artisan beer or a cocktail. Even teetotalers can feel at home here: The well-fashioned American bistro fare goes very well with coffee, tea or Louisville pure tap.
Time flies when you're having wine, and it's hard to believe it's been more than seven years now since L&N opened in its historic brick building — once a farmhouse — in the distinctly urban precinct where Butchertown meets Clifton.
Our friend Cynthia came through town the other day. She's a wine geek and so are we, so L&N was the obvious destination. Just like that we were ensconced in comfortable seats at a good-size table in front of a fireplace, with wine glasses and appetizers lined up before us.
We noshed through crispy flatbread topped with Capriole cheese and fresh arugula ($8), deviled eggs kicked up with Fiedler Farm bacon, smoked paprika, cornichons and radish shoots ($6), cream-puffy gnocchi with mushrooms and butternut squash ($16), a juicy house-smoked pork chop perched on creamy mashed potatoes and topped with a sweet-tart compote of apples and mission figs ($22), and the always reliable L&N Burger, one of the best around ($11). A well-made crème brûlée and a scoop of house-made ice cream rounded off a memorable meal.
Dinner for three, including about 10 tastes of wines from around the world, came to a reasonable $114.75, plus a $25 tip. The share for two would have been around $70, plus tip.
L&N Wine Bar and Bistro
1765 Mellwood Ave. • 897-0070
www.LandNWineBarandBistro.com
Robin Garr's rating: 92 points