Just about everyone knows what an omelet is, and the difference between "easy over" and "sunnyside-up" is a mystery to only a few. As Louisville's dining scene has grown and our restaurant roster become diverse, we've learned more and more. Marinara or alfredo? Easy. Corn or flour tortilla? Ditto!
But when it comes to Indian food, most of us are still learning. What's a korma? A saag? A vindaloo? Want to learn Indian food vocabulary fast? I suggest a visit to the buffet at Taj Palace.

Taj is the third generation of India Palace, which started back in the '90s in an old motel in the Outer Highlands; then it moved out to Shelbyville Road. Now, sporting a new name, it is comfortable in the spacious quarters that briefly housed Seviche's suburban expansion a few years ago. Taj's owners retained Seviche's elegant look, with beamed ceilings, rose-colored walls and burgundy tablecloths to provide classy style.
I'd rank Taj Palace in the top tier of local Indian eateries on the basis of well-fashioned food, the aforementioned scene, and friendly, fluent service that's right on the spot even in the self-service setting of its daily lunch buffet, all you can eat for $8.99.
If you're there for dinner (or prefer to order a la carte at midday), you're welcome to do so from the extensive menu, which includes close to 100 entrees, appetizers, soups, salads and Indian breads; entrees are mostly $8.99 to $15.99. But the lunch buffet is a great deal, and tended with attentive care. You'll find no abandoned pans or crusty leftovers here.
It begins with a basic salad bar of lettuce, cucumber and tomato. Then choose from a trio of chutneys, used as condiments to add fire or tang to your lunch. Tamarind chutney is dark, thin and sweet; mint chutney is bright-green, thick and minty, with moderate heat; and onion chutney cloaks chopped white onion in a bright-reddish orange sauce with a fiery kick.
Seared your palate with the hot stuff? Cool it down with yogurt-and-cucumber raita. Or order lassi, a thick, creamy yogurt drink, for an even more serious antidote. Pakoras are pastry turnovers loaded with spicy mashed potatoes; samosas are crunchy fried vegetable fritters. Tomato soup was much better than Campbell's, rich with roasted tomato flavor and bits of onion. Naan, Indian flatbread, comes charred from the clay oven, and basmati rice is elegant, aromatic ultra-long grain.
Eight or nine pans offer meatless options first, then carnivorous. Channa masala consists of garbanzo beans in a gently spicy tomato sauce. Cabbage peas are self-explanatory, and delicious, hottest of the veggie dishes. Saag paneer takes creamed spinach to a new level with aromatic spices and bites of mild yogurt cheese; and vegetable korma surrounds peas and onions, cashews, almonds and raisins in a mild creamy sauce.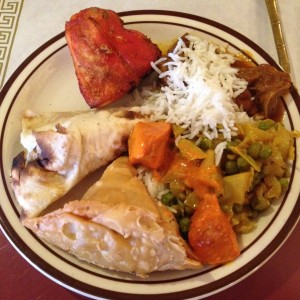 If you like lamb, you'll probably like goat, tender bits on the bone in a light curry. Chicken vindaloo adds fire to chicken-and-potato curry; chicken tikka masala swims in a milder tomato sauce, but it still boasts a piquant kick. Tandoori chicken is clay-oven roasted to firm tenderness with spices that turn it red.
Indian desserts may seem unfamiliar to one raised on cakes, pies and creme brulee, but they're typically subtle and delicately sweet. Think of kheer as rice pudding and gulab jamun as rounds of cake dipped in honey and you'll be delighted.
Lunch for two, including two lassis ($2.50 each), filled us up for the day. It all came to a modest $24.36, plus a $5 tip.
Taj Palace
2929 Goose Creek Road
423-9692
www.tajpalacelouisville.com