It seems as if Porcini just got here. It seems as if Porcini has been here forever. The truth, as usual, lies between these extremes, but one thing is certain: The years have flown since I first sat down to a fine Italian dinner at this comfortable Frankfort Avenue landmark.
It was in the early spring of 1992, to be exact, when I came back to Louisville for my first visit since leaving my reporter's post at The Courier-Journal for a job with a national non-profit in New York City. I had an assignment to do a Derby travel piece about Louisville for The New York Times travel section, and the hot spot on the dining scene was this great new Italian place, Porcini.
Sure enough, I loved it, and I told Times readers so. When we came back to Louisville a few years later to write a book about my non-profit experience, I reviewed Porcini often for my new restaurant website that would become LouisvilleHotBytes.com. But then Porcini became so familiar that I drifted on to fresher experiences. Until I noticed the other day that my last review – a glowing report – was dated October 2004. Could that possibly be right?
It was long past time to return, so we gathered our friends Bill and Mary Ruth and Don and Pat, and spent a happy evening of munching and sipping that left no doubt: Porcini is as good as ever. Maybe even a little better.
It's surprising how little has changed since that 2004 review. Chef John Plymale was new on the scene then; he's an old hand in Porcini's kitchen now. The look and feel of the exposed red-brick room hasn't changed much, and that's a good thing. Its turn-of-the-previous century brick building fits just right in to this particularly fine stretch of Frankfort Avenue.
The tables sport white tablecloths now, and we can't deny the rise in Louisville fine-dining prices. Porcini's main course prices, then $14.95 to $19.95, now range from $24 (for chicken Marsala) to $39 (for lamb chops or a grilled veal chop). Seven pasta dinners are $20 (for angel hair with tomato and basil) to $30 (for black-pepper fettuccine with diver scallops).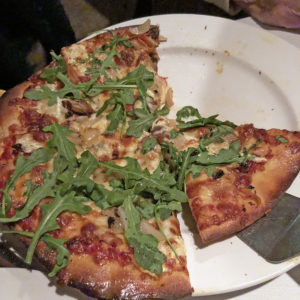 If you're looking for something lighter on the palate and wallet, five good 12-inch pizzas are $12 each, four thoughtfully fashioned salads are $9, and eight antipasti, suitable as small plates, are $12 to $16.
Porcini is known for its bar. Its wine and liquor selections offer prices to fit just about any budget, and cocktails are fine, too. I started a delicious Porcini '92 cocktail ($12), a blend of Italian Malfy citrus gin with Prosecco, Aperol and orange twist. It was good, really good, complex in flavor but refreshing and light. Mary asked for a taste. Then she took over the glass. Fair enough. I summoned another cocktail, the Frankfort Avenue High Fashion ($14), a heady aromatic riff on a Manhattan using bourbon infused with roasted orange and rosemary.
A delightful app, fondi carciofi fritti ($12), got us started with a half-dozen crisply fried artichoke hearts with subtly tangy roasted garlic lemon aioli. It was enough for the table to share, although I could have easily eaten the whole thing by myself.
Porcini's lattuga romano alla griglia ($9), features a grilled romaine heart with a big steak knife to disassemble it. Light grilling imparted a delicious smoky flavor to the crisp, faintly bitter lettuce, and an intense sun-dried tomato vinaigrette with shavings of Asiago and Parmigiano cheeses and crisp pine nuts completed the flavor picture.
A fine caesar salad ($9) was cold and crisp, with a good tangy dressing, Parmigiano shavings, crisp croutons, and (optional) canned anchovies.
A pasta dish, capellini pomodoro e basilico ($20), pictured at the top of the page, showed off the kitchen's skill, with fine, thin pasta pulled and served promptly with its al dente texture just right. A subtle tomato sauce was thoughtfully fashioned, not just poured from a can. Parmigiano shavings and fresh basil chiffonade completed the dish.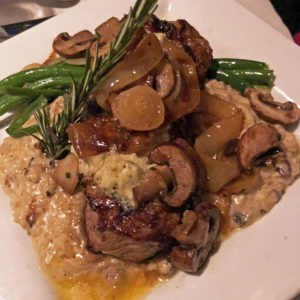 A Black Angus New York strip steak, bistecca alla griglia ($32), was wonderful. A large, thick, marbled steak, well over an inch thick, was grilled to a charred, crunchy finish, heavily seasoned with black pepper and garnished with blue cheese crumbles. It was hot pink inside, exactly as ordered, garnished with caramelized onions and crimini mushrooms.
We substituted risotto for the fingerling potatoes that usually come with the dish, to see how Porcini would handle this classic Italian dish. Porcini shoots and scores! Each grain of rice was distinct, not mushy, decadently rich with heavy cream and cheese, butter, and strong, sweet Marsala wine.
Chocolato e ganache ($9) made a fine finish. A good-size puck of intense ganache, a soft dark chocolate and cream mixture swirled with white chocolate, was prettily garnished with raspberries and blueberries. Strong, fresh coffee ($3 each) was just right.
Porcini isn't an inexpensive date night if you go the full dinner route, but it's worth it. With two cocktails, app, salads, mains, coffee, and dessert, our bill grew to $130.38, plus a $30 tip for our competent, cordial server, Chris.
Porcini
2730 Frankfort Ave.
894-8686
porcinilouisville.com
facebook.com/porcinilou
instagram.com/porcinilou
Robin Garr's rating: 91 points