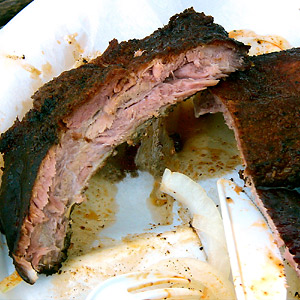 The ribs at Frankfort Avenue Beer Depot (F.A.B.D.) are possibly the best yet Photos by Robin Garr.
LEO's Eat 'n' Blog with Louisville HotBytes
(Rite Way, Smoketown USA, F.A.B.D.)
Speak of barbecue, and many of us will visualize a rural scene: A tarpaper shack, well off the interstates out in blue-highway country, sporting a washing machine on the front porch and a primer-coated car sitting up on blocks in the front yard. Out back, a black iron drum smoker wafts up seductive scents of sweet hickory smoke and gently roasting pork. And then our mouths commence to watering.
In fact, nowhere is it written that proper barbecue requires a road trip. Rural though its roots may be, many a master of 'cue – or his grandparents – has come to the city, where those aromatic smokers now stand proudly behind trim shotgun houses or sturdy brick storefronts, with nary a washing machine or wheelless '39 Ford in sight.

This week, conscious of $3.49 prices at the pump, we poured a few fruit jars full of gasoline into the primer-coated Eat 'N' Blog jalopy and checked out three urban barbecue spots. None of them was more than a dollar's worth of gasoline away from home. And to my delight, all three produced pork ribs of serious quality – my benchmark dish for any barbecue purveyor – along with well-made side dishes.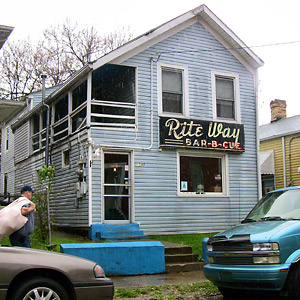 Our trek began in the West End at a pale-blue, well-kept two-story frame house on a shady block of St. Catherine Street across from Young's Chapel AME Church and around the corner from the California Community Center. The neon sign looks like a museum piece from the 1940s, and that's appropriate, as Rite Way Bar-B-Cue has been a neighborhood landmark since the Johnson family founded it just after WWII. The hospitable proprietor, Kalvin Brown, married into the Johnson family and now presides over the well-used smokers.
The eatery occupies a small storefront that may have once been a neighborhood grocery store, with glass display cases and an ancient butcher's scale still in evidence and a couple of tables shoved together to provide community seating for six or eight people.
I had ribs, of course ($8 for a slab), and they were as good as I ever ate, a rack of about eight bones, meaty and lean, tender enough to pull easily from the bone, gently smoky but not over-smoked, with a good textural blend of tender meat and crisp, crunchy caramelized edges. The sauce may come as a surprise to those accustomed to the thick, sweet tomato-based sauce common at many barbecue places. It's relatively thin, spicy and tangy, with a distinct vinegar edge, a combination that enhances the flavors of the meat rather than glopping it up with thick sauce. Two thumbs up!
A beef brisket sandwich ($4.50) was fine, too, a generous pile of thin-sliced, tender smoked beef and tangy sauce on a bun. A load of paprika and a dose of vinegar took cole slaw off the beaten path, but it, too, made a good flavor match with the meat. With a couple of canned soft drinks, we got away for a little over $15 for two.
Rite Way Bar-B-Cue House
1548 W. St. Catherine St.
584-9385
Brand-new Smoketown USA makes good use of an old storefront on the corner of Logan and Oak on the northern edge of Germantown. Attractively renovated, it boasts exposed brick walls and coffeehouse decor featuring '40s-era movie posters.
In a rather unusual menu combination, it offers both "Louisville-style barbecue" and Tex-Mex favorites. To be frank, the Tex-Mex is OK, but now that I've tuned my Mexican-food palate to the city's growing cadre of authentic Mexican taquerias, the Tex-Mex style of tacos, gorditas and chalupas made with taco beef, chopped iceberg lettuce and tomatoes and mild yellow American cheese remind me a little too much of Taco Bell for my liking, although in fairness, Smoketown USA makes them much better than the Bell.
The ribs, however, didn't merely ring my chimes but banged them so hard that my ears rang. They're $8.95 for a basket with sides, $12.95 for a half slab and $18.95 for a full slab. The basket consisted of more than enough big ribs to fill me up – three sets of three ribs each.
I suppose barbecue fundamentalists might quibble that the juicy, falling-off-the-bones style hints that simmering or braising preceded the smoking step, but the aromatic hickory smoke and pork scents rising from the black smoker out back give testimony that this is the real thing, smoked meat so tender that you hardly need to chew it, and so flavorful that you don't really need the thin, tangy sauce.
Sides were well made, showing no fear of aromatic herbs or spices. Mexican rice had a marked cumin-chili powder flavor. Green beans were long-simmered, loaded with big chunks of tender pulled pork and lots of black pepper. Mixed greens were long-cooked, too, country-style, with a ration of small black-eyed peas, garlic and onions and a dose of piquant spice. Texas pintos were outstanding, tender and aggressively spiced but not fiery.
If you've got room for dessert, there's hand-dipped Blue Bunny ice cream from Iowa or homemade brownies.
All this food, with canned soft drinks and fresh iced tea, enough to fill us up for the day and provide plenty of leftovers, was just over $20.
Smoketown USA Pit Bar-B-Que and Tex-Mex
1153 Logan St.
409-9180
Moving east toward but still in the urban core, we find the Frankfort Avenue Beer Depot, a small beer joint and barbecue eatery. Considering its tasteful Crescent Hill environs, surrounded by affluent residential blocks and the chateau-like buildings of the Louisville Water Co., "FABD" seems surprisingly downscale with its dark, spartan environment, pool table and distinctive aromas of stale beer and cigarette smoke.
But the oversize drum smoker out front and the ranks of cars that always pack the parking lot hint that this is no ordinary barbecue house. Not only are the ribs here possibly the best I've tasted yet, but even the side dishes bespeak the presence of a very serious cook. In simple terms, if the environment bothers you, buy takeout, or walk your plate out to the big picnic tables in the small, walled beer garden. But go. Get some ribs. And some sides. You will not be sorry.
A half-rack of ribs ($12 with two sides) were meaty, long smoked and lean. Gentle smoke flavor and a complex, spicy dry rub came together to complement the toothsome meat like a fine Bordeaux complements a filet mignon. The ribs were properly juicy and tender but not slipping off the bone. Three thumbs up! Wait, I've only got two thumbs, but you know what I mean.
A half-chicken dinner ($8) was beautiful to the eyes and palate: mahogany brown and glistening skin-cloaked chicken done just right, tender and juicy with a good, subtle and complex smoke flavor.
Again, great barbecue really needs no sauce, but if you want it, FABD's squeeze-bottle sauce is just fine, dark red, spicy and a little vinegary but not gloppy thick.
About those splendid sides: Green beans, long-cooked of course, were loaded with chunks of pulled pork and good black-pepper flavor. Baked beans were juicy and tender, with a sweet-hot sauce and intriguing back notes of spice and fruit. The potato salad featured tender, chilled chunks of red-skinned potato cooked to waxy tenderness and sauced with a tasty pink cream reminiscent of Thousand Island dressing. Onion rings were excellent, too, thick-cut and sweet, cloaked in a crispy, grease-free breading fried golden-brown.
The whole works came to $23.20 for two, plus tip, which seemed more than fair. There was no extra charge for the second-hand smoke in the bar.
Frankfort Avenue Beer Depot & Smokehouse
3204 Frankfort Ave.
895-3223
Nibbles
A world of goodies at the Americana Festival
ValuMarket and Louisville Metro Human Services will sponsor the 17th Annual Americana World Festival, which begins with a Caribbean concert on Friday, June 1, from 7-9 p.m., and continues with music, dancing, Latino, African, Bosnian and Vietnamese exhibits and performances and a variety of ethnic foods on Saturday, June 2, from 2-10 p.m. It moves this year to the grounds of the Americana Community Center, 4801 Southside Drive in Louisville. The festival is free and family-oriented, which means, organizers say, don't bring your booze to town, boys. For directions and more information, visit www.amecomcen.org or call 366-7813.