Just over a month ago I spoke with joy of the memorable rice ball experience at Silvio's. I love Italian rice balls! Two-bite rounds of deliciously spiced and seasoned rice, rendered crunchy and crusty, served with a savory sauce? Rice balls make a great appetizer, not to mention the ultimate bar snack.
And now I'm here to tell you about another rice ball, the Persian-accented, herb-scented kofteh berengee (herbed rice balls) at Saffron's.
Utterly different but every bit as appetizing as the Italian item, these spheroids start with long-grained, floral-scented basmati rice, I believe – a pilaf to the Italians' risotto – and meld them gently with fine-chopped sabzi, the aromatic blend of peppery parsley, tender watercress and hauntingly aromatic tarragon that's one of the joys of Persian cuisine.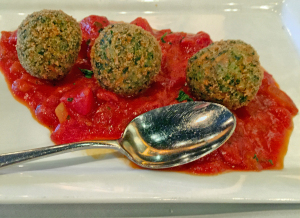 Fried crunchy yet light and grease-free and served with a fresh tomato sauce that's lighter than marinara, they're complex and compelling, and somewhat mysterious. Their careful construction and thoughtful flavors bespeak the approach to fine Persian dining that makes Saffron's a long-term keeper.
Saffron's was founded in 2001 by restaurateur Majid Ghavami, who was among a number of Iranian students who came to Louisville in the 1970s to study at UofL, and remained in the U.S. when the Ayatollah came to Iran. Quite a few of them later took jobs at the storied Casa Grisanti, adding a healthy leavening to the city's restaurant culture. Ghavami's leadership and genial front-of-the-house presence made Saffron's a hit. He moved on to run Volare, and later opened Majid's. But he left Saffron's in the hands of a friend, Reza Dabbagh, and it's still going strong.
The decor has remained fairly constant, textured saffron-color walls, and saffron-color cloth napkins, too; white tablecloths with quality flatware. It's quiet, discreet; spared from an excess of elegance by an eclectic collection of art that ranges from several close-ups of flowers to a couple of variant Last Suppers and a bas-relief woman on a horse who I take to be Lady Godiva.
A small bar in the rear dispenses from short wine and beer lists and a selection of creative cocktails. I had to try the ever-so-artisanal Lavender Sazerac ($11), an anise-scented golden fluid fashioned from Vermont's Whistlepig Rye, Louisville's own Copper & Kings Lavender Absinthe and aromatics.
Separate but similar lunch and dinner menus offer a good range of traditional Persian dishes. Our evening visit offered about 15 main dishes, categorized as "From the Land," "From the Sea," and "Persian Stews (Khoresht)," with prices clustering in a narrow range from $17 to $19; an entree-size Greek salad is $15. Most of the eight apps are $7, with a fascinating starter of grilled, lime-marinated quail (Beldercheen) for $9. (Lunch entrees are mostly $j9 to $12)
Meals at Saffron's begin with a complimentary plate of sabzi, Persia's answer to chips and salsa. Dip into a mound of fresh herb mix; add a radish and a block of earthy feta cheese, and pop it into a pita quarter. Devour, repeat.
Tabouleh ($6) was different from the parsley-heavy Levantine version, but I like this better: It's predominantly bulghur, backed up by parsley, not the other way around, flavored with onion, tomato and lemony-tart olive oil.
Lamb is big in Persian cuisine, and it's worth a try at Saffron's even if you think you don't like it. We had a hard time deciding between the tender, falling-off-the-bone braised lamb shank (mahicheh, $19), and the rack of New Zealand lamb ($25 for a four-chop half-rack, $38 for a full rack). Going with the latter, we were rewarded with juicy, appropriately gamey bone-on grilled chops, medium-rare as ordered and sprinkled with smoky purple sumac powder, a trademark Persian spice, It came with Persian-style basmati rice, flavored with lemon zest and olive oil and seasoned with herbs and saffron.
Veggies grilled on a skewer – tomatoes and green peppers, zucchini and mushrooms dusted with piquant spice – accompanied the lamb and a plate of Fesenjoon Khoresht ($17), a savory meatless stew with exotic flavors from its unusual mix of crushed walnuts, deeply browned onion and sweet-tart pomegranate paste.
?Saffron's homemade ice cream ($6) is always a hit. Creamy and rich, pale gold, it melds subtle flavors of saffron and pistachio with a surprising aromatic rosewater scent.
Dinner for two was $82.68, with a 20 percent tip for our server, Victor, who also doubled as bartender and mixologist, pushing it to the century mark.
Saffron's Persian Restaurant
131 W. Market St.
584-7800
saffronsrestaurant.com
Robin Garr's rating: 90 points