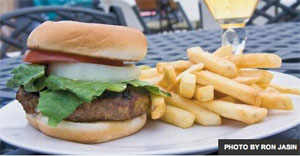 Studio's Grill and Pub's stuffed cheeseburge
LEO's Eats with LouisvilleHotBytes
By Kevin Gibson
Every so often, a carnal pleasure will come along that staggers you. It might be a new sushi roll or a red wine or even a candy bar (tried the Reese's Dark yet?). Once you discover it, you just can't stop going back to the well.
Enter the Studio's Grill and Pub stuffed cheeseburger.

My friend Mark told me about the burger and took me to check out Studio's in downtown New Albany. We went back again the next week. And then again the next.
It's almost an obsession now. This stuffed cheeseburger is the stuff of cravings. It's a one-third pound patty of lean ground beef infused with onions, hunks of bacon (yes, bacon) and seasonings, grilled to your specifications, topped with cheddar or blue cheese crumbles, and served with homemade chips and a pickle spear for a princely $7.75.
Just a hamburger, right? Maybe not. Some turn up their nose at traditional American fare, but for me, comfort food with flair often hits the spot better than gourmet cuisine. The way the seasoning in Studio's stuffed burger interacts with the blue cheese takes it a step up in class simply because of what it does to the taste buds.
I've found myself waffling between the cheddar and blue like a pork-barrel politician, unable to establish a clear vote. The blue cheese burger is an explosion of flavor, but the cheddar version tastes more like … well, home — like a backyard cookout with friends or family. It's a mood thing.
Studio's menu leans toward pub grub — Mark's favorite, the buffalo wings ($6.99), is another solid choice, lightly breaded and served with choice of ranch or blue on a bed of tortilla chips. The daily lunch special (you can follow updates on Facebook) has ranged from a fish sandwich on Fridays to chicken salad, a turkey Reuben and even roast beef quesadillas. Once "ham chowder" was the menu highlight (not so sure about that one).
The daily menu (all $10 or less) features dishes like roast beef Manhattan, country fried steak or chicken, and an offbeat appetizer called Kansas City wings (pork, not chicken).
Studio's operates as a mom-and-pop eatery by day and a neighborhood pub and hangout by night. It isn't elegant, but it's a cozy place to relax with an adult beverage and check out some karaoke or live music, or to meet a buddy for a hearty lunch.
May I recommend the stuffed cheeseburger?
Studio's Grill and Pub
209 E. Main St.
New Albany, Ind.
812-590-3171
Rating: 83