In a world as wild and wacky and wonderful as the one we live in, I'm reluctant to declare anything the only one of its kind. But the Last Supper painting in Chef Darren Ferguson's newish SuperChefs in St. Matthews comes mighty close.
It's a Last Supperish table full of super heroes, with Jesus' seat in the middle taken by a stern Clark Kent, ripping open his jacket to reveal the Superman logo on his brawny chest. There's an Incredible Hulk lurking unexpectedly in the background; and I have a funny feeling that Spiderman, plotting suspiciously toward stage left, might be filling in for Judas.
For the record, it's not original. You can find the original on Google. But hey. It's awesome, and originality is not important right now.
What's important right now is that SuperChefs comes with a story, an evolving story that in its own way might be as inspirational as the story of The Table in Portland that we told last week. And yes, The Last (Superhero) Supper tells us something about that narrative.
If you walked into a restaurant and spotted a prominently displayed Last Supper, you might start listening for the sounds of bibles thumping; looking around to see if anyone's coming with a tract and a rant. If you looked again and saw Jesus and the apostles replaced with comic-book superheroes, you might start looking for a table to duck under when the lightning bolts and smiting begin.
For SuperChefs' founder and chef Darnell Ferguson, it's more nuanced than that. Ferguson, a young chef with substantial kitchen and entrepreneurial skills, opened his new eatery last month in a block-long strip of eateries across from Trinity High School. He's clearly a person with a deep Christian faith that shows up unexpectedly in the form of bible verses on menu pages and inspirational quotes framed in the restrooms.
But Ferguson isn't a beat-you-over-the-head evangelist who's out to convert you; His faith shows quietly in his work and his example, from SuperChefs' commitment to quality food and service to his unheralded work with Black Male Achievers, an effort to serve as a positive role model to young black men.
Ferguson and his friend and business partner Ryan Bryson, graduated from Sullivan's culinary program a few years ago and jump-started their restaurant careers with an innovative idea: They would run their own restaurants with little capital expense by serving breakfast within restaurants that wouldn't otherwise be open in the morning.
They started with SuperChefs operations in Chicago Gyros on Lower Brownsboro and Seafood Connection and Ruby Slipper in St. Matthews. Then they moved to Columbus, Ohio,, where Bryson presides over two SuperChefs. Now Ferguson is back in town with a grown-up SuperChefs in the nicely renovated space that formerly housed Saigon Cafe.
They're serving breakfast, lunch and dinner from an oversize menu that looks a lot like a superhero comic; and breakfast is still a strong part of the smorgasbord. Dinner entrees are priced in the teens, and, amusingly, fall into "Civilian" and "Superhero" columns, with, for example, the "Clark Kent" (fish and loaded mashed-potato chips, $17) paired with the "Superman" (veggie pot pie, $15). Breakfast and lunch dishes are mostly under $10; some breakfast dishes are available all day.
We stopped in for breakfast and lunch dishes on a rainy, brisk afternoon; that dinner menu is definitely going to draw me back sometime soon. Wait for it.
A veggie breakfast sandwich ($7.99) made a mighty tasty and arguably healthy option, with a startlingly large ration of scrambled egg and melted cheese folded around baby spinach and mixed lettuces, tomatoes, peppers and onions, a load too heavy for an otherwise appealing pretzel croissant to handle. In retrospect, I probably should have attacked it with a knife and fork rather than eating it messily out of hand. Tater Tot-style hash browns were okay, and a $3 side of red-pepper grits was excellent.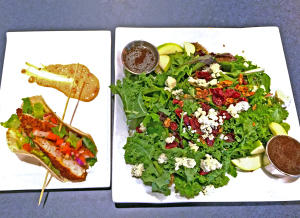 A fish taco ($4.99 for one) was good but not oversized; two or three might make a more filling lunch. It was good, though, chunks of hot and perfectly fried, flaky cod cloaked in a crispy brown coating, wrapped in a small flour tortilla and served with a smallish swipe of spicy remoulade presented as a plate decoration. The menu promised fried capers, yum, but they were missing in action.
The "blue salad" ($7.99) was disappointing, mostly because someone in the kitchen apparently tossed in spring lettuce mix without checking it first. It would have been a lot more appetizing without the slimy bits and the yellowed and browned leaves that could so easily have been picked out in kitchen prep. I'll bet a dollar that one didn't get checked by SuperChef Darnell on its way to our table. To its credit, the salad had good fresh kale leaves ($2 upcharge) and lots of big chunks of blue cheese, dried cranberries and candied pecans. The sweet-tart (balsamic?) house dressing was okay.
With a slice of moist, dense caramel cake ($5.99) and iced tea and a diet cola ($2), a hearty midday meal for two came to $38.12, plus an $8 tip for smiling and competent service.
SuperChefs
106 Fairfax Ave.
333-0620
eatsuperchefs.com
facebook.com/SuperChefsBreakfast
Robin Garr's rating: 85 points