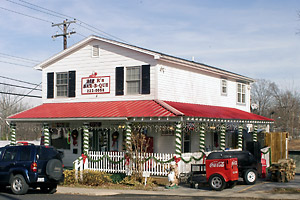 Big R's, out in the middle of La Grange in Oldham County, has all the signs of a serious barbecue joint. And the pigmeat backs it up. Photo by Robin Garr.
Meanwhile, I blazed a trail out to Oldham County recently to check out Big R's, a fine new barbecue joint. It's located in an attractive country house right in the middle of town, surrounded by all the signals that real barbecue is sold here: a big, black smoker, lots of hickory logs and a statue of an anthropomorphic pig out front.
It's a smallish place but clean and neat, with freshly painted walls the color of lemon ice and tasteful red-checked curtains; maybe a half-dozen tables inside and a few more on the porch. The menu is basic and functional, too: Baby-backs range from $9 for a half-slab with no sides to $18 for a full slab with two sides. Other smoked meats – pulled pork, pulled chicken and beef brisket – are mostly $5.25 for a sandwich with one side, $6 with two sides.
We chowed down on ribs and a brisket sandwich and four sides between us and were generally pleased. Let's put it this way: Big R is a master of smoking meat, a champion BBQ artiste who "slow-smokes" pork butts and briskets over hickory for 15 hours and ribs for five; but his tastes in sauces and rubs differs from my "less is more" philosophy: He likes to use a little more.
The ribs, indeed, were as good as I ever ate: They're very meaty, with surprisingly little fat or gristle, smoked just right so the hickory flavor is like a condiment but doesn't conceal the natural flavors of the meat. I wish he had throttled back on the dry rub and shiny glaze, though. The aromatic spices in the rub (I think I smelled cumin) and the sweet-sticky glaze didn't really enhance the excellent pigmeat.
The same was true of the brisket: The smoky beef was tender and delicious, but they shredded it and served it in a thick, sweet sauce like a Sloppy Joe. Why do that to good brisket? I wish they'd just offer a no-sauce option.
The sides were quite good. Baked beans were just about perfect – small and pink in a savory-salty sauce. Potato salad was devilishly good, chunks of tender potato and crisp celery in a thick sour-cream sauce with a hint of herbs, maybe dill. Wide green beans were wide beans, long-simmered country-style, decent enough, though a little bit of ham hock would have taken them to bean heaven. My wife liked her mac 'n' cheese despite its alarming Velveeta color.
Too full for dessert, we got away from a generous meal for a very attractive $20.14 for two, plus a $4 tip. In spite of my barbecue maven's nitpicks, it was darn good 'cue, some of the best around, and the ribs and pork might have made my Hall of Fame if they had just left them alone.
Big R's Barbeque Shack
109 E. Washington Court
La Grange, Ky.
222-0058