By Robin Garr
LouisvilleHotBytes.com
Every year on St. Patrick's Day, Louisville's Irish Rover famously holds a humongous party, featuring an oversize tent that covers most of the parking lot, live Irish music, and plenty of great Irish food and gallons of dark Irish beer.
It's fun, I'm told. But I've never been. Big, noisy crowds guzzling draft beer outdoors on a brisk March day, even with the comfort of a tent loaded with toasty heaters, is just not my style.
But catching up with The Rover for lunch the day after St. Patrick's, enjoying the warm and cozy Irish pub comfort of The Rover's historic Frankfort Avenue building on a more normal day? Priceless.
We dropped by shortly after noon on a Saturday and had no problem getting a table. The Rover's attractive dining rooms – one the color of Irish salmon, the other a lighter shade of Colman's mustard – are decorated with old photos of Irish scenes and famous Irish literary lights. The darker but welcoming bar offers another attractive seating option, at the bar or in sturdy booths. Within moments the restaurant appeared completely full with a happy, convivial crowd, and this seems to be the case year 'round, not just on St. Patrick's Day.
A special St. Patrick's Week menu did not appear much different from the regular menu:
A half-dozen starters and a trio of soups and salads range in price from $4.95 (for the iconic potato cakes, bubble and squeak) to $12.95 (for an appetizer portion of Irish smoked salmon with soda bread).
Nine pub grub (main) dishes are priced from $7.95 (for veggie smash, steamed veggies and mashed potatoes) to $16.95 (for that perennial favorite, North Atlantic cod fish and chips). A half-dozen sandwiches are $10.95 to $12.95.
The well-stocked bar boasts as large a selection of Irish whiskeys as you'll find outside Dublin (or maybe New York or Boston); there's also an ample choice of bourbons, ryes, and single-malt scotch; a well chosen, affordable wine list, a range of cocktails, and a dozen beer taps along with an extensive choice of bottled beers.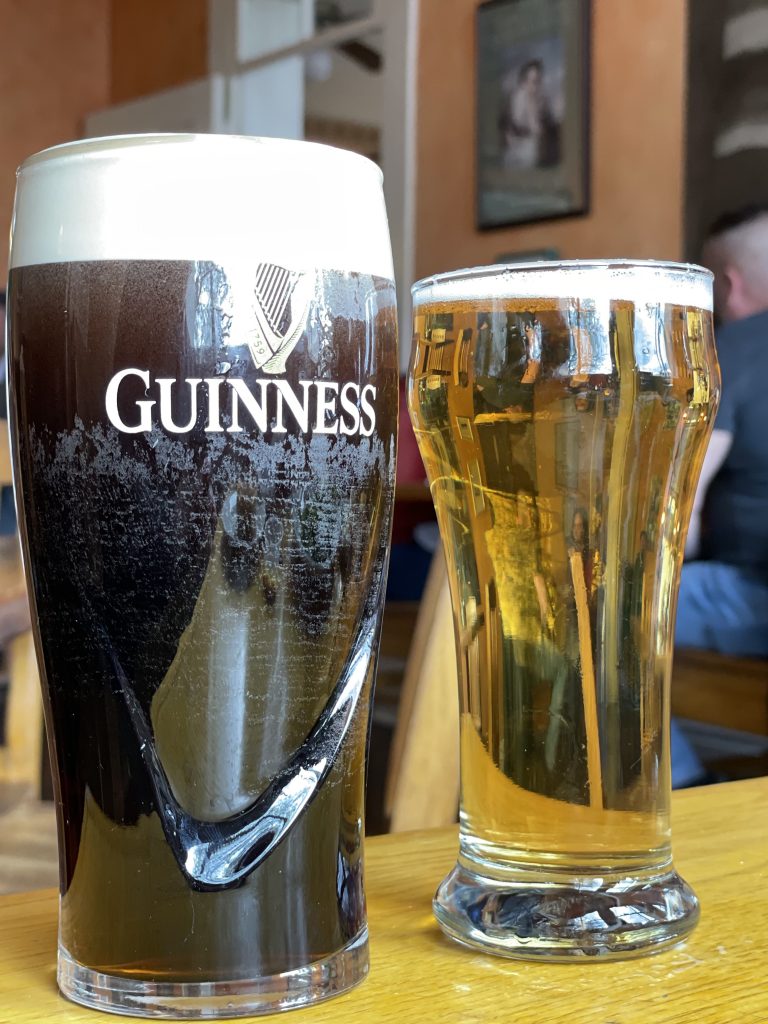 It's rare for me to visit the Rover without summoning a tall 20-ounce pint of dark, freshly drawn Guinness Stout ($7), and Mary was happy with a half-pint of its light but gently hoppy golden sibling, Harp Lager ($3.75)
Bubble and Squeak ($4.95) is beloved throughout Ireland, Scotland, England, and Australia too. These crisp griddle fried potato and veggie cakes get their name, it is said, from the sound they make while frying. Two thick flattened rounds of mashed potato studded with flecks of green pepper, carrot, and green onion had been grilled until brown and crisp on both sides. They came with a little tub of hot mustard, and they went great with Guinness. Most things do.
Fried fish is ubiquitous in Louisville, and not only during Lent. The Rover's fish and chips ($16.95) consistently rank high, perhaps at the top, among scores of worthy competitors.
A big rectangular slab of cod, more than one inch thick, had been thoroughly beer-battered and fried until a crispy, crunchy, sizzling hot, grease-free coating formed. The white fish inside fall into large white flakes that were tasty but, oddly, a bit tough and chewy, not a character that I usually associate with cod. Still, it was a treat for Lent or any other time of year. It came with a modest pile of chips, er, fries, that were also fried grease-free but could have benefitted from a bit from a bit more time in the fryer to get crisp and brown.
One might wonder what a dish like vegan vindaloo ($9.95) is doing on an Irish menu. I'd say the vegan bit stems from the Rover's location in Clifton, where there's a substantial market for vegetarian, vegan, and healthy fare. As for the vindaloo bit, you'd be surprised how easy it is to find Indian restaurants in Ireland. Once upon a time I had one of the best Indian meals of my life in a small but elegant Indian restaurant in Dublin.
The Rover's version was spicy and warming, well suited for a chilly March day. A filling mix of bite-size chunks of zucchini and yellow squash, red and green peppers, onions, mushrooms, and tender cubed potatoes and a few chickpeas swam in a thick, piquant but not fiery yellowish curry broth.
Guinness chocolate cake ($7.95) adds just a haunting splash of the black coffee and bitter chocolate character of the iconic stout to a slab of flourless cake. The cake was dense and intense, and it was topped with a thick layer of feather-light chocolate mousse, with a generous mound of whipped cream on top of that. One slice was more than enough for two to share, I think, although it did go away fast.
With two Irish beers, our meal for two totaled $53.59, plus a $12 tip.
The Irish Rover
2319 Frankfort Ave.
899-3544
theirishroverky.com
Facebook: bit.ly/Irish-Rover
Noise Level: Even when it's not St. Patrick's Day, this popular place fills up fast, and a happy crowd generates a soft roar. Decibel levels around 72dB with peaks to 82dB made conversation difficult at times.
Accessibility: The owners have done a good job of making this historic, 170-year-old building accessible to wheelchair users.