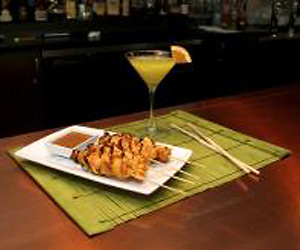 Whether you go for the Malaysian dishes or prowl the East on August Moon's eclectic menu, this 20-year-old eatery remains a favorite. The chicken satay recipe comes from Chef Peng Looi's hometown of Ipoh, Malaysia. LEO Photo by Nicole Pullen.
LEO's Eat 'n' Blog with Louisville HotBytes
(August Moon, Festa Italiana)
When the weather forecast for the first weekend of autumn calls for high temperatures in the middle 90s, something just plain isn't right.
What can we do about it? I'll leave the big picture details to Al Gore, but as for me, I've got a plan: We'll go with the climate flow, but gradually switch over to dining on tropical cuisines. I figure folks who live within shouting distance of the equator probably know something about eating to beat the heat.
Happily, it's not hard to find tropical cuisines in Louisville, where warm-climate dining options range among such favorites as Vietnam Kitchen, Mayan Café, Thai Taste, Queen of Sheba, Taste of Jamaica, the recently relocated Chez Seneba and many more.
The other day, though, sitting around with the air-conditioning cranked up and nursing an appetite, I found myself craving authentic Malaysian satay. You know satay – pronounced "sah-tay," it's chicken-on-a-stick (or sometimes pork or beef), marinated in aromatic spices and grilled 'til it sizzles, with a thick, hot-sweet peanut sauce called "kuah" for dipping.
Bite-size, crunchy, salty, spicy … what's not to like? I'm always up for a stick or two, whether I'm dining Thai or Vietnamese. Satay really comes into its own, though, in Malaysia, the tropical archipelago that, alongside Indonesia, stretches around the edge of Asia like a string of pearls. Ubiquitous as street food but also served in the nation's finest restaurants, satay is sometimes jokingly called "Malaysia's hot dog."
So, where's Louisville's best Malaysian restaurant?
This is no trick question: Although most people think of August Moon as Chinese (perhaps because its full name is, well, "August Moon Chinese Bistro"), this local favorite actually blends the cuisines of China and Southeast Asia in stylish fusion, all informed by the creative skills of Chef Peng Looi (who also presides at his more upscale Asiatique), a native of … Malaysia.
As the restaurant's Web site explains, "August Moon offers an exciting blend of influences … the most prominent influences coming from [Looi's] native Malaysia. August Moon's Chinese Bistro cuisine reflects the ingredients and techniques with which he became immersed at an early age."
A quick e-mail to Looi confirmed my hopes: "I always have the Malaysian chicken satay and Mee Goreng (Malaysian fried noodles) on the menu," he wrote. "The recipes are from my hometown, Ipoh."
Works for me! We barreled over to August Moon and ordered everything Malaysian on the menu, had a great meal and, somehow, magically, the evening seemed to turn a little cooler. Maybe it was the exotic Southeast Asian spice … or maybe it was the cool, tall pint of Sierra Nevada Pale Ale. Whatever. Whether you go for the Malaysian dishes or prowl the East on August Moon's eclectic menu, this 20-year-old eatery remains a favorite.
We started with satay ($6.50), Malaysian-style, of course. An order consisted of four beautiful skewers of flavorful, golden boneless chicken meat, colored rich yellow with turmeric and dotted with red spice, sporting charred stripes from the grill and served with a thick, deeply flavored peanut sauce with a whiff of spicy heat and a subtle lemony nuance that might have been ginger or lemongrass. The skewers were plated on a bed of another traditional accompaniment: cool, attractively cut cucumber half-moons "pickled" in a sweet-tangy marinade. This is no mere appetizer but a standalone dish that might make you a meal if you ordered two or three of them.
Another appetizer, a vegetable spring roll ($2.50), was not Malaysian, but hey. Fat, crisp and golden, stuffed so full that it bulged into a football shape, it was packed with onions and maybe a little Chinese cabbage and a very generous ration of dark wild mushrooms, a vegetarian combo so "meaty" that if you weren't paying attention you'd assume it contained beef. It came with small dishes of hot mustard and an intriguing, plummy-fruity sweet-sour sauce, both a far cry from the stuff offered in plastic packets at chopsticks houses.
Both main courses – the two Malaysian options on the extensive main-dish mene – came in generous portions that almost demanded taking home leftovers.
Malaysian-style pasta ($11, clearly Looi's mee goreng although not identified as such on the menu) was built on a mound of crisp-tender Asian "yellow noodles," long and thin and slightly curly wheat noodles infused with spicy and aromatic flavors, tossed with tender bites of boneless chicken and deliciously chewy, subtly flavored, marinated pressed tofu cubes, strips of scallion and finely julienned carrot, all lightly cloaked with a subtly spicy sauce that was hard to deconstruct: Peanuts for sure, and ginger or lemongrass, and a piquant heat that builds up on your palate and gives your taste buds a playful whack.
Malaysian-style curry ($14.50 with the optional shrimp) was bright in color and flavor, with eight good-size tail-less shrimp, crisp-tender chunks of onion, red and green bell pepper, mini-carrots and water chestnut slices, all crisply stir-fried and sauced with a moderately fiery olive-green curry sauce. A bowl of white rice came on the side; fried rice or brown rice is available on request.
Something cool seemed called for to finish up, and ice cream hit the spot. From a variety of exotic flavors brought over from Asiatique in small Chinese-restaurant takeout boxes, we chose an excellent mango-lemongrass, creamy and not too sweet.
With a couple of pints of Sierra Nevada on draft ($3.50), and an attractive black iron pot of yellow jade oolong tea from China's Fujian province, a fine and mostly Malaysian dinner for two came to $56.18 plus a $13.82 tip, positioning August Moon among the city's more affordable upscale spots.
August Moon Chinese Bistro
2269 Lexington Road
456-6569
www.augustmoonbistro.com
LouisvilleHotBytes rating: 91 points
Nibbles
Speaking of Momma, "Mamma Mia!"
Louisville turns Italian again this weekend – or at least a little piece of it in the Highlands does – as Festa Italiana returns for its fourth annual outing, turning the courtyard of St. James Church into an Italian village piazza complete with food, music and dancing.
The event, sponsored by the Italian American Association of Louisville, runs Friday (5-11 p.m.), Saturday (2-11 p.m.) and Sunday (noon-6 p.m.). There'll be authentic Italian food and pastries and a wine and beer garden, live music and dancing, bocce games and activities ranging from a spaghetti-eating contest to pizza-tossing lessons and the Pino Marelli Trio from Detroit playing classic Italian tunes. For more info, go to
www.louisvilleitalians.com.