I've spent a long time trying to really "get" Ramsi's. There's a lot to like about this fun, funky, multi-ethnic eatery on Bardstown Road, not least of which is that it's, well, fun, funky and multi-ethnic. Those are some of my favorite things.
Still, in many visits over many years, I've had a hard time achieving the heights of ecstasy that many of my friends reported. Last time I dropped by, I couldn't help noticing that the 100-item menu covered at least two dozen world cuisines. I like that in principle – it's a lot like what I try to do in my kitchen at home. But I just didn't see them doing Thai as well as a great Thai place, Italian as well as a top Italian place, and so it went.
Were they trying to be all things to all people? Better, I thought, to do what you know best. In Ramsi's case, with its owners hailing from Jerusalem, that would have been the fare of Southwest Asia and the Mediterranean. And Ramsi's kept right on being popular, without the help of my alleged wisdom.
The other night, after a movie ("The Martian," go see it) with friends at Baxter, we emerged onto Bardstown Road, and hey! Why not give Ramsi's one more try? And I'm glad we did. I'm not sure whether Ramsi's changed or I did. Maybe both. Maybe neither. The place looked and felt about the same, with its two crowded dining rooms, busy bar and that attractive courtyard that makes me think of Marseilles-on-Bardstown.
The menu is still massive – I counted about 30 main courses and 15 or 20 apps. Counting salads, desserts, sides and possibly a bit of résumé inflation, the owners proudly claim "100 dishes and counting." Pricing is more than fair, with most of the numerous entrees priced in the teens (and a couple under $10); only a handful go over $20, and they top out at $24 for Moroccan pan-seared lamb chops with a Moroccan millet pilaf.
It gets better: Quite a few of the apps could easily serve as not-so-small-plate entrees, and with few exceptions they're priced in the single digits to lower teens.
It gets even better than that: Along with plenty of delicious carnivorous fare, the menu is half vegetarian, and it ranges broadly through the realms of vegan, vegetarian, pescetarian, gluten-free and even raw, all clearly and unambiguously noted. They feature Kentucky Proud meats and produce and, in recent years, have begun the extended process of sourcing much of the produce from the family's own Hope Organic Farm.
Ramsi's sums it up in a lovely statement: "The truest name we could give our cuisine is 'Global Comfort Food.' This is the food your grandmother might have cooked for you, if your grandmother was from Egypt or North Africa or Spain or Alabama."
Ramsi's isn't fancy, but it's relaxed. It can be noisy, but it's the happy sound of a packed house. Service is invariably friendly but can be hurried and harried. The mood is gentle enough that it's easy to get over that.
Go ahead. Order just about anything. I did follow my own advice, mostly, sticking to Southwest Asia and the Mediterranean, but I think the key that it took me so long to discover is this: relax. It's not a Thai restaurant, not Italian, not Chinese, not from Mexico. But it's world cooking, done with love. What's more, their burger ranks with the city's best.
With a couple of sweet-tart rum-and-lime caipirinhas ($7) to get us started, Mary and I and friends Pat and Don dived into appetizers: Desert Jewels ($8.25) were simple yet delicious: Four luscious Medjool dates were filled with creamy vegan organic cashew "cheese," topped with sweet glazed pecans. Punjabi samosas ($8.55) were crisp pastry turnovers with a North Indian accent, filled with a spicy mashed-potato and pea mix plated on a tart tamarind sauce.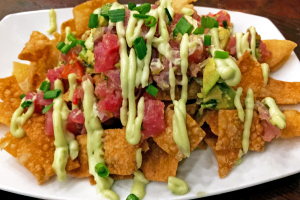 Tuna tartare ($12.25, an app chosen as a main course) was a big hit: fresh bites of sushi-quality raw tuna met and mingled with ripe avocado and crunchy strips of fried wonton, dressed with lime and cilantro and attractively painted with wasabi-scented sour cream.
"The Egyptian Kitchen ($11.75 plus a $4.50 upcharge for two poached eggs) is billed as a "traditional dish of Egypt." A hearty, filling bowl, it gets its carbs from a mix of tiny Ditalini pasta (mini-penne?), crunchy bits of toasted angel hair pasta and a dab of basmati rice, all topped with a spicy mix of green lentils, chickpeas and tomatoes, garnished with fried onions, and a bowl of fiery East African Harissa pepper sauce on the side. It turned out to be a vegan dish, although I probably wouldn't have guessed that from its rich, filling taste.
Pat and Don were just as happy with Shanghai stir-fry ($11.75) and East Indian paella ($12.95), and we finished off by passing around first-rate devil's food trifle ($7.75) and Kentucky bourbon chocolate creme brûlée ($6.75).
Dinner for two was $70.94, plus a $15 tip. Mary summed it up: "Ramsi's has endured, and there's a reason."
Ramsi's Cafe on the World
1293 Bardstown Road
ramsiscafe.com, 451-0700
Facebook: bit.ly/ramsiscafe
Robin Garr's rating: 83 points