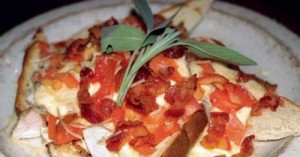 Last week when we got back from a summer trip to Florida's Space Coast, it took me about 25 minutes to drive home from the airport to Crescent Hill in rush-hour traffic. The week before that, when we drove out to Westport General Store for dinner, the scenic trip required only about five minutes more.
This mere half-hour trek through the meadows, farms, forests and tract mansions of northern Oldham County is well worth it — the reward at the end of the road is an exceptional meal that matches, or surpasses, just about anything you'd find in the city.
Chef David Clancy is back at the helm, and that's good news. The combination of Clancy's kitchen crew with Westport's amiable proprietor, Will Crawford, makes this a destination that would be worth an even longer trip.
Westport bustled in its early years, when it was a steamboat stop upriver from Louisville, and Westport General Store still has a bit of the look and feel of a rural village's favorite gathering place, although there's a stylish bistro overlay. Local bands and musical groups often perform here. "Like" its Facebook page (on.fb.me/westportgen) to keep up.
Crawford describes the restaurant's culinary style as "upscale Southern cuisine," and that's fair; props also to his commitment to use local produce, meats and poultry to support his community and local farmers whenever possible.
Signature dishes include a local bison steak (market price), produced just down the road at Goshen's Kentucky Bison Co., grilled to order with "smashed" potato and seasonable farm vegetables; and "red eye" shrimp ($15.95) wrapped in country ham from Shelby County's Finchville Farms, served with Weisenberger Mill stone-ground grits and fresh collards.
A half-dozen main courses mostly sell in the range of $14.95 to $16.95. Vegetarians are well served by a trio of well-crafted dishes including a tomato-topped farfalle pasta ($12.95), vegan black-eyed pea stew ($10.95) and a chipotle black bean "burger" ($6.95). Sandwiches top out at $8.95 for the bison burger or fried fish sandwich, crafted from an 8-ounce fillet of cod. A sizable selection of appetizers, soups and salads are mostly $5 or thereabouts; and the kiddos are well taken care of with a children's menu of simple, child-friendly dishes under $5.
Adult beverages are available, too: Westport General Store was the first restaurant to take advantage of Oldham County's entry into the 20th century early in the 21st with "moist" laws allowing liquor sales in restaurants. Now it offers a short but respectable selection of beers, wines and bar service.
We started a recent meal with a shared appetizer order of Baby Hot Browns ($6.95), a spiral of thick-sliced toast points cloaked in a thick, cheesy Mornay and topped with plenty of crisp bits of locavore bacon and diced fresh tomatoes. It was garnished with a pretty sprig of large, fresh sage. Appetizer? Hah! It was delicious but filling, a hearty way to start a meal.
Mary ordered the vegetarian pasta pomodoro ($12.95), farfalle (bow-tie) pasta with a subtle tomato and sun-dried tomato sauce — no heavy red "gravy" here, but plenty of garlic — garnished with thin-sliced basil chiffonade and two fresh basil leaves.
My dinner choice, the aforementioned red-eye shrimp, suited me just fine: A row of plump, tender shrimp were blanketed under squares of Finchville's finest and painted with a dark, reddish-brown, sweet-tangy barbecue sauce. The contrasting textures and flavors hit the spot, and a bed of creamy Weisenberger Mill grits and mild-flavored collards made for a country-style meal fit for a city boy.
A shared portion of a first-rate blackberry cobbler made with seasonal fruit under chunks of pastry crust ended the meal on a high note, and the affordable tab, $48.55 for two, left plenty of change to cover gas for the short trip out. Polished service earned a $10 tip.
As Crawford famously warns, don't count on MapQuest, Google Maps or even your trusty GPS to get you there. Westport may be a historic village with roots all the way back to the 1780s, but these modern resources can't find it.
Technology is hardly needed, though: Simply head out U.S. 42, through Prospect, into Oldham County, then pass Goshen and Skylight until you see a gigantic radio tower piercing the clouds on your left. Just before the tower, turn left on KY 524 and drive down the scenic, winding forest road until you reach Westport. The restaurant will be the brown building on the right with the veranda and, most of the time, a crowded parking lot out front.
Westport General Store
7008 Highway 524
222-4626
www.westportgeneralstore.com
Rating: 87