"With rue my heart is laden,
for golden friends I had,
For many a rose-lipt maiden
And many a lightfoot lad."
There! It's not often that an English major actually gets to bring the fruits of his seldom-used bachelor's degree into the real world. So how, I ask, could I possibly resist dragging the poet A.E. Housman into a "Roux/rue" pun to celebrate our first visit to Roux, a hot newish spot on Bardstown Road?

Now, in fairness, the pun doesn't work all that well. In its second and final verse, Hausman's brief opus turns ruefully dark and cold as a frozen winter stream in an empty landscape:
"By brooks too broad for leaping
The lightfoot boys are laid;
The rose-lipt girls are sleeping
In fields where roses fade."
He's talking about death, you know, and how it comes to us all too soon.
Um. Ready for something a little less depressing? Okay: Roux Louisville is nothing like that!
Roux is a creative New Orleans-style Creole-Cajun restaurant, operated by owner-and-Executive Chef Dustin Staggers and his brother Kyle, with Chef de Cuisine Ethan Ray, some of the same creative young chefs that have brought us the recently departed Rumplings, and more coming soon.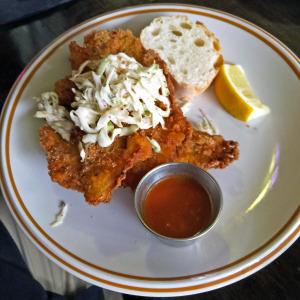 Dustin Staggers loves New Orleans, and has put considerable effort into building a NOLA-like experience into the food and mood of the characterful old house previously occupied by Le Gallo Rosso. It works: Roux gives a good feel of the City That Care Forgot.
So, happily, does the food. Chef Paul Prudhomme once gave me a fascinating insight into Cajun cuisine during a joyous afternoon spent hanging out in the kitchen at his fabled K-Paul's: "Cajuns are poor folks," he said. "We'll kill and eat anything that moves, if we can hit it with a stick." This certainly included rabbit, groundhog, gator, perhaps even nutria rat; although I firmly believe that it excluded old Phideaux.
In short, Cajun is not for vegetarians, although those who shun meat will be pleased to find a single meat-free entree – eggplant gratin ($14) – on the Roux menu. For those without such gentle sensibilities, Roux has something for just about everyone. No nutria rat, though. You can indeed get gator (in the form of a $14 po'boy sandwich or alligator sausage dog); oysters, of course, Gulf beauties from Apalachicola – fried, charbroiled or fresh-shucked au naturel – from $2 each, raw, to $21 for a dozen from the grill.
You can stick with the classics like crawfish etouffée ($12); gumbo, red beans and rice or "dirty" rice (all $13) or jambalaya ($14), or go to the entrees for a dozen fancier Creole-style goodies from $14 (for fried catfish or the aforementioned gratin) to $21 (for oven-roasted crimson snapper, Caribbean style).
I had been meaning to get by ever since Roux opened last fall, but was momentarily distracted by Rumplings (HotBytes and LEO Weekly, March 12, 2015), which won a place in my heart and briefly drew my attention away from its cousin. This week we finally got there, joining friends Charles and Virginia.
Warmed up with fine Rittenhouse Rye Sazerac ($8), a tall "Darling Dandy" cocktail that Virginia likened – favorably – to a high-end gin-and-tonic ($9) and a Campari-and-soda ($9), we proceeded through apps to the main event and didn't find much to complain about.
Plates of oysters – a brace of six sweet beauties broiled under a light blanket of cheese and crisp bread crumbs ($12), and a dozen crisply fried and dressed with "Creole caviar" ranch and classic remoulade ($14) – were fine. Broiled brussels sprouts ($5) were thin-sliced and pan-seared, flavored with spicy creole mustard, tabasco peppers and an optional ration of sliced sausage.
New Orleans-style BBQ shrimp ($16) was mighty fine, we gar-on-tee. A half dozen oversize prawns were prepared in the classic regional style, shell-and-head and bristly legs and antennae still firmly attached, in a buttery rich, garlicky, deeply spicy brown sauce.
Gumbo ($13), was elevated by the use of duck fat in the roux, although may have lost a style point or two with a hint of floury character remaining. Still, tender chicken thigh meat, real andouille sausage and filé gumbo brought it around for the win.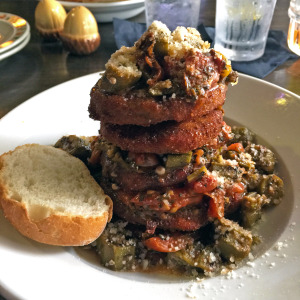 The eggplant gratin ($14) looked and tasted impressive: Three creamy, earthy eggplant rounds had been cloaked in crisp cornmeal batter, much like fried green tomatoes, then stacked in a vertical presentation on a bed of stewed okra and tomatoes kicked up with Parmigiano, made for a filling dish.
Fried catfish ($14) had been "shaved" into thin, boneless slices, assuring a deliciously decadent crust-to-fish ratio when it was breaded with fine Weisenberger cornmeal and fried grease-free, served with a crisp, coarse-cut slaw and spicy hot sauce. What's not to like.
A trio of beignets heavily dusted with powdered sugar ($4) would have done credit to Café du Monde; in retrospect, I kind of wish I had gone for chicory coffee to wash them down.
Our share of the dinner for two came to $63, certainly in line with Bardstown Road dining, with a $15 tip in recognition of server Ayesha's careful attention.
Roux Louisville
1325 Bardstown Road
530-0531
rouxlouisville.com
facebook.com/rouxlouisville
Robin Garr's rating: 89 points