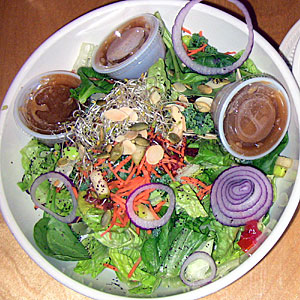 Big Salad: City Café's Jim Henry used to make this big salad for himself, but his customers at the Mid-City Mall location convinced him to add it to the menu. It's a vegetarian meal in itself. Photos by Robin Garr.
LEO's Eat 'n' Blog with Louisville HotBytes
(City Café, Zen Garden, Shiraz)
I'm a carnivore, an obligate carnivore. I like meat and find it hard to imagine life without beefsteaks, pork chops, poultry or fish on my plate.
And yet … and yet … when I wax philosophical, I can see some strong arguments for vegetarianism.
I can see it when I think about eating for health and nutrition; and I can see it when I remember reading "Diet for a Small Planet" back in the day, and learning just how many resources are spent on getting a steak to my table.

I can see it when I decline to hunt or fish because I'm not willing to kill an animal with my own hands (although call me a hypocrite, I'm OK with buying a slab of meat neatly wrapped in clean white butcher's paper). And I can see it when the best cat in the world looks up at me with love in his bright, intelligent eyes.
But I find it mighty hard to give up meat, doggone it, because, well, meat really tastes good.
Still, even a part-time vegetarian can find plenty of delicious dishes in which no animals were harmed for your enjoyment. To prove it, for this week's report I've sought out three vegetarian options so good that you can enjoy them and never miss the meat.
My quest began with, of all things, a salad. But not just any salad. City Café's Big Salad ($6.95) fully lives up to its name: It's a meal in itself, with no need for meat, poultry or seafood. Served in a bowl about the size of a basketball, it starts with a generous mound of crisp, cold romaine, then adds baby spinach and small pieces of dark-green, chewy kale; piles on alfalfa sprouts, diced tomato, thin-sliced rounds of red onion … but wait, there's more! Add shredded carrots, shelled Japanese edamame greens, tiny green-apple dice, nutty pumpkin seeds and slivered toasted almonds. (The menu also mentions "dulse," an edible seaweed, although I couldn't spot any in my Big Salad.) To finish it off, pour on a tub – or two, or three – of a thick, sweet-tart ginger miso dressing that will remind you of Beni … er, one of those Japanese slice-and-dice places.
It's a spectacular salad, one that City Café co-owner Jim Henry confesses he created originally for his own enjoyment, then added to the menu when patrons started asking for whatever he was having.
City Café is omnivorous but vegetarian-friendly. All soups are vegetarian, and there are plenty of meatless sandwich and salad options. Another favorite is the Vegetarian Club Sandwich ($4.75), a tasty stack of provolone and Monterey jack cheese with tomato, crisp cucumber slices, leaf lettuce and red onions, spread with herbed cream cheese and shallot-mustard mayo on your choice of sourdough, rye bread or, my choice, honey wheat.
The Big Salad is only listed on the menu at the Mid-City Mall location (next door to Baxter Avenue Theatres), but I'm told it's showing up at the U of L Health Sciences Center branch, 500 S. Preston St., and the downtown location at Fifth and Broadway.
City Café
1250 Bardstown Road
459-5600
www.citycafelunch.com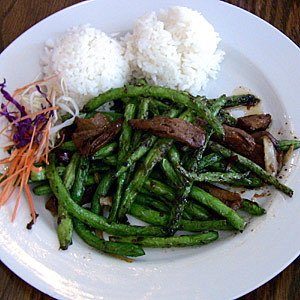 Looks like a duck: But Zen Garden's dau dua xào ("mock duck") doesn't quack like a duck, because it's all-vegetable matter. And it's good.
Another long-time favorite for vegetarian diners is Zen Garden in Clifton, where Huang "Coco" Tran presides over a gentle, serene and very popular eatery informed by Zen Buddhist philosophy. It's entirely vegetarian and largely vegan, although eggs are used in some dishes. Vietnamese flavors predominate, but the cuisine ranges across East Asia through Thailand, China and Japan and on around the world.
Tofu (bean curd) is heavily used as a meat substitute, and that's just fine with me, as I'm fond of the stuff, a tender soybean product that has the happy facility of picking up the flavors of whatever it's cooked with.
Spring rolls (gòi cuôn, $3.25) look just like the standard variety until you notice there are no shrimp showing through the translucent rice paper wrappers, which are filled with rice noodles, lettuce and long strips of tofu. Dip them in the traditional thick, sweet peanut sauce, and you'll never notice the difference.
The same is true of the Vietnamese Crepe (bánh xèo, $4.95), a bright, crisp, eggy-yellow egg and rice-flower crepe folded over a savory mix of crunchy bean sprouts, wood-ear mushrooms and tender tofu, with leaf lettuce to wrap each bite and plunge it into a sweet-tangy Vietnamese dipping sauce that tastes just like Vietnam Kitchen's, despite the absence of fish sauce. How do they do that?
It's almost impossible to believe that the dark-brown, "meaty" squares of "mock duck" in dau dua xào ($9.50) weren't carved from a living, quacking being, but close examination reveals that it's really a vegetable substance – marinated tofu, maybe, or wheat gluten. Stir-fried with crisp-tender green beans in a spicy black-bean sauce, it's another dish that could fool a meat-eater into thinking he had the real thing on his plate.
Quang's Traditional Noodles (mì Quang, $6.50) is a hearty bowl of yellow, linguine-like rice noodles topped with a wealth of Asian ingredients – bean sprouts, banana blossoms and, it appears, two forms of tofu, one pressed and the other smoked to an intriguing hamlike flavor, topped with chopped peanuts and a crunchy garnish of delicately flavored white strips of puffed rice that resemble Southeast Asian shrimp chips without the shrimp.
For dessert, we shared a fully vegetarian if not particularly Asian treat, a creamy, seductive wedge of dark chocolate peanut-butter pie in a crunchy chocolate-cookie crust.
Zen Garden
2240 Frankfort Ave.
895-9114
www.zengardenrestaurant.org
If you're in the mood for fast food but don't want a burger, try a falafel at Shiraz Mediterranean Grill, a popular Clifton spot that quickly outgrew its original quarters on lower Brownsboro Road and now appears to be bursting at the seams in its newer home in the Clifton Lofts condos.
Falafel, popular throughout Southwest Asia, is a sphere of pureed chickpeas deep-fried to yield a crunchy, addictive ball that looks like a hush puppy but tastes better. The Shiraz version ($4.49) adds unusual depth of flavor – and a green interior – with cilantro and a touch of spicy cayenne. Line up three with lettuce and tomato on a large, tender round of fresh lavash flatbread, spread it with yogurt-based tzatziki sauce, roll and eat. Who needs a burger?
Another veggie favorite at Shiraz is the roasted eggplant appetizer ($4.99). It's a coarsely pureed mix of charcoal-grilled eggplant with sweet caramelized onions and garlic and a bit of scrambled egg, colored with turmeric and subtly flavored with exotic spices.
Tabbouleh ($2.49) is a dark-green, healthy blend of chopped parsley, bulgur wheat, chopped onions and tomato. I want to like it but can't get past my belief that parsley is a plate decoration, not something to eat. More for her, says my wife, grabbing the dish.
Shiraz Mediterranean Grill
2011 Frankfort Ave.
891-8854
www.shirazmg.com
Nibbles
Hi, I'm Bruce, and I'll be your celebrity tonight …
Chefs and celebrities will get together to serve you as Families For Effective Autism Treatment (FEAT) of Louisville Inc. hosts its annual fundraiser on Friday, May 18, at the Louisville Marriott Downtown, 280 W. Jefferson St. The proceeds will be used to support FEAT's mission of autism treatment, education and advocacy.
Guests will be served a five-course meal by Chefs Agostino Gabriele of Vincenzo's, Anoosh Shariat of Park Place on Main and Browning's, Dean Corbett of Equus, Clark Wade of the Marriott Downtown, Coby Ming and P.J. Knight of Wiltshire Pantry and Josh Lococo of Tologono. Each chef will be joined by a local "celeb" to demonstrate the course.
Ticket prices are $125 per person. For info, call FEAT, 244-4925 or 386-5802.