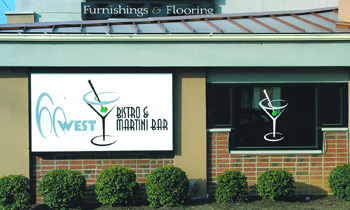 The 5-year-old Cafe Emilie reinvented itself with a new name and image as 60 West Bistro and Martini Bar.
Cafe Emilie, the comfortable eatery in the Burdorf Center (the former Bacon's department store in St. Matthews) has won quite a few fans – including me – since it started out as a simple lunch spot just over five years ago. We've watched it mature into a cozy neighborhood bistro and bar through a couple of chef and staff changes, and it has earned its popularity the old-fashioned way.

So it was a surprise to see the "Cafe Emilie" sign come down last autumn, replaced by a trendy martini-glass logo and a new name: 60 West Bistro and Martini Bar. Owners Emilie and Charles Knieriem are still in charge, though, and Chef Tim Smith remains in the kitchen, now assisted by sous chef Chris Vanhoozer.
The most notable decor change is an attractive wood and glass divider that separates the dining room from the bar, creating a more intimate and sophisticated dining room. The new menu is international and eclectic, but remains well within the middle price range, with most main courses tagged at $20 and under.
Main-course prices range from $13 (for the Bistro Burger or Persian grilled-chicken kabobs) to $22 (for a 6-ounce Kentucky Bison rib eye). An affordable if not overly exciting wine list offers many options by the bottle in the $20 and $30 range (half-price on Wednesdays).
A special of the day, spicy spinach soup ($4.95), was a creamy, pale-green puree of finely chopped spinach blended with cream, laced with a warm, lingering peppery heat. An artful duck confit empanadas appetizer ($9) consisted of three golden pastry half moons stuffed with shredded duck confit and placed on a Zorro "Z" of pale green avocado mousse and a Jackson Pollock splash of dark-brown, spicy Mexican-style mole.
Torta del fagiolo ($15) made a splendid vegetarian entree. A pair of crisp-fried patties made from a textured mix of mashed and whole white beans resembled crab cakes in shape and style, but no crabs came to any harm in their production. They were served with quinoa and beet greens with their chopped red stems simmered in a sugary-vinegary sweet-sour dressing.
Chimay and chili braised short ribs ($18) was a great dish for a wintry night. A discreet but ample portion of long-simmered, tender, not overly fatty beef was infused with the subtle flavors of Belgian Chimay abbey ale, with a little kick of peppery heat. It was served with beet greens and a white-cheddar "polenta."
A fine dinner in a pleasant, sophisticated setting, with a good Italian red wine on half-price Wednesday, brought the toll for dinner for two to $67.79, plus a $14.21 tip.
60 West Bistro and Martini Bar
3939 Shelbyville Road
719-9717
www.60westbistro.com
Robin Garr's rating: 84 points