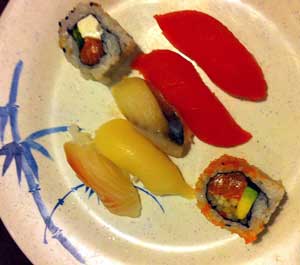 Five nigiri-zushi and two maki-zushi rolls at Umai Zushi
Voice-Tribune review by LouisvilleHotBytes
I love Asian food, and I'm a big fan of many of the East End's excellent Chinese restaurants, including such quality eateries as Oriental House, Jade Palace, Jasmine, Liang's and the new Peking City Bistro.
I'm less whelmed with storefront chopsticks houses and all-you-can-eat Chinese buffets, though. Not that they won't fill me up when I'm cravin' Asian, but to be quite frank, they're all pretty much the same.
Until now, that is.
The arrival of Umai Zushi Buffet near the outer stretches of Westport Road introduces a new variable to the Asian buffet equation: In addition to the usual Chinese suspects, it offers a bounty of king crab legs and, from the cuisine of Japan, more than 40 sushi and sashimi goodies.
It's pretty good sushi, too, I'm pleased to report.

Umai Zushi makes good re-use of a very large room that looks almost as big as the KFC Yum! Arena. Walnut-look tables, Japanese lanterns and a pretty splashing rock and water garden add a stylish vibe, and the buffet tables offer plenty to eat.
You'll find traditional salad and dessert bars, a couple of tables bearing standard Chinese selections, and a walkup teppanyaki grill where you can have shrimp, scallops, beef, chicken, noodles, egg and all manner of veggies grilled to your order.
A raw bar offers oysters on the half shell, peel-your-own shrimp (still available despite the disaster in the Gulf) and more.
Two buffets offer fancy Chinese and American dishes including roast beef; prawn-size shrimp and salt-and-pepper frog legs. You'll find stuffed mushrooms, fried shrimp, egg rolls, spring rolls, crab rangoon, and sweet-and-sour chicken; a half-dozen stir-fries and four soups – won ton, egg drop, hot-and-sour and miso – and a few dim sum dumplings in bamboo steamer baskets.
The real draw, though, is the king crab legs and a selection of more than 40 varieties of sushi and sashimi, both nigiri-zushi bites and a wide variety of maki-zushi rolls.
On a Monday evening, not considered a prime day for seafood, tuna nigiri-zushi tasted just fine, beefy and fresh. Mackerel, a stronger flavored fish that gets funky right away if it's over the hill, was perfect here, "meaty" and firm. Oysters on the half shell were estimable, too, sea-fresh and sweet, without a hint of "fishy" scent.
Chosen from the Chinese tables, stir-fried green beans boasted a good crisp-tender texture, salty and garlicky, tasty if dripping with oil. A fried shrimp had the tail left on, hidden under the breading to surprise me. Salt-and-pepper steak was bite-size and flavorful if a bit tough, stir-fried with onions and green pepper. General Teo's chicken nuggets were cloaked in a forgettable sauce, served at room temperature. Baked fish was mushy, and chicken wings lacked crispness.
Sushi and crab legs are the best bet here. Indeed, the sushi was decent enough to bring me back for another round of nigiri-zushi – two crimson tuna, one buttery white tuna and one delicate pink snapper – an Alaska roll with tuna and avocado, and a Philly roll with tuna and cream cheese.
The buffet is $11.99 for dinner for adults Monday through Thursday, $12.95 Friday through Saturday. Lunch, offering an abbreviated selection, is $7.99 Monday-Saturday, $9.55 Sunday. For the kids it's $5.99 for dinner Monday-Thursday and $6.99 Friday-Saturday; $3.99 for lunch Monday-Saturday and $4.99 Sunday.
Two weekday dinner buffets and a couple of bottles of Kirin Ichiban Japanese beer came to $32.31, and even though we trucked our own food from the buffets, table service was so exceptionally friendly and courteous that I couldn't resist a $7 tip.
Umai Zushi Buffet
3710 Chamberlain Lane
329-8181