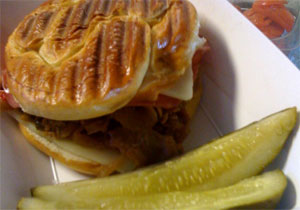 The Slugger Sandwich at the ballpark
LEO's Eats with LouisvilleHotBytes
It's hard to comprehend that Louisville Slugger Field hosted its first game 10 years ago this month. Our "new" ballpark has been open for a decade. During that time, we've seen a few pennant-winning teams and a couple that didn't do so well.
Sadly for foodies who like to enjoy an interesting dining experience along with a game, concessions have generally been, well, a little boring. Peanuts and Cracker Jacks, burgers and dogs, brats and Italian sausage, nachos and Papa John's pizza, with ice cream to sweeten the mix.
At the start of the 2010 season, however, we spotted a handful of new food items that have potential to turn the ballpark into a downscale bistro.

Get this: Panini-style sandwiches including basil pesto chicken, a Reuben and The Slugger Sandwich (all $6.50), and a Texas toast grilled cheese ($3). Add a house salad ($4) if you want your veggies. Another grill station offers fish and chips ($7) and a veggie burger ($7.50), plus specialty fries topped with Parmesan or "crab."
The fish and chips consisted of three rather lackluster fish "fingers" and soggy fries. The Slugger Sandwich had potential — a Chicago Italian-style concoction of beef, peppers and onions, salami and cheese and Thousand Island dressing on a panini'd bun.
Want a local craft beer to wash it all down? You can find one Browning's tap among a sea of Budweiser products, but you have to search. Last week, it was on the backside of a peanut booth, offering a 12-ounce cup of Browning's Guillotine ESB for a cool $5.