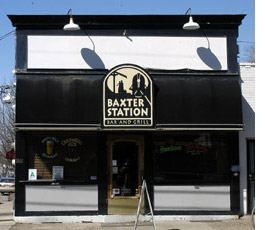 Voice-Tribune review by LouisvilleHotBytes
(published March 11, 2010)
---
Baxter Station's proprietor Andrew Hutto is one of the moving forces behind the Louisville Originals restaurant group, and his eatery – a popular local spot to eat and drink since 1989 – fits the "Originals" description to a T.
No franchised chain operation this, its cozy storefront setting is one-of-a-kind, with a railroad theme, a friendly bar up front, a comfy dining room with a warm fireplace, and a rear deck with curtain walls that roll up to allow alfresco dining in good weather and roll down to hold in the heat from powerful overhead warmers on wintry days.

Big photo murals of Louisville railroad scenes adorn the walls. A connecting corridor is set up with two pairs of seats that may have come from the Metroliner and faux dining-car windows to create a railroad dining scene. On a platform overhead, a large scale model railroad train goes choo choo, er, chew chew, around both rooms.
More than just a tavern, Baxter Station bills itself as a place for "eclectic American cuisine," with two dozen beers on tap and 30 wines under $30. Located in a mostly residential neighborhood where Irish Hill meets the Highlands, it's just a short walk from the busy Baxter Avenue club strip. Excellent food, fine beer and wine, great casual atmosphere and welcoming service: I don't think I'm alone in considering Baxter Station the city's neighborhood bistro for us all, no matter what neighborhood we live in.
My wife Mary and I and our friends Mary and Bill dropped in on a snowy evening just before Fat Tuesday and found a Mardi Gras theme pervading the eatery and its specials menu, which featured Cajun-style dishes for the holiday. Although Baxter Station is not normally what I'd call a Cajun eatery – its franchise is American and international – Chef Mark Albert offered spicy, authentic dishes and did them well.
Our dinner started with a complimentary plate of green chili rolls, coarse textured and crusty, with just a touch of piquant green chili flavor. I like!
The "Brutus" salad ($6.95), a modified Caesar (Brutus killed Caesar, get it, yuk yuk) has bacon added to distinguish it from the original, although there's no sign of the traditional anchovy. Croutons are crunchy and fresh, but the dressing is on the light side. I like the salad but miss the creamy, piquant character of Emperor Julius's original.
A cup of gumbo ($3.95), the soup of the day, was very good. Dark roux-based and spicy, it was filled with small crawfish and cubes of spicy andouille sausage over white rice.
My wife went with a Baxter Station standard, the black and "bleu" burger ($8.95), which came just as ordered, medium-rare hot pink inside, blackened and crunchy on the exterior. It was dressed with lettuce and tomato and crumbled blue cheese.
My choice, Cajun-style etouffée, came on a large oval plate with a ring of tender rice surrounding an Acadian classic. A spicy brown sauce was loaded with assorted of shrimp, a couple of scallops, a good ration of juicy, perfect oysters, just steamed through, and a giant prawn, shell on, that must have been eight inches from bewhiskered head to tail. It required serious work with hands, knife and fork to get the meat out. The dish was flawed only slightly by the scallops being overcooked and tough, but all the rest of the seafood was fine and the oysters were perfection.
Chocolate Bailey's Irish Cream cake ($2.75 for our share), was good enough that the four of us put it away with enjoyment if not much analysis.
Our share of the dinner came to a very reasonable $55.70, including a couple of pints of Czech Pilsner Urquell on draft, and I nudged the tip a bit past 20 percent for friendly and professional service.
Baxter Station Bar and Grill
1201 Payne Street
584-1635
www.baxterstation.com
This review ran recently in The Voice-
Tribune.