It has been 30 years since Bruce Ucán came to Louisville from the Yucatan region of Southern Mexico, home of the ancient Mayan culture. For just about all of that time, Ucán has been cooking for us, to our great delight.
From a big blue taco truck cruising suburban construction sites to his first bricks-and-mortar operation a Market Street storefront years before the neighborhood became trendy Nulu, through a brief venture in larger Market Street quarters, Ucan came back to Mayan Cafe's original location with an attractive makeover in 2007. This year marks its tenth year in that location, an anniversary celebrated last month with a reprise of several popular dishes from the past.
As the nation wrestles with issues surrounding immigrants and refugees these days, we're standing up for immigrants and the gifts they bring through reviews of several of the city's top restaurants where new neighbors from other countries preside in the kitchen. I can't think of a better place to begin than Mayan Cafe, which has become not only a local destination dining room but a restaurant frequently mentioned when national publications cover Louisville's dining scene.
The space is still not overly large, but there's room for possibly 50 diners at its undraped black tables and surprisingly comfortable metal-and-wood chairs; large paintings of Yucatan scenes brighten the dark-red brick-look walls.
?The regular menu, now back in place after the retro dishes of January, includes plenty of Ucán's takes on traditional Mayan dishes. Seven starters are $8, bouncing up to $11 for a scallop ceviche. Nine entrees range in price from $12 (for a vegetarian burrito) to $23 (for Tikin-xic, Asian carp with cuitlacoche sauce). A lunch menu offers most of the same starters, but main dishes are lighter on the wallet, ranging from $10 to $14.
The bar program is as varied and elegant as you'd expect of a stop on the Nulu trail, with a broad selection of cocktails and liquors (including, appropriately, several quality tequilas), a short but well-chosen and fairly priced wine list, and a short, all-regional beer list.
A Negroni King cocktail ($11) made with Copper & Kings brandy, and a Mayan 10 ($10), a blend of Spanish bubbly and reposado tequila, hit the spot, as did a house-made non-alcoholic juice, a tall, fruity $6 mix of orange, pineapple and, remarkably, kale.
Guacamole and chips ($8) takes this ubiquitous Mexican starter about as far as it can go. Best of the genre that we've enjoyed for a while, before or since, it was intense, textured, and infused with more than a hint of lime to make the flavors sing. Fresh and crunchy chips made the perfect vehicle for noshing.
Salbutes ($8), a traditional Mayan Cafe starter, are small rounds of quick-fried tortilla topped open-face with flavorful toppings that change each day. We got lucky and drew thin, tender asparagus spears enhanced with dabs of goat cheese, compatible flavors indeed.
Cochinita pibil ($21), another Ucán signature dish, consists of Mayan roasted pork. It bears more than a little resemblance to Cuban lechon asada, a situation perhaps traceable to Yucatan's situation as not only part of Mexico but also a distinctly Caribbean land, a peninsula that juts into the Gulf of Mexico only a short boat trip across the Yucatan Strait from Cuba.
This rendition – based on a 2010 menu choice – was generously portioned and loaded with flavor. Sizable chunks of long-simmered pork, almost falling into strands, were cloaked in a piquant, tart and tangy achiote sauce, garnished with pickled onion shreds and accompanied by a round corn patty stuffed with black beans and cheese. A pile of tok-cel limas came alongside, cooked in aromatic Mayan flavors and served a bit al dente.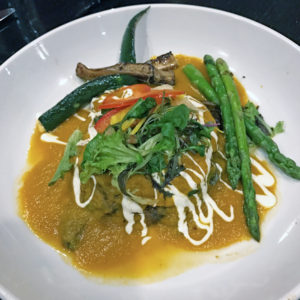 A Mayapan chilaquile ($16) looked just as tempting as it tasted. Soft, tender tortillas were sandwiched with grilled eggplant, squash, black beans and Spanish Manchego cheese, topped with, tomato casera (house-made) sauce and artful stripes of crema, with crisp grilled asparagus spears and sliced portobello on the side.
Chocolate on chocolate ($8) was a a decadent, dairy-free chocolate cake, its luscious texture from avocado mousse and its complex flavor from chocolate-chile sauce, with mango-papaya puree on the plate.
Cinnamon-scented Mayan Magic coffee from Red Hot Roasters ($5) put a fine cap on a memorable meal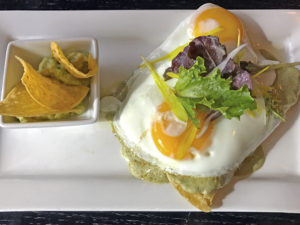 A quick lunch visit brought two more fine dishes. Papadzules ($12), could have served for brunch, with two soft, sunny-side-up farm eggs on top. It's good at any time of day, though, a pair of small enchiladas filled with that succulent roasted pork, a bit of mozzarella, and pumpkin-seed sauce with a taste of excellent guacamole on the side.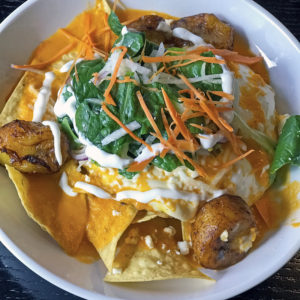 Huevos Motuleños brought more eggs to the table, served over-easy atop a pile of crisp tortilla chips, topped with queso fresco and black beans, blanketed with savory tomato casera sauce and a few crisp fried plantain rounds, decorated with crema. and garnished with fresh spinach leaves and grated carrot.
Our tab for dinner was $119.70, with a 20 percent tip; lunch came to $31.80 plus a $7 tip.
Mayan Cafe
813 E. Market St.
566-0651
themayancafe.com
facebook.com/TheMayanCafe
Robin Garr's rating: 95 points