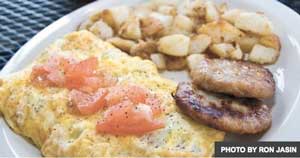 I've just finished a delicious breakfast, and I'm so full that I'm pretty sure I won't need lunch today. In fact, I'm not so certain about dinner.

J. Gumbo's Frankfort Avenue branch in Clifton, an amiable eatery so known for its generosity that the standard size for entrees is the "big bowl," recently added a breakfast menu — dubbed "Debbie's Diner @ J. Gumbo's" — and let me tell you, the quality of this morning's chow is exceeded only by its quantity.
Breakfast is served — Clifton only at this point — from 8 a.m.-11 a.m. Thursdays and Fridays, 8 a.m.-1 p.m. on weekends.
Debbie's Diner is presided over by Debbie Maritato-Fox, who whipped us up a breakfast substantial enough to satisfy Godzilla. The extensive menu wouldn't be out of place in Louisiana, and it includes a few Cajun and Creole delights such as beignets ($4 for three, $6 for a half-dozen) and pain perdu ($5.29), which has nothing to do with that engineering school northwest of Indy, but — literally "lost bread" in French — offers a New Orleans-style take on French toast.
Many of the dishes have names celebrating Cajun people and places. The beignets are "Thibodeaux's Pastries," eggs Benedict ($5.95) becomes "Breaux Bridge Benedict," and blueberry pancakes ($4.99) gain the moniker "Boudreaux," the Cajun equivalent of "Bubba."
Get past the names, and a lot of the dishes would be as familiar in the River City as in the Crescent City — eggs, bacon, sausage, ham, toast, pancakes and the like are universal comfort food, or near it. But add a couple dashes of Louisiana Hot Sauce or your pick of piquant from the five-bottle table holders. Pour some Mrs. Butterworth's on your flapjacks from the plastic statue jar, and imagine yourself in a neighborhood diner in Uptown or Mid-City.
We started our morning repast with a plate of beignets (three for $4) and were rewarded with a plate that could have been presented at Café Du Monde in the Vieux Carre, except that the beige stoneware plates are nicer. Three hand-formed sweet pastry squares had been deep-fried golden-crisp on the outside, puffy and airy within, neatly covered with a blanket of powdered sugar. Yes, the sugar will get on the table and probably your shirt. Get used to it. They're good with hot coffee ($1.59) and great with bitter Louisiana-style chicory coffee.
My wife asked to have the three-egg veggie omelet with cheese ($4.49) cut back to two eggs, and they happily complied, presenting her a perfect, light model stuffed with diced pale tomatoes, onions, green pepper and mushrooms. A large portion of home fries filled the other half of the plate, tender browned potato dice and sauteed onions. A pair of savory, spicy sausage patties ($1.79) completed the meal.
I added Cajun flair to my morning meal with the Eggs Pontchartrain ($7.99), which consisted of two English muffin halves, each topped with a soft poached egg, runny the way I like it; J. Gumbo's spicy shrimp etouffée was dolloped over the top, with a ration of home fries alongside. The flavor combination was outstanding, and it was tough to earn my gold star, but I managed to clean my plate.
A hearty breakfast came to $23.27, with a $5 tip for pleasant, enthusiastic service.
J. Gumbo's
2109 Frankfort Ave.
896-4046
www.jgumbos.com