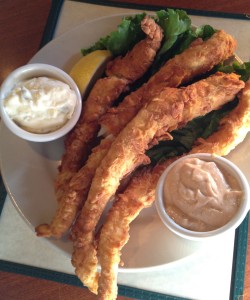 It's been a quite a few years now since a couple of Louisville's favorite neighborhoods sprouted so many eateries that we dubbed them "Restaurant Rows." Bardstown Road arguably came first, starting with the Bristol in the 1970s, quickly joined by Jack Fry's, Cafe Metro, Lilly's and many more. Frankfort Avenue, with Deitrich's on its leading edge, quickly gained critical mass in the '90s. Then St. Matthews grew into a dining and nightlife zone, and now we've seen Nulu burst like the finale at Thunder Over Louisville.
Now something new is happening: All these prosperous restaurant rows are growing into each other, melding into one gigantic, delicious city-wide restaurant zone!Starting in the bustling quarter around the Yum Center, an ambulatory diner could easily work his way out through Nulu and Butchertown to Frankfort Avenue, strolling right out to St. Matthews with few breaks in the action all the way to Oxmoor. Or you could hang a right from Nulu onto Baxter, push through its busy nightspot zone and on out Bardstown to the Watterson. You'd rarely be more than a minute's walk from an eatery either way.
Stick a pin into the epicenter of this culinary earthquake, and you'd probably jab it down on Baxter, right about where The Brewery recently opened its doors.
Wait! The Brewery? Wasn't that a popular watering hole back in the '80s and '90s?
Why, yes!
It closed around the beginning of the new Millennium, though, leaving thousands of bereft fans nostalgic with memories of a lively setting for good music, tasty pub grub and plenty of cold beer.
But now owners Mike Ryan and Dan Evans are back, joined by restaurateur Kevin Daly, with a new Brewery that looks a lot like the old Brewery but maybe even better. Open for lunch and dinner daily, until 2 a.m. Fridays and Saturdays, its expansive space includes the dark, amiable tavern with its historic bar, a 5,000 pound installation that once served the 19th century Vienna Bar and later Kunz's; a lighter, brighter dining room, and a patio.
The beer list features mostly the usual suspects but adds a couple of upscale imports and one or two microbrewery locals (NABC Hoptimus and Falls City Ale). The menu remains heavy on the kind of delicious salty, crunchy fried goodies that go so well with beer, plus a broad selection of sandwiches and burgers, virtually all under $10. If you're feeling more like a restaurant meal, a half-dozen more substantial entrees range in price from $8.95 (for linguine with meatballs and marinara sauce) to $12.95 (for a grilled 10-ounce sirloin or grilled or fried fresh Florida grouper, both served with veggie and potato).
We found everything satisfactory during a recent visit, but perhaps as befits a place named after a beer factory, the beer-friendly starters shone the brightest. Cheese bites ($4.95) consisted of two or three dozen small cubes of Cheddar and Monterey Jack, perfectly fried, crispy without and molten within, with a gently spicy remoulade for dipping. Grouper fingers ($7.95) were on the mild side for grouper, perfectly fried, too, and generously portioned.
A single-size mushroom-and-olive pizza ($6.95) and the Brewery's famous Brew Burger ($5.95) passed muster, and a spinach salad ($5.95) was, well, a salad. But here's our advice: Say hi to the new Brewery, much like the old Brewery: You can't go wrong with a crunch bar snack and a cold beer.
Dinner for three, with a couple of pints of the local brews, was $46.65 plus a $10 tip.
The Brewery
426 Baxter Ave.
365-2505
www.facebook.com/TheBreweryLouisville