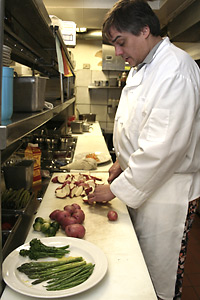 Club Grotto head chef Mike Driskell doesn't give the humble vegetable short shrift. And you don't even have to be a vegetarian to appreciate their trademark all-vegetable dinner course, the aptly named "Vegetable Orgy." LEO Photo by Nicole Pullen.
LEO's Eats with Louisville HotBytes
(Club Grotto; Old Town wine totes)
Eat your vegetables!
This exhortation, so often directed at children, for many of us leaves lingering psychic echoes that ring down the years into adulthood. Veggies? Who needs them? Real men eat meat and potatoes … don't they?
I count myself among the willing but vaguely reluctant vegetable eaters: I'll force down a portion, knowing that I should, but rarely get the same kind of excitement out of it that I naturally derive from a great steak, shellfish or even a cheese or pasta dish.
Frankly, I think some of Louisville's top chefs share this aversion. Too often, even at the city's finest restaurants, I'll get a great meal with a careless blob of reheated frozen veggies right out of the bag, tossed on the side of my dinner plate as an obvious afterthought.
This doesn't happen at Club Grotto. Continue reading Eat the veggies first at Club Grotto →