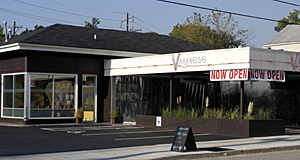 Varanese – named for chef John Varanese, who's been chef at the Cardinal Club and the late, great Azalea – opened last month in the old Red Lounge on Frankfort Avenue. The space has been completely renovated, and the food recalls Azalea. Photo by Robin Garr.
LEO's Eat 'n' Blog with Louisville HotBytes
I was really excited when I heard about this new restaurant. Its name sounded like "Veronese." Verona! The legendary home of Romeo and Juliet is one of my favorite cities anywhere, and Veronese food and wine rank among my favorite cuisines. If this new place was going to feature the delicious dishes of Northeastern Italy's Veneto region, I would be a happy boy.
Duh. I wasn't listening close enough. That's VarAnese, not VerOnese. Never mind!
In fact, this new dining room – it opened Aug. 20 in the former Red Lounge – is named for its owner and chef, John Varanese; and that's not a bad thing, not bad at all.

Varanese, who's been chef at U of L's posh, private Cardinal Club golf club near Simpsonville and before that executive chef at Azalea, has put his personal stamp on a totally renovated Red Lounge. Indeed, if you've been missing the recently closed Azalea, you may find some consolation in Veranese's somewhat similar upscale casual bill of fare.
There's no longer much evidence that this building ever housed an old service station. It has been substantially enlarged and beautified with a free-form dining space that extends toward Frankfort Avenue. A sweeping S-shaped window wall is currently protected from the weather by sturdy plastic. Custom-built seasonally retractable windows are on their way from Europe.
The decor is simple, almost stark, with walls painted charcoal gray, pumpkin bisque and pale avocado; the most striking element is a floor-to-ceiling wall of buff slate blocks that, after a short construction delay, will hold a moving "water wall." A small combo plays gentle jazz, usually at a discreet level that doesn't interfere with quiet conversation. Overall, the mood is casually civilized.
White-draped tables are furnished with attractive wooden side chairs and set with heavy flatware, black napkins and fine, large wine glasses from Stölzle Lausitz of Vienna. Fresh freesia sprouts from cubical glass bud vases filled with multi-colored pebbles the size of navy beans; votive candles flicker in attractive translucent amber glass holders.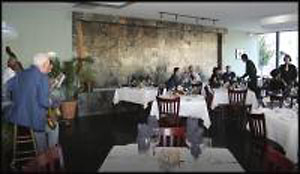 The décor at Varanese is simple, almost stark, and the overall mood is casually civilized. LEO Photo by Nicole Pullen.
Billed as "eclectic Mediterranean," the menu offers an easy blend of down-home (fried green tomato salad, $6), the Med (prosciutto-wrapped chicken with risotto, $14; a hummus wrap, $8; and shrimp ceviche, $8) and around the world (curried lamb empanadas, $7, and grilled salmon in a caramelized mandarin orange sauce with cream-cheese grits, $16). Appetizers start at $4.50 for homemade potato chips with assorted dipping sauces, and a short but interesting list of entrees range in price from $13 (for angel-hair pasta with baby portobello mushrooms, tomatoes, herbs and spices) to $20 (for grilled marinated prime rib with risotto).
The wine list features close to 100 international selections. It tops out at $200 (for Heitz Martha's Vineyard Cabernet), but offers plenty of options more affordably priced from $5.50 to $12 for a glass (one-fourth the bottle price), with plenty of bottles under $40. Vintages aren't listed, earning a wine geek's minor demerit.
There's a good mix of commercial and artisanal draught and bottled beers, and plenty of specialty drinks from the cozy bar in a back corner nook. I looked for the wine list's "sweet spot" between price and value and found it with a plummy, earthy and rather full-bodied Argentine red, Septima 2006 Mendoza Malbec ($26 for a bottle, $6.50 for a glass).
We enjoyed an expansive, leisurely dinner, with the food veering from very good to outstanding, and the service very attentive and hospitable. A few service slips served as gentle reminders that this place is just wrapping up its first month of operation, but I'm here to testify that Chef Veranese's cooking is ready to rave about.
Things got off to a flying start with a complimentary amuse bouche, a pair of bruschettas on thin ovals of crisp, grilled baguette topped with perfect tomato and onion dice drizzled with olive oil.
A shared pair of appetizers kept us munching happily.
Shrimp ceviche ($8) came in a martini glass, a gently spicy blend of diced tomatoes, crisp cucumber and soft avocado and cut-up shrimp "cooked" in fresh lime juice and garnished with a couple of whole shrimp, a strip or two of crisp fried tortillas and chives. I couldn't detect the cilantro mentioned on the menu, but no matter; the combination of flavors and textures was just fine.
A pair of curried lamb empanadas ($7) were perhaps even more toothsome, a pair of golden, flaky baked pastry pillows filled with plenty of shredded lamb meat, tangy goat cheese and chopped tomato and cucumber, plated with a tzatziki-style yogurt sauce.
The fried-green-tomato and Bibb lettuce salad ($6) was more about fried green tomatoes than Bibb, but they were superb tomatoes, thick-sliced, crisp and sweet-tart, perfectly fried in a crisp, dark-golden batter, perched atop a half-dozen fresh Bibb leaves, with a creamy buttermilk and goat cheese dressing and a garnish of "crispy prosciutto" that seemed a lot like bacon to me. Not that I'm complaining.
Both our main courses were fine, with one serious blunder: Our otherwise attentive server neglected to ask how we'd like our prime rib and duck breast (a special of the day) prepared, and both came out cooked well past our preference. Spotting our cranky expressions, management rushed out and apologized (no need), offered to take back the dishes and re-do them (no thanks), and ultimately forced on us a coupon covering the price of the beef entree to use another day (appreciated, but not really necessary). I just hope it was a learning experience for them.
The "grilled marinated prime rib" ($20) proved to be a sizable ribeye, beautifully crisscrossed with grill marks and discreetly sauced with a pan reduction. Although served medium-well, to its credit (and the chef's), it remained juicy and reasonably tender. It came with a cheesy, mushroomy risotto that also got two thumbs up from my wife.
A duck special ($28) consisted of four thick duck breast medallions, again cooked well past medium-rare, showing just a bare hint of rose at dead center, but still tender and fine in flavor. It was plated with more duck meat – chile-dusted "cracklings" atop a square of won ton skin beneath which was hidden a generous pile of what appeared to be shredded duck confit. A blend of diced white and sweet potatoes made an appealing starch; the green beans that accompanied both main courses were less appetizing, apparently frozen beans from a box, attractive bright-green in color but chewy and limp. Frankly, green vegetables don't seem to be a priority here.
Dessert? Don't mind if we do. Peaches-and-cream crepes ($6) consisted of cooked peaches rolled in tender, thin, French-style crepes, cut in short lengths and arranged around a scoop of rich, egg-yellow vanilla bean ice cream, all striped with a tan caramel sauce. The "small-bites dessert" ($3.50) is actually a dessert trio that varies with the pastry chef's whim. This night it featured a small scoop of homemade strawberry ice cream, a short length of banana crepe and an oatmeal raisin cookie perched on a dollop of whipped cream. The espresso machine isn't in yet and the coffee machine wasn't working, so we skipped caffeine.
A substantial dinner for two, with two apps, two entrees, shared salad and dessert and a lower-price bottle of wine, came to $109.21, and attentive service – with no penalty needed for the mixed signals on the entrees – earned a $22.79 tip.
Varanese
2106 Frankfort Ave.
899-9904
www.varanese.com
Rating: 85 points